Project Management In The Movies- A New Source For Learning

A great deal of project management information, knowledge, tools, and techniques can be found in a place where project managers wouldn't usually look- The Movies! Hollywood has produced some classic movies in which the skills and resourcefulness of the project manager can be seen in action. Using scenes from a few well-known movies, the skills of the project manager come to life on the big screen. The session was highly interactive and stimulated the creativity lurking inside every project manager who attended.

Frank P. Saladis, PMP, is a Project manager for Cisco Systems Inc. Prior positions include Senior Consultant and Instructor for the International Institute For Learning Inc. and National Project Manager for AT&T Solutions Information Technology Services. He has been a featured presenter at the Project Management Institute's Annual Symposiums, Project World, and Frontiers in Project Management. He is President of the New York City Chapter-PMI, President of the PMI Assembly of Chapter Presidents and former Vice President of Education for the PMI Global Communications Technology Specific Interest Group. Mr. Saladis is a certified Project Management Professional and holds a Masters Certificate in Commercial Project management from the George Washington University.

Frank's vu-graphs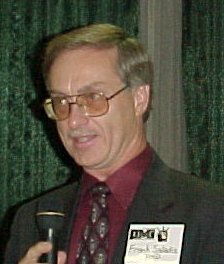 Bob Zeh present plaque and mug to Frank.