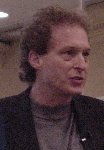 Dr. Rick Brinkman
Everyone has people in their life they can't stand, (but of course not our employees or customers). Dr. Rick Brinkman literally wrote the book on it. Dealing With People You Can't Stand, How to Bring Out the Best in People at Their Worst, is an international bestseller with translations in 15 languages. In his trademark entertaining, humorous style, he will show us how to successfully transform behaviors like: Whining, Negativity, Attacks, Tantrums, Know-it-alls, Think-they-know-it-alls, Sniping, and more. Dr. Brinkman says, "Communication is like a phone number, you need all the digits to get through and you need them in the right order. There is a strategy for each of the difficult behaviors that can transform them. It is just a matter of being a Conscious Communicator? and taking responsibility for the power you have to influence others."

Dr. Brinkman has been in "public practice" since 1980, touring nationally and abroad to share his human behavior insights and practical communication strategies via highly entertaining and educational keynotes and trainings. Dr. Rick is a regularly featured speaker for Young President?s Organization, Institute for Management Studies and many associations and corporations. He was one of only 15 people selected by the Tom Peters Group to present the In Search of Excellence and Thriving on Chaos programs in 1988. He has authored four audio and two video training programs on customer service, communication and life management. Dr. Brinkman has been featured on CNN and in the Wall St. Journal.

Rick's view graphs can be downloaded.