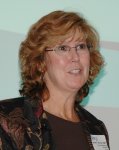 Janet Burns, PMP
There are many synergies between Six Sigma methodology and project management. These disciplines have many common goals and intent. Both are centered around planning and prevention of problems and using clear facts and metrics to tell a story. This session will show how Six Sigma methodology and tools can be a great way to show the value of a PMO and at the same time educating PMO stakeholders in a new discipline.

Metrics are the cornerstone of the Six Sigma methodology. For example, it is key to capture data to find and reduce variation in processes. This can also apply to project execution and can be a simple first step for PMOs when tracking project performance. A brief overview of the synergies between Six Sigma and project management will get this presentation started. Then, we will discuss some key metrics, how they are used in Six Sigma, and how they translate to the project management arena.

Janet Burns, PMP is currently an independent project management consultant, specializing in simple PMO set up, methodology implementation, and training. Ms. Burns has recently implemented PMOs at Viacom and the New York Times Company. Ms. Burns has been in the IT field for over 20 years with extensive project experience managing large software projects and enterprise wide process improvement projects. She has also delivered many project management training courses, most recently at Columbia University. Ms. Burns is a past president of the Hampton Roads Chapter of PMI and is a frequent speaker at industry events. She was recently named to the PMI Power 50, a list of 50 prolific leaders in project management. Ms. Burns holds a Bachelor of Arts degree from the University of Pennsylvania and a certificate in Total Quality Management from the University of Virginia.