Program Number: C020-06112008
Program Title: "Internationsl Progect Management Day Seminar"
PDUs: 8
Category Type: 3
Subject Areas
Knowledge: 10
Process: 6
Application/Specific Interest Groups: 30
Activity Sponsor: NJ/PMI Chapter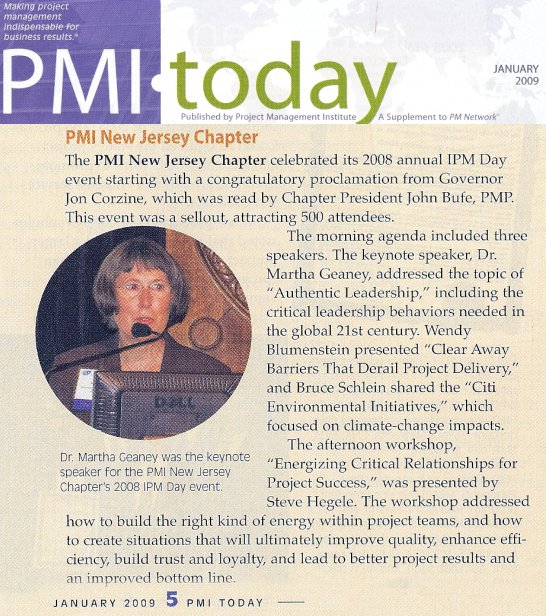 The proceedings for the 2008 IPM Day Seminar are available for downloading.
The files available to download:
HTM tool to view files
All speaker files
Directions:
Create a temporary folder on your hard drive (eg. IPM-2008).
Extract all the files from the zip files into the temporary folder.
The htm file will not work when launched from the zip file.
The files require a password for extraction
Double click on the htm file (or open it with your internet browser).
Print files if desired to bring to the seminar. Handouts will not be provided at the event.
Some clip-art, pictures, and backgrounds have been removed from the files to enhance downloading and printing.



Description

All speaker files plus HTML tool

Opening Keynote:

Dr. Martha M. Geaney
Authentic Leadership: Where Do We Go From Here?

Session 1:

Wendy Blumenstein
Clear Away Barriers that Detour Project Delivery

Session 2:

Bruce S. Schlein
Citi Environmental Initiatives

Workshop:

Steve Hegele
Energizing Critical Relationships for Project Success

Updated: 22May09