February 19, 2008 Pines Manor Edison
The Iron Triangle: How Do You Accommodate the Interdependencies between Cost, Scope, and Schedule When Evaluating New Initiatives
PDP Information:
Program Number: C020-19022008
Program Title: "The Iron Triangle: How Do You Accommodate the Interdependencies between Cost, Scope, and Schedule When Evaluating New Initiatives"
PDUs: 1.5
Category Type: 3
Subject Areas
Knowledge: 10
Process: 06
Application/Specific Interest Groups: 30
Activity Sponsor: NJ/PMI Chapter
Joseph Ingemi

This presentation will explore the relationship among cost, scope, and schedule. It will therefore cover best practices in both cost and risk management. Further, David P. Seaver will review capabilities needed in an organization to accurately plan and implement technology projects. This will include:

Do you have a repeatable process to estimate project size, effort, schedule, and cost?
Can you link IT projects with business results?
How well do you sell the numbers to management? Can you answer such questions as: How much? How long? And what will it do?

Joseph Ingemi currently works as an Executive Consultant for Price Systems in Mt. Laurel, NJ. His responsibilities include providing project cost estimation and analysis to corporate clients. Mr. Ingemi has extensive experience with Fortune 500 companies in the technology, healthcare, and life sciences industries. His experience includes: developing FDA compliance strategy for the pharmaceutical industry and serving as a project manager on the Nationwide Health Information Network (NHIN) Initiative. He holds a Bachelor's of Science in Electrical Engineering from West Point and a Master's in Public Policy from Duke University. He is also a Certified Information Systems Auditor (CISA).

Joseph's handout can be downloaded.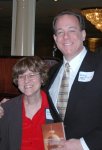 Networking Program:

Topic: Is this Job Offer the Right Fit and How to Sweeten the Deal

Diane Litchko, HR Manager for QUALCOMM, will facilitate an interactive workshop that will help you identify your dream job characteristics to make your next job the right fit and will also highlight various items to consider when evaluating a job offer including various forms of compensation, benefits, and perks. Each participant will walk away with their "must haves" and "nice to haves" lists to help them choose the right next job with their ideal compensation and benefits package.
Bring your business cards.
Updated: 22May09