March 18, 2008 Martinsville Inn, Bridgewater
Postcards from the Edge: Surviving Projects in the Third World
PDP Information:
Program Number: C020-18032008
Program Title: "Postcards from the Edge: Surviving Projects in the Third World"
PDUs: 1.5
Category Type: 3
Subject Areas
Knowledge: 10
Process: 06
Application/Specific Interest Groups: 30
Activity Sponsor: NJ/PMI Chapter
Camper Bull
Most projects run in a safe and contained environment allowing individuals to hide behind corporate politics or bureaucracy. This presentation will look at a series of projects within the Third World countries and relate lessons learned to techniques developed to survive in the wilderness. The examples are based on projects run in countries that do not necessarily have the same advantages one would have managing a project in a first world country but can be very powerful tools to identify what we are doing wrong with the projects. The learnings can be utilized by all project managers in whatever project they are dealing with at the time and are brought in a format that allows for not only a quick understanding of lessons and techniques but also provides examples of how they can be utilized.
This session will cover the following learning objectives:

Identify techniques by which project managers can increase the human potential of their projects
Inspire project managers to go forth and utilize survival techniques to improve the quality of their projects
Identify 10 areas which could improve a company's project management process

Mr. Bull is a partner in Armiger International, a boutique management training and development firm. He has held leadership and management positions in both commercial and philanthropic environments. Mr. Bull was educated at Drew University, Madison, NJ in International Economics with emphasis in Complex Organizations, Business Ethics, Managerial Economics and Finance. He completed additional studies in the European Community in Brussels with intensive French language studies in Paris.
Mr. Bull has developed and delivered several leadership training programs in business and industry as well as for high school seniors and foreign exchange students. He is the author of a significant PMP Prep program for the purpose of helping project management professionals prepare for the PMI certification examination. Proficient with computerized business applications, he has been able to transfer these practical skills into useful training tools helping clients gain a fast yet comprehensive understanding of the application in their business environment.
His extensive travel and experience throughout Europe, Africa and Asia provide additional strength and a global view to Mr. Bull's platform of communications and project management training.

Camper's handout can be downloaded.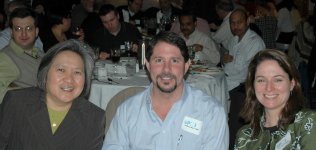 Networking Program:

Topic: Is this Job Offer the Right Fit and How to Sweeten the Deal

Diane Litchko, HR Manager for QUALCOMM, will facilitate an interactive workshop that will help you identify your dream job characteristics to make your next job the right fit and will also highlight various items to consider when evaluating a job offer including various forms of compensation, benefits, and perks. Each participant will walk away with their "must haves" and "nice to haves" lists to help them choose the right next job with their ideal compensation and benefits package.
Bring your business cards.
Updated: 22May09