Karen Sobel Lojeski

Collaboration challenges are the main issue of our time in this, the Digital Age. But is the world truly 'flat'? Is distance really dead? So say those that claim that with the advent of mobile communication technology, distance has become a non-issue. But funeral plans for the death of distance are premature. Pioneer Karen Sobel Lojeski redefines the concept and coined the term "virtual distance" which explains why we still can feel "apart" even when we are "always connected" – and this leads to significant impact on key success criteria. Karen presents empirical data about perceptual and behavioral shifts and shows how new workforce dynamics can have measurable impact on performance, innovation, and leadership. She presents valuable "how tos" on ways to improve results and well-being throughout the enterprise.

Karen Sobel Lojeski, Ph.D. is CEO of Virtual Distance International, a research-based management advisory company that creates breakthrough models and methodologies for improving performance, leadership and innovation in globally integrated enterprises. She is the author of the new book, Uniting the Virtual Workforce: Transforming Leadership and Innovation in the Globally Integrated Enterprise, John Wiley & Sons, 2008 and one of only a select group of works in the Microsoft Executive Leadership Series. She is a highly sought-after international public speaker and is a Director's Visitor at The Institute for Advanced Studies at Princeton, a collaborator at Stanford's MediaX Lab and a Presidential Fellow at Polytechnic/NYU University. Her work has been showcased in BusinessWeek, Forbes.com, The New York Times, Entrepreneur Magazine, CIOInsight.com, and more. Karen is the Moderator for the Virtual Work Forum at CIOZone.com, has been featured on ABC News and other major media channels and will be a featured speaker at the Project Management Institute, Society for Information Managers, HR.hub and more later this year. Karen works with Fortune 500 companies partially including Genentech, Western Union, Sun Microsystems, Alcatel-Lucent, Microsoft, J&J as well as major non-profits and government organizations.

Karen's handout can be downloaded.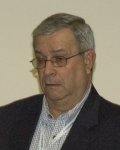 Networking Program:
Topic: Considerations for Campaigning to Get a Job
"Considerations for Campaigning to Get a Job" - Do you need to find a job and aren't sure where to start? Here's how to successfully job hunt, including how to write resumes and cover letters, how to use your connections, the best sites to look for jobs, and tips for acing the interview. Come and join our speaker, John Sampson, and learn the dynamics of job hunting and how to manage being in "Transition".
John's handout can be downloaded.