CONTENTS
Business-Savvy Project Management,
24th PMINJ Regional Symposium
May 3, 2010,
Pines Manor, Edison, NJ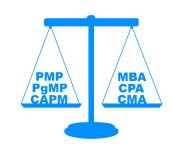 In today's lean times, dynamic organizations and business leaders are looking for business-savvy project managers (PMs) who can maximize return on their investment (ROI). The scope for ROI objectives is often the organization at large and not just for the project. PMs need to understand the organization's business goals and align project goals with organization's business strategy. In addition, they need to estimate and deliver results predictably, to not jeopardize corporate financial planning and performance figures. These pressures are particularly in evidence as we start the second decade of the 21st century.
PMINJ invites you to explore and gain valuable business skills and financial project management techniques from leading experts on May 2 & 3, 2010 at the Pines Manor in Edison, NJ.
On Sunday May 2, we have an afternoon seminar entitled Debits & Credits for Project Managers: Fundamentals of Accounting & Related Business Cycles by Anthony Reed, CPA, PMP.
Anthony Reed is an IT professional with twenty years in management and executive positions for Fortune 500 corporations and large consulting firms. He has managed multi-million dollar departmental budgets and staffing blends of international, multi-generational, multi-cultural employees and consultants. As an adjunct professor, he has taught project management, accounting, income tax, business management, and information technology courses. He also developed and taught accounting classes to small business owners and consulting firms. Anthony Reed holds two graduate degrees and two undergraduate degrees. He has four books and over 50 articles published. Finally, Anthony Reed has completed one hundred marathons around the world on all 7 continents and in 30 States.
On Monday May 3, we have the PMINJ 2010 Regional PM Symposium. The theme this year is "Business-Savvy Project Management." One keynote address will be delivered by Anthony Reed. It is entitled Finding the I in TEAM: Better Team Building Through Individual Building. We are currently soliciting speakers for multiple track sessions and sponsors to participate in the event. Topics for consideration, as well as timely, practical project management techniques and case studies, are:
Cash Flow and Capital Management
Estimation
Benefit Realization and Measuring Effectives
Risk Management
Resource and Contract Management
Business Cases
Organizational Change Management
The lunchtime Keynote Speaker will be Mark Wiskup. His theme will focus on how powerful communication skills have a tremendous advantage over the competition and how to become a great communicator for your team.

The afternoon Keynote Speaker, Michelle LaBrosse, PMP, will talk about understanding the role that a project manager has in the overall strategic performance of a company as well as understanding how to make proper project portfolio decisions.

Do you manage your projects like a small business owner? Projects are financial investments and should be recognized as key elements in the strategies for achieving business goals and excellence. PMs should be able to think beyond the immediate horizon in terms of financial reward, risk, and uncharted territory. Businesses need people who can manage the company's financial assets effectively and determine where the most beneficial returns on investment may be found. This bottom-line driven symposium will supply you with the business knowledge and project management insights you need.
Once again, this year's event will be held at The Pines Manor, a landmark in the heart of central New Jersey. This elegant facility can accommodate over 600 professionals.

The Pines Manor is centrally located in Edison, New Jersey on Route 27 (Lincoln Highway) minutes from I-287, NJ Turnpike, and the Garden State Parkway. For detailed directions, visit their link at www.pinesmanor.com.

A block of rooms are available at the Crowned Plaza Edison until April 16, 2010. The rooms will cost $104 per night and are the responsibility of the attendee. When making the reservation, be sure to mention that you are part of the PMINJ Group. The Crowned Plaza is located across the road from The Pines Manor. Additional information is available at www.cpedison.com, 2055 Lincoln Highway, Edison, NJ 08817, 732-287-3500.
---
President's Message
Welcome to our new 'Green' Newsletter and our new Editor – Dave Case (you remember him, he was our editor before and is king of the Kodak moments). We have been using recycled paper the last several years to publish our newsletter and distribute it to you. Now we are taking the next step to eliminate the paper distribution and deliver it through email and with a new web page.
We hope the new Reader's Digest version in the email helps you identify the items that you will investigate further. Also, this version should provide a quicker analysis of the events and activities that are available to you as a member and that can be shared with your associates.
Speaking of associates, we encourage you to forward this email to others who might have an interest in the articles or the activities.
If you know a fellow PMINJ member who is not receiving the new e-newsletter, remind them to update their preferred email address in the PMI DB.
Let us know your thoughts.
---
First 2010 Strategy Planning Session
The PMINJ Board of Directors held the first of its two annual strategic planning sessions on Saturday, February 20, 2010 in Iselin, New Jersey. Debbie Heger, VP Administration, ran the all-day event. The chapter vision and objectives were reviewed and compared to the latest PMI strategic plan contents. Priorities for the next three to five years were discussed. It was a dynamic and valuable work session that will have benefits for all members of the chapter in the year ahead.
From Left to Right at the February 2010 PMINJ strategic planning session:
John Bufe (President), Jon Rice (SIGs/LIGs), Ava Hewer (VP, Professional Development), Jim Andreano (Project of the Year), Jerry Flach (Symposium), Debbie Heger (VP, Administration), Judy Balaban (VP, Marketing), Maureen Sammis (Public Relations), Raja Sivaraman (Sponsorships), Linda Glickman (VP, Programs), Aita Salasoo (VP, Symposium), Paula Reid (Community Outreach), Pat Bonanni (VP, Finance), Judy Miao (Corporate Outreach), Irene Giameo (Programs), Deven Trivedi (Symposium), Bill Sasso (Professional Development). Beth Carfagno (VP, Membership) participated by phone and Stacy Miltiades (Advisor) took the photo.
---
What Does PMP Mean To You?
There I was, being driven between company locations in Chennai, India, when I saw this and got a good chuckle!
Aita Salasoo, Jan 2010
---
Federal Aviation Administration (FAA) Spokesperson Shares Nextgen Vision
By Ashay Gharat, PMP, MBA
The Career Networking Local Interest Group November meeting was very enlightening. Dorothy (Dot) Buckanin, Special Assistant to the Director of the William J. Hughes Technical Center (WJHTC) discussed the employment opportunities in government, at the FAA, specifically at the WJHTC, located near Atlantic City, NJ. Dot is a private pilot, a Fellow in the American Institute of Aeronautics and Astronautics [AIAA],a Senior Member of the Institute of Electrical and Electronic Engineers [IEEE], and has served as Chair at IEEE as well as Chair of the AIAA.
FAA WJHTC is a dynamic exciting workplace for scientists and engineers with a world-class federal laboratory and an environment that encourages people to grow. In the past one year the technical center hired 80 new employees. Most desired skills are degrees in electrical/electronic engineering and computer science/computer engineering.
At FAA WJHTC, there is an identified ladder for promotions. Each employee knows what skill sets need to be demonstrated to get promoted to the next rung of the ladder. Post-graduate (usually Master's degree) programs are given onsite. Travel is part of the life since FAA works with industry and other governmental agencies everywhere.
For employment opportunities, visit www.usajobs.gov. Then perform an agency search for 'FAA' in the state of 'NJ'. Many job opportunities are listed nationwide and may be found under a general search for 'FAA'



Left, Joan Galay Presenting Certificate of Appreciation to speaker Dorothy Buckanin "Special Assistant to the Director" of the William J. Hughes Technical Center, Pomona, NJ

Dot also briefed the Project Management Institute Professionals on the FAA goals to implement the new Air Traffic Control System, NextGen (www.faa.gov/about/initiatives/nextgen/). The FAA broke ground on October 19 for a new research park dedicated to exploring and advancing NextGen technologies. FAA is leasing 55 acres of land to the South Jersey Economic Development District to build an Aviation Research and Technology Park, which will sit adjacent to the FAA's WJHTC just outside of Atlantic City, NJ.

The park will offer a central location for the FAA's industry partners to perform research, development, testing, integration, and verification of the technologies, concepts, and procedures required by NextGen. The park, which is expected to create 2,000 new high-skill jobs, is capable of accommodating up to 400,000 square feet of technology-oriented facilities.

The audience gained a great insight into the impact aviation plays on the future and economy of NJ.
---
Volunteers
The PMINJ Chapter currently has 275 volunteers that assist in various initiatives within the Chapter. Volunteers are members of the PMINJ Chapter and their dedication and commitment is a key contributor to the success of our organization. We are always looking for volunteers to join our team as the Chapter continues to grow and broaden its services to the member community. If you are interested in volunteering for our Chapter or learning more about what volunteering can do for your personal/career development, go to www.pminj.org/volunter.mr
The below volunteer openings are the current positions available:
1. Speaker Angels for May 2010 Symposium
Two positions needed as soon as possible through June 2010.
Symposium speaker angels participate in the solicitation, review, selection, quality control, and logistics support of speakers for the May symposium and/or Sunday seminar. They also host a speaker at the event, introducing him or her. They participate in weekly planning calls and the event lessons learned afterwards and are the point of contact between the chapter and the speaker. 3 months and less than 6 months of effort will earn the volunteer 1 PDU plus a terrific experience!
The contact information for the first 5 people who express interest in this position will be forwarded to the Symposium team lead.
2. Vendor Team Members for May 2010 Symposium
Activities for the 2010 Symposium have begun and are expected to go through June 2010. Currently seeking a vendor team volunteer to assist with solicitation, review, quality control, logistics management, and day-of support of sponsors and exhibitors.
The contact information for the first 5 people who express interest in this position will be forwarded to the Symposium team lead.
3. Photo Team for the May 2010 Symposium
The Photo Team for the Symposium, headed by Dave Case, is looking for 2 volunteers. They need to be able to attend the Symposium on May 3 and own a good-quality digital camera and be willing to take photos at specific sessions. To earn 1 PDU, the volunteers need to sign up and participate on planning calls by late March the latest. Volunteers may participate in selecting photos to be used after the event, touch-ups, and will be required to attend the lessons learned session.
The contact information for the first 5 people who express interest in this position will be forwarded to the Symposium Photo team lead.
4. Photographer for Monthly Chapter Meetings
Alternate with someone else to take pictures at the monthly meetings. This individual would need to be able to attend the meetings in which he/she is responsible for the pictures and owns a higher-end digital camera that can take pictures in RAW-type format. Since the pictures are usually taken in a darker room, this format allows easier changes when making adjustments in Photoshop or Photoshop-like software.
The contact information for the first 5 people who express interest in this position will be forwarded to the Programs Photo Team lead.
5. Newsletter Writer
The Programs Team is looking for volunteers to work together to summarize the topic that is presented by the speaker at the monthly meetings. Since one person may be unable to attend all of the meetings, it would be great if 2-3 people are willing to do this. All interested volunteers should include a writing sample in their response to this communication and have writing experience.
The contact information for the first 5 people who express interest in this position will be forwarded to the Programs Team lead.
6. Speaker Feedback for Monthly Team Meetings
Provides feedback to the speaker each month on the results that were obtained from the evaluation forms and tracks the topics/speakers recommended by the attendees at each meeting.
The contact information for the first 5 people who express interest in this position will be forwarded to the Programs Team lead.
7. Certificates for Monthly Chapter Meetings
Alternating with one other volunteer to prepare the certificate that is given to the presenter(s) at the monthly evening meeting. In addition, this individual needs to be able to research whether the speaker has any certifications (such as PMP).
The selected individual would need to be able to attend the meetings in which he/she creates this certificate and know how to use PowerPoint.
The contact information for the first 5 people who express interest in this position will be forwarded to the Programs Team lead.
8. Member Retention Initiative
PMI is encouraging the chapter communities to reach out to members who are scheduled to expire within 60 days, and personally encourage them to renew their memberships. The PMINJ Chapter is looking for as many volunteers as possible to make these calls on an monthly basis. Volunteers will be given a script and a call list.
---
Additional Information
Contact the news editor, Dave Case, at editor(:@:)pminj.org for newsletter related items.
Submit articles in MS Word, plain ASCII text, or as part of an email. Graphic files should be high resolution (1MB+) J PG or GIF.
All members are invited to submit articles, meeting review, or other items of interest for publication.
PMINJ is not responsible for the content or quality of any advertisement included in this newsletter.
---


None for this month.