Contents
Changing of the Symposium Guard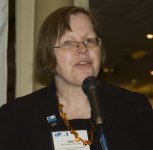 Buckingham Palace has its Changing of the Guard Ceremony. Barack Obama's successful presidential campaign slogan was "Change You Can Believe In!" Even our PMINJ Chapter is undergoing change – one particular change is that after 6 years as having the honor of being the Vice President, Symposium, I have decided to allow our voting processes to do their job and pass on the reins of our tradition of innovative and successful symposium events to another qualified guard. The candidate is Deven Trivedi, who has been a Director, Symposium, and before that, an active symposium planning team lead and team member for many years. I have complete confidence that the new guard, with our symposium planning team, will bring in further change, while preserving the values and benefits of these events!
Looking back on my involvement with our symposium events has brought back some great memories of some of the changes and innovations we tried and learned from.
In 1998, we introduced the poster format to our May Symposium events. The purpose was to encourage increased contribution and interactive participation by chapter members who attended the event. Since then, we have had 120 posters presented! What a fantastic achievement! And many of those presenters have gone on to hold leadership positions in their careers and in our chapter.
Another innovation we tried was panel discussion presentations – two come to mind. In 1999 we had a great team of executives discuss "The Future PM." Each participant received a caricature drawing created during the event by our artist that year, Kurt Ackerman. In 2007, another panel addressed "Sustainability and Project Management".
One of the things that I find exciting is just looking at the themes we focused on each year, and how the planning team was able to expand our portfolio of offerings year over year, giving our members more opportunities to learn and connect with other project managers.


| | | |
| --- | --- | --- |
| Year | Symposium | Additional Event |
| 2005 | Execute Flawlessly!!! | Sunday Seminar |
| 2006 | PM in the Global Economy | IPM Day |
| 2007 | Sustainable PM: The Future is Now! | Sunday Seminar, IPM Day |
| 2008 | Exponential PM: PMBOK and Beyond! | Sunday Seminar, Seminar at Sea, IPM Day |
| 2009 | Outside the Box PM | Sunday Seminar, Seminar at Sea, IPM Day |
| 2010 | Business Savvy PM | Sunday Seminar, IPM Day |
We have been leaders in terms of timely topics. Think about sustainability and innovation in your workplace in 2010 and you'll see what I mean. We even brought healthcare as a topic to our audience in 2009 to help us all understand the complexities of the field, no matter whether or not we work in it directly.
How we worked to plan and deliver our events also changed in this time period. We completely eliminated mailed communications about our symposium events and introduced online surveys to gather feedback. Teleconferences and online groups have become a way of life for us. Who knows how we will work in the future!
It's all about the people behind the chapter symposium events I have met and gotten to know and how we have shared our vision and turned it into reality. As volunteers, every one of these individuals has chosen to give his or her time, project management skills, and all kinds of other expertise, sometimes stretching comfort zones, for the chapter and for the symposium events. Thank you to all of you – you know who you are! And the results have been spectacular: continued profitability, excellent attendee feedback, and most importantly, high quality programming. Our chapter has a reputation and our symposium events are no small part of it.
I'll be turning to other areas of volunteering as I welcome the new symposium guard. I know we won't skip a beat! I'll see you all at future chapter events! Stay well until then, excel in everything you do, and feel free to contact me at asalasoo(:@:)yahoo.com.
Return to top
---

International Project Management (IPM) Day Seminar
Mark your calendar for upcoming International Project Management (IPM) Day Seminar sponsored by PMINJ on November 4th, 2010 at Palace at Somerset Park, Somerset, New Jersey.
Take advantage of lower rates by registering before August 31st, 2010. Registration is now open at PMINJ web site www.pminj.org. Stay tuned for the further details as committee is in the final stages of selecting recognized speakers in the field of Global Project Management including popular afternoon workshop. The IPM Day Seminar provides perfect opportunity to earn 8 PDU's, expand project management knowledge with great speakers and network with fellow PMs.
If you are interested in volunteering for this or other PMINJ events contact Nikki John at volunteers(:@:)pminj.org.
---

Is Project Management A Core Skill And No Longer A Niche Capability?

A smooth sea never made a skilled mariner. English Proverb
Project management is fast becoming the preferred way for companies to get things done. In a global economy project management will make a company more competitive than the traditional methods of managing work.
So for all managers there is now the need to understand the dynamics of projects together with the skill and process of project management in order to make the most out their organization's investments.

The Question
Is Project Management therefore no longer a niche capability, the home of project management office members and external contractors; is it now a core skill that all executives and senior management need to understand?
In a recent survey conducted by Peter Taylor (www.thelazyprojectmanager.com) through a LinkedIn survey (poll). (Note: LinkedIn Polls allow you to easily find answers to your business and market research questions. Target professionals with the right expertise, and then LinkedIn will analyze the results to show you how factors such as seniority, company size, job function, age and gender influence responses. You can distribute your poll for free to your network.)That very question was asked, 'Is Project Management a core skill and no longer a niche capability?' to see what a wider community of business people thought.

347 people responded to the survey and I am grateful their time and consideration, as well as the follow up comments that many people left for me to review.

Anyway these are the results:
There is a fairly even split between 'A core skill' and 'Both a core skill and a niche capability ' with a smaller number believing that it is 'A niche capability'. But I guess it would be fair to say that the survey contributors were divided in their views, and strongly divided in some cases based on the comments exchanged.
Before we analyze the responses in detail let me clear one thing up. In my open question on LinkedIn I mentioned the terms 'project management' and 'profession' in the same paragraph and, inevitably I guess, received some severe reprimands from some quarters. So for the sake of this article and discussion let's not go there shall we? – forget the profession angle; I am happy to leave that to others.
OK, it feels good to get that hot potato out of the way.

The Answer
So back to the survey; again a small caveat, there will be those of you out there that know more about how to correctly run statistical analysis and present such results, I don't.

So when I say survey I mean that I asked the question and' based on people's poll votes and the LinkedIn analysis tools' I assessed the output. This article describes both the results and my thoughts based on the wide feedback.
Job Title

The above chart shows the votes cast by job title. Interestingly it appears that the higher up the organization the clearer the division between the 'niche' and the 'core' views are. The lower the more there was a view that it was 'both a core skill and a niche capability'.
Company Size
By company size it appears the small and the large/very large organizations have a mixed view but that medium companies either believe or employ those that act as 'both a core skill and a niche capability'. That said 71% of respondents came from organizations at either end of the size scale.
Gender
Gender played no part in these results with an almost identical view from both groups. That said it can be noted that the respondents were twice as likely to be men. I will say no more.
Age
So we have looked at gender but what about age? Well the majority of respondents were in the 25 to 54 age range (logical really) and the younger the viewpoint the more likely it was that there was a belief that it was a 'core skill' or the non-belief that it was a 'niche capability'. Was this as a result of the skills being gathered through the education process for business these days; that is project management being taught as one of the range of business skills?
Despite his title of "The Lazy Project Manager", Peter Taylor is in fact a dynamic and commercially astute professional who has achieved notable success in project management, program management and the professional development of project managers: currently as Director of a PMO at Siemens PLM Software, a global supplier of product lifecycle management solutions.
He is an accomplished communicator and leader; always adopting a proactive and business-focused approach and he is a professional speaker with City Speakers International. He is also the author of "The Lazy Project Manager" book.
---
10 Easy Ways to Earn PDUs
PDUs we need and PDUs we want. Professional Development Units (PDUs) dominate our minds, our conversations, and our spare time in the last quarter before Continuing Certification Requirements (CCR) deadline. A little forethought would be nice, but the bottom line is that we want the fast and consistent path to our PDUs… and we want them now!

Just do what you do. The easiest way to earn PDUs is to leverage what you currently do. Here is the short list of PDU eligible activities that might already be part of your professional life:
1. Your day job (PDU Category 2H)
If you work as a Project Manager this is probably the easiest way to tick off up to 25% of the PDUs you'll need at the end of the recertification cycle. If you are a practitioner of project management services for at least 1,500 hours each calendar year, you can claim up to 5 PDUs per year for a maximum total of 15 PDUs per three year period. (See http://www.pmi.org/pdf/pdc_pmphandbook.pdf#page=38)
4. Free PDUs (PDU Category 2)
The Project Management Podcast is a free subscription that delivers a new podcast every so often to its subscribers. Like the PDU Podcast, The Project Management Podcast has a variety of topics presented but it may take a couple of episodes to equal one PDU if the programs are shorter than the 1 hour needed per PDU. It's important to remember also that Category 2-SDL PDUs has a limit of 15 PDUs maximum per 36 month period. (See http://www.project-management-podcast.com/pdu)
6. Formal Academic Training (PDU Category 1)
Formal Academic educational courses related to Project Management can earn you 10 to 15 PDUs per semester. It's probably the easiest of all the categories, so long as you are not financially challenged. Even if you are, there may well be project management related courses being offered at the community college that are more economical than the state and private collegiate institutions. The transcript or grade report is required for confirmation. (See http://www.pmi.org/pdf/pdc_pmphandbook.pdf#page=37) (Editor's note: These courses must be offered for degree credit. Also, if the course is not 'totally' related to project management, only the portion that applies can be used.)
7. Turning CEU's into PDUs (PDU Category1 or 3)
Like Formal Academic Training, Continuing Education (CE) can be submitted for PDUs. Unlike Formal Academic Training, CE's are courses that comply with IACET standards. CEU's (Continuing Education Units) can be converted to PDUs; generally at a ratio of 1 CEU to 10 PDUs. Your best bet is to confirm with the provider that the course you are interested in complies with the ANSI/IACET 1-2007 Standard. (See http://www.pmi.org/pdf/pdc_pmphandbook.pdf#page=36)
8. Volunteer Service to Professional or Community Organizations (PDU Category 5)
If you already attend your PMI chapter's monthly meeting, you're earning up to 1 PDU for the presentation. Did you know you could be earning additional PDUs for attending that same meeting by joining the registration, finance, internal marketing and/or meeting committees? Contact your local Chapter's for more details. A maximum of 20 PDUs may be earned through professional service or by providing non-compensated professional PM Service to non-employer or non-client customer groups.

A letter or certificate from the organization acknowledging the participation is required for confirmation. (To find your local PMI chapter, go to http://www.pmi.org/GetInvolved/Pages/PMI-Chapters.aspx)
9. Knowledge Sharing (PDU Category 2)
Authoring or co-authoring an article which is published in a 'refereed' journal, earns you 30 PDUs for author and 20 PDUs for co-author. If published in a 'non-refereed' journal, you can earn 15 PDUs for author and 10 for co-author. (See http://www.pmi.org/pdf/pdc_pmphandbook.pdf#page=38)
10. Self-Study (PDU Category 2-SDL)
Discussions or coaching sessions with colleagues or clients that put to use informational materials such as CD-ROMs, articles, books, videos or instructional manuals can earn up to 15 PDUs per three year period through self directed learning. This includes personally conducting project management research or a study, coaching sessions with people in your professional network (colleagues, clients, coworkers, etc). Reading applicable studies, books, blogs, and listening to audio books would all fall under this category. Copies of publications, sample education material or program agendas are required for confirmation. (See http://www.pmi.org/pdf/pdc_pmphandbook.pdf#page=38)

So there you have it….

No matter what your budget or your learning media preference, these 10 Easy ways are waiting to help you amass the 60 PDUs for your recertification. Whichever route you take, keep consistent and remember to have some fun with it.

Cornelius Fichtner, PMP is a noted PMP expert. He has helped over 10,000 students prepare for the PMP Exam with The Project Management PrepCast and he guides PMI credential holders on earning PDUs with The PDU Insider
---
NJ PMO LIG - Coming Soon!
Are you a New Jersey area project manager involved in a Project, Program or Portfolio Management Office? Do you sometimes feel there is no common place to freely communicate and exchange ideas with other PMO professionals? Sometimes wish there were helpful PMO tools readily available? Wouldn't it be great if there was a group of PMI members who were focusing on current challenges and trends faced by Project, Program and Portfolio Management teams? And finally, wouldn't it be wonderful to network and share stories with these professionals?

Well, the time has come! The New Jersey Program Management Office - Local Interest Group (NJ PMO LIG) is taking shape for its debut targeted around the September 2010 timeframe. This group will leverage the PMO SIG (Special Interest Group) resources and will work in conjunction with the local PMINJ Chapter in providing focused discussions, workshops/ seminars, networking and community involvement opportunities. The group has already formulated an aggressive list of objectives and is looking forward to working with chapter members and other project management professionals to bring a needed focus to the PMO community. For more information or to find out how you can be a part of this exciting new LIG, contact Ron Krukowski, PMP at ronkrukowski(:@:)hotmail.com.
---
Volunteers

The PMINJ Chapter currently has about 150 volunteers that assist in various initiatives within the Chapter. Volunteers are members of the PMINJ Chapter and their dedication and commitment is a key contributor to the success of our organization. We are always looking for volunteers to join our team as the Chapter continues to grow and broaden its services to the member community. If you are interested in volunteering for our Chapter or learning more about what volunteering can do for your personal/career development, go to www.pminj.org/volunter.mr or write an email to volunteers(:@:)pminj.org
The below are volunteer openings currently available.
1. Newsletter Writer
The Programs Team is looking for volunteers to work together to summarize the topic that is presented by the speaker at the monthly meetings. Since one person may be unable to attend all of the meetings, it would be great if 2-3 people are willing to do this. All interested volunteers should include a writing sample in their response to this communication and have writing experience.
The contact information for the first 5 people who express interest in this position will be forwarded to the Programs Team lead.
2. Speaker Feedback for Monthly Team Meetings
Provides feedback to the speaker each month on the results that were obtained from the evaluation forms and tracks the topics/speakers recommended by the attendees at each meeting.
The contact information for the first 5 people who express interest in this position will be forwarded to the Programs Team lead.
3. Certificates for Monthly Chapter Meetings
Alternating with one other volunteer to prepare the certificate that is given to the presenter(s) at the monthly evening meeting. In addition, this individual needs to be able to research whether the speaker has any certifications (such as PMP).
The selected individual would need to be able to attend the meetings in which he/she creates this certificate and know how to use PowerPoint.
The contact information for the first 5 people who express interest in this position will be forwarded to the Programs Team lead.
4. Member Retention Initiative
PMI is encouraging the chapter communities to reach out to members who are scheduled to expire within 60 days, and personally encourage them to renew their memberships. The PMINJ Chapter is looking for as many volunteers as possible to make these calls on a monthly basis. Volunteers will be given a script and a call list.




---
Sponsors
The chapter wishes to acknowledges the following sponsors :
DeVry University's Keller Graduate School of Management - Platinum sponsor Feb 2010- April 2010 Keller.edu/NewJersey
Compuware - Gold sponsor Sept 2010- Nov 2010 www.compuware.com/solutions/changepoint_psa.asp

Contact sponsors(:@:)pminj.org for additional information.




---
Surveys
Participate in Project Management related surveys.

Take an active role in improving the profession by participating in a survey. The more responses received, the more accurate the conclusions drawn from them.

http://www.linkedin.com/groupItem?view=&gid=1386157&type=member&item=
25442899&qid=4e6633e4-5ed5-4a03-b4bc-c4267562f023&goback=%2Egna_1386157
---
Additional Information
Contact the news editor, Dave Case, at editor(:@:)pminj.org for newsletter related items.

Submit articles in MS Word, plain ASCII text, or as part of an email. Graphic files should be high resolution (1MB+) J PG or GIF.

All members are invited to submit articles, meeting review, or other items of interest for publication.

PMINJ is not responsible for the content or quality of any advertisement included in this newsletter
.

Newsletter Schedule
| | |
| --- | --- |
| Articles Due By 15th of each month | Emailed by 1st weekend after 1st of the month |
| Jan | Feb |
| Mar | Apr |
| May | Jun |
| Jul | Aug |
| Sep | Oct |
| Nov | Dec |