Contents
---

Event Report - Today's Job Market - Expectations, Perspectives and Effectiveness - Nov 2010
Speaker: John A. Seber, Chief Operating Officer, Velankani Information Systems, Inc.

If you respectfully follow the "standard process" in pursuing job opportunities, you may be experiencing inadequate responses. John provided some insight that might be helpful in your job search.

Some of the highlights include:

Resume: Update your resume often – this will show a new date and time stamp

Have key words (buzz words) at the top of resume, e.g.: PM, PMI, PMP, etc. In this example, a recruiter may search for PMP (Project Management Professional) others may look for PMI Certified. You can include other keywords at the bottom of your resume.
Make sure your work experience represents your skills inventory (e.g.: java, xml, etc.). When recruiters have a match on skills they will then look through your work experience to see what type of experience you have had with those skills.

Elevator Speech: Your speech should be precise and relevant. Make sure it doesn't go on and on where you would lose the person's interest.
W2 vs. 1099: Make sure you understand the difference between the two payment methods. For example, being offered $60/hour vs. $45/hour may sound great however if the higher rate is on a 1099 basis you will be expected to pay additional taxes that the employer pays on a W2 basis.

W2: When a person is paid on the form W-2, the employer will automatically withhold and pay all of the necessary employee income taxes which are required by the IRS. The applicable taxes include: Federal Income Tax, State Income Tax, and FICA (Social Security and Medicare). Employees are required to pay a portion of employment taxes, which are composed of Social Security, Medicare and federal unemployment. Employers pay federal unemployment, although employees are responsible for half of Social Security and Medicare taxes, which equate to 7.65%.
1099: Working on a 1099 basis actually means that you are working as a true Independent Contractor under the IRS rules. You work on a 1099 basis when you are self employed such as a sole proprietor or as a corporation. Your clients will report the monies they pay you to the IRS on a 1099 form. No tax withholding payments are made on your behalf and you are responsible for self employment (SE) tax, or SE. Independent contractors pay SE tax, which is the same as employment tax less the unemployment component. As an independent contractor, you are responsible for the entire amount, which is 15.3%.

Where to search: Job sites ~ Monster, Dice, company sites, SimplyHired, Indeed
Response Frustration? Many jobs are pre-wired, so you need to NETWORK, but not just with IT colleagues. Work beyond the standard process, must be strategic, not just reactive. For example, if you have Oracle DBA skills, go to Oracle sales conferences or new product announcements.
Networking: if you know someone that works at one of your target companies, perhaps you could ask them to help schedule an introduction/informational interview.
Taking an imperfect job might lead to other opportunities. For example, a lower paying job as an analyst might provide the opportunity for that company to see what type of work you do and should another, higher level, opportunity arise they would be more likely to think of you for that job.
The Interview: Every client and every interviewer personality is different:

What you might think is non-pertinent might be just what the interviewer needs. For example; the opportunity may require managerial experience. You may be working at a fast food restaurant while searching for the right opportunity. You may not think working there as the night shift supervisor is important however it might be the differentiator should the interviewer need someone with management experience.
How will you be perceived? Be honest, but don't be too humble.
Show flexibility (i.e. location preference vs. willingness), but be honest with yourself.
John is available via email at jseber(:@:)velankani.com. Also check : www.viscoop.com

About John Seber: John Seber began his technical career after completing his BA in Mathematics at Montclair State University and a Certificate in Computer Programming at the Chubb Institute of Computer Technology. He subsequently earned a Masters of Management Science from Stevens Institute of Technology. John joined Velankani Information Systems in 2001, and is responsible for all day-to-day operations of the company's staffing business. Previously he enjoyed a 20+ year career in directing financial systems development and maintenance at AT&T/Lucent Technologies. Prior to this he supported numerous applications at Allied-Signal (Honeywell) and Chubb Insurance.

---
Is an Agile PMO Possible
By Curt Finch, CEO of Journyx, Inc.

It often seems that a lean, agile development environment will always be at odds with the structure and constraints of the PMO. Rick Freedman described the situation well in a recent blog post:


Many firms have committed so completely to PMBOK process flows and CMM best practices that many of the core concepts of agile development, such as "barely sufficient" documentation and change-friendliness, seem like heresy. In fact, I've had people in my Agile Project Management classes tell me that their perception of agile is that the key message is "everything you know about project management is wrong."

Yet it does not have to be this way. The agile PMO can bridge the gap between these two very important groups and help organizations to execute projects more successfully. While it does require a bit of change management, it is not as impossible as it seems and the benefits far outweigh the effort. First, let's look at the skills and strengths that each team brings to the table.

The Benefits of Agile
Agile development has exploded in recent years for a number of reasons. For one thing, it encourages constant communication with customers throughout the development process, which helps to minimize scope creep. I recently spoke with an executive at a well known financial institution who believes that this is one of the key benefits of agile. It allows customer advocates to see what you are developing very early in the cycle, and you can then correct as needed before it's too late. This also enables companies to adapt themselves to the needs of the market very quickly. In a 2008 article, "The Agile PMO Role," Tamara Sulaiman asserted that "agile teams are cross-functional, self organizing and self managing." With characteristics like these, it's not difficult to see how agile development teams can be extremely effective.

The Benefits of the PMO
Likewise, the PMO brings significant advantages to the organization. Its primary focus is on metrics and progress tracking, which are crucial components of successful project execution. It can also help facilitate communication between developers, project managers and executives. Sulaiman puts it this way:

"Let's say you are a manager or leader in an agile organization. Your development teams have implemented Scrum and are now working toward release. You've got the Scrum of Scrums working so that teams can communicate with each other about cross-team dependencies and impediments on a daily basis. But there's a gap, isn't there? As a manager, how do you effectively and efficiently measure progress, manage risk and keep your eye on the big picture across these agile teams? Wouldn't it be great to have an easy way to communicate budget and schedule information at the program level to the organization?"

While the agile worker is concerned mainly with innovation and fast delivery, the PMO can help to keep the rest of the organization informed as to what is going on. Scope changes, delays or quality issues can arise at any time, and when they do, they must be communicated to all of the stakeholders so that they can revise timelines and adjust their expectations.

In addition, standard PMBOK methodologies (e.g. compliance management) are often more successful at managing corporate initiatives than other methods. The executive at a large grocery store chain once told me that in his company, it is necessary to meet deadlines and not allow any deviation from scope from a legal standpoint. While agile is all about discovery – discovery of what the customer really needs as well as the discovery of what is possible – it does not always meet the needs of project-oriented organizations with specific requirements. If you have to meet a new HIPAA regulation right away, you don't have much use for discovery. This is where the PMO can help the most.

The Value of Working Together
Combining the strengths of these two groups is a strategic move that will help organizations reach new heights of profitability that they never thought possible. Project risk can be more effectively managed when the PMO is keeping an eye on things, and agile teams can achieve greater levels of transparency than before. In addition, the PMO can benefit from increased flexibility and dialogue with the customer, not to mention the fact that they will have more time to focus on their leadership role. A recent article entitled "Agile Project Management" makes the following point:

"Agile methodologies free the project manager from the drudgery of being a taskmaster thereby enabling the project manager to focus on being a leader – someone who keeps the spotlight on the vision, who inspires the team, who promotes teamwork and collaboration, who champions the project and removes obstacles to progress."

Steps Towards an Agile PMO
One of the best ways to get two different teams to work together is to highlight their similarities instead of their differences. Believe it or not, the agile team and the PMO do have things in common. For one, they are both interested in prioritizing projects to ensure that the organization is investing in the right ones. Even as the economy improves, this is something that organizations must continue to do, and both agile teams and project managers can work together to achieve it.

When it comes to a difference of opinion, compromise is necessary. Creating an agile PMO in your organization will take a bit of diplomacy and mediation. The executive I spoke to at the aforementioned financial institution warns, "Don't be pure PMI or pure agile." Rather, find ways to get each team to give a little ground. Agile developers might compromise by tracking their time to task in order to keep the PMO updated on their progress. At the same time, project managers can compromise by being flexible and willing to update plans and schedules as necessary. If the organization uses a project tracking solution, a work request module would be especially helpful by providing a mutual feedback loop.

Organizations can really benefit from the agile PMO if they are willing to put in a little effort to make it succeed. The right management processes such as open discussion and compromise will enable managers to capitalize on the strengths of each group, resulting in successful project execution and increased ROI.

About the Author: Curt Finch is the CEO of Journyx. Learn more about Curt at http://journyx.com/company/curtfinch.html.
---
Volunteer of the Quarter: Dennis Komsa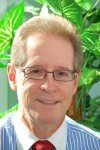 When you attend PMINJ's monthly programs, you will always find Dennis Komsa at the sign-in table ready to help you register for the meeting. In return for his dedication, strong leadership skills and proactive efforts as team lead of the On-Site Registration team, Dennis is being recognized as PMINJ's Volunteer of the Quarter.

Dennis became a member of the NJ chapter in 2008 and, in the following year, volunteered to take lead role for the On-Site Registration team. His strong leadership skills are evident as he deals with scheduling his team, now reaching 15 members in size, to ensure that there is ample registration support for each meeting. As part of this responsibility, he deals with resolving any registration issues.

For each of the eight months that PMINJ holds a dinner meeting, Dennis will insure that there are sufficient volunteers to work at the meeting's on-site registration table. He has demonstrated flexibility in handling last minute changes in scheduling. With a recent increase in volunteers, Dennis has improved the scheduling of team efforts so that each volunteer has some time off for dinner and networking. Also, Dennis takes responsibility for bringing the registration supplies and name tags early to each meeting.

In addition to handling the walk-in registrations on the evening of the meeting, Dennis assists in compiling the payment analysis that is done after registration is completed. He also follows up with post-meeting issue resolution.

Dennis' volunteer efforts do not stop with the PMINJ organization. In addition, Dennis is an active volunteer with the Somerset County United Way; as a member of the Resource Development and Marketing Committee, he heads their Social Media efforts to expand the organization's outreach program. He has helped them establish a presence on Facebook, LinkedIn and Twitter, established a blog on MyCentralJersey.com and is currently in the process of implementing a high school intern program to lend staffing assistance.
---
Making the most of your Chapter Membership

by Beth Carfagno
Whether you are new to project management or a seasoned project manager, by joining PMI and the PMINJ Chapter, you have taken an important step in your professional development. The NJ chapter is over 4500 members strong. From our dedicated board members to the many experienced project managers with diverse backgrounds, our chapter has a lot to offer members no matter what their experience or their location. So as we face the ever challenging and competitive economy, it is important to make the most of your chapter membership and understand what benefits it offers.
As a New Jersey Chapter member you are entitled to a number of member only benefits:

Member rates for the monthly meetings and spring/fall symposiums.
Satellite locations for our monthly chapter meetings.
Resume posting on our chapter website
Exclusive member only content on our website (Webinars and Product Reviews)
Volunteer Opportunities
Bi-monthly newsletters
Scholarship opportunity for member's children graduating high school.
Scholarship opportunity for members pursuing a masters in Project Management
These member only benefits are in addition to the other great opportunities our chapter offers such as networking, training and job ads.
With so much available to you within our chapter, are you really making the most of your membership? The best way to take advantage of everything your membership has to offer is to GET INVOLVED! Our monthly meetings offer great networking opportunities with other NJ Chapter members and presentations from many different informative speakers. If you are unable to attend the main location, you can take advantage of one of our satellite locations. These sites provide the opportunity to network prior to the evening's formal presentations. We also have a large group of members who volunteer their time on a monthly basis. From serving as an elected member of the board to participating on a committee, it's a great way to earn PDUs, use your project management skills and support our chapter and community. Volunteer opportunities are always available. See the listing on our website!
If you still do not find something to fit your time or interest another great way to enhance your chapter membership is to make suggestions for improvement. This is a chapter for members run by members. If you have a suggestion you think would improve your membership experience, as well as those of other members, don't hesitate to provide your feedback to a board member, on a survey, or through email to info(:@:)pminj.org. Don't forget we also send out surveys to our members and have recently begun holding member focus group meetings. Your feedback is important to us. The only way you can make your membership more valuable is by letting us know what you think.
Finally, it is vitally important you keep your PMI and NJ Chapter membership up to date, as well as your personal profile information. To stay connected to the chapter we need the right information to contact you. If you move, get a new phone number or change email providers, you should remember to go to www.pmi.org to update your information. Our chapter will receive a monthly update with your new contact information. Keeping your profile current will ensure you will continue to receive our newsletters, surveys, and any emails updating you with important chapter announcements.
As VP of Membership, it is a privilege to serve this great membership community. Project management isn't just about projects – it's about people too, which is why it's so important to get involved. If you have questions or concerns about your NJ Chapter Membership please contact me. Our chapter is committed to building professionalism and excellence in Project Managers. But we need your help to take the steps to be an active member in our Chapter!
---
Universal Laws Of Risk Management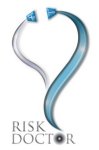 HOW MATURE IS YOUR RISK CAPABILITY?
© December 2010, Dr David Hillson HonFAPM, PMI Fellow

david(:@:)risk-doctor.com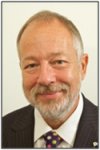 Risk management is clearly an important factor in ensuring business and project success. But how can an organisation tell whether its management of risk is good enough? Maturity models provide a framework to benchmark capability and compare existing approaches with best practice. The first such model in the risk area was the Risk Maturity Model (RMM) developed in 1997. This describes four levels of increasing risk capability, termed Naïve, Novice, Normalized, and Natural.
The Naïve risk organization is unaware of the need for management of risk, and has no structured approach to dealing with uncertainty. Management processes are repetitive and reactive, with little or no attempt to learn from the past or to prepare for future threats or opportunities.
The Novice risk organization has begun to experiment with risk management, usually through a small number of nominated individuals, but it has no formal or structured generic processes in place. Although aware of the potential benefits of managing risk, the Novice organization has not effectively implemented risk processes and is not gaining the full benefits.
In the Normalized risk organization, management of risk is built into routine business practice. Generic risk processes are formalized and widespread, and the benefits are understood at all levels of the organization, although they may not be fully achieved in all cases.
The Natural risk organization has a risk-aware culture, with a proactive approach to risk management in all aspects of the business. Risk information is actively used to improve business processes and gain competitive advantage. An integrated multi-level risk process is used to manage opportunities as well as threats.

Each maturity level can be defined using four attributes – culture, process, experience and application:

At Level 1 "Naïve", the culture is resistant to change and the need for risk management is not recognized. There are no risk processes, no experience of using risk management and no application to projects or the business.
The culture of the Level 2 "Novice" organization tends to see risk management as an overhead and is not fully convinced of its benefits. Processes are ad hoc and their effectiveness depends on the limited experience of a few key individuals who have little formal training. Risk management application is inconsistent and patchy.
Level 3 organizations have "Normalized" risk management into their way of operating, with a culture that recognizes the existence of risk and expects to reap benefits from managing it. Generic and formal processes are in place, with the necessary resources available, and staff has adequate experience and expertise to undertake effective risk management. Application is routine and consistent.
At Level 4 "Natural", a risk-aware culture drives the organization into proactive risk management, seeking to gain full advantage from its uncertain environment. Best-practice processes are implemented at all levels of the business, with regular updating, active feedback and learning. Staff has appropriate experience of using risk processes, and application is widespread and second-nature across all areas.
Risk management is too important for us to do it poorly. We need to assess and monitor our risk management capability, compare ourselves with best practice, identify areas of shortcoming that require improvement, and keep developing. Risk maturity models like RMM provide a valuable framework for such assessments. They can help organizations benchmark risk management capability, design a structured path to improvement, and measure progress towards the goal of enhanced risk management effectiveness.
---
Tips on Handling a Problem Team Member on Your Project
By Margaret Meloni, MBA, PMP

Oh there is a problem alright. And it starts with the fact that you have a boss, peer or project team member who is completely in denial about the chaos that is all around them. If they do see any kind of issues, well those issues start with you. This is not meant to be spiteful. This is the behavior of someone who is completely oblivious to the fact that they cause problems. If they do have any inkling that there is an issue, then they have a perfect excuse. Do any of these sound familiar?

"I did not call you back because you never left me a message."
"I did not forget our meeting; my admin did not put it on my calendar."
"My office may look messy, but leave it alone. I have a system and I know where everything is located."
What kinds of chaos surround this person? Their chaos can be lack of organization, time related or memory related. The chaos created by this person looks like chaos created by creative types or even by someone who deceives others into thinking they are organized. The key here is that they absolutely do not own their issue. They really do not see that there is a problem. If they miss a meeting, they can blame their assistant who did not remind them of it. They really think you didn't leave them a message because their assistant gave it to them and it was buried under the piles of paper on their desk.

So what's a project manager to do? Well let's look at what not to do first - do not blame them. Do not put them on the defensive. Do not constantly harp on them about the problem. Do not argue with them about their excuses, just move on. Find a way to work around the problem because you're not going to be able to change them.

Now step back and look at the big picture. What do you want from this working relationship? Where do they have problems and how can you help? Even if you don't feel like you want to help them, remember you are helping yourself too! With that in mind:

Be proactive. If you know their issue will cause a problem for others on the project team, step-in. This may mean you politely remind them of customer appointments or work package due dates. It may mean you hand deliver important memos to them and watch them read those memos. What you are doing (without them knowing it) is nipping a potential problem in the bud.
Create a simple process for organizing shared information. Stay away from their personal space, but be willing to be responsible for other areas. Enlist the help of others on the project, too. Your problem child may respond to the organization and join in because they want to be part of the group.
If they work for you as a full-time project resource, be the boss and give them direction. Advise them that missing meetings, deadlines and not returning phone calls is not acceptable. Mentor them away from the damaging behavior and toward a positive outcome.
Acknowledge that they have other skills. There are other areas where they are strong contributors, which is why they got selected to work on the project in the first place.
You may think that's a lot of trouble to go to, but it will actually save you time and make your job less aggravating. Hand delivering memos might seem a bit extreme but you'll know that they've been read. Another method that works is to deliver the memo and have them initial that they have read it. This also serves to create a paper trail that no one can argue with.

If you do have to call them on the carpet about their behavior, ask them how you can help them get control of their disorganization. Knowing that you're willing to help them will make them much more willing to work on the behavior that is causing so much chaos for the project.

As for their other skills, take advantage of them. You may want to find what they are best at and exploit that. If your problem person excels at something that another project team member isn't so good at, perhaps he or she could take the burden off their co-worker in exchange for that person handling their calendar.

And remember, their behavior is about them, it is not about you. Don't take it personally.

About the Author: Margaret Meloni, MBA, PMP, is an executive coaching consultant for IT professionals.

---
What is a PMP Exam Simulator
By Cornelius Fichtner, PMP

The PMP exam is a 4-hour, 200 question, multiple-choice, computer-based exam that leads to the Project Management Professional (PMP) credential. It is based largely on the contents of the PMBOK® Guide, although you will probably want to use other books as well during your exam preparation. The PMBOK® Guide is wide-ranging and covers many concepts: the exam contains questions from all the knowledge areas, so there is a lot of material for you to cover in your study.

A PMP exam simulator can form a valuable part of your exam preparation. As you would expect from the name, it simulates the exam. A PMP exam simulator is a piece of software – either on your computer or available online – that provides a similar environment to the PMP exam, giving you the chance to practice in advance of taking the real test. Here is more information about what to expect from a PMP exam simulator.

A simulator presents you with questions like the real exam: A PMP exam simulator mimics the online environment of the real exam, down to the questions. It shows you realistic exam questions and gives you the chance to take some practice exams. The exam questions are also split into the same proportions as they will be in the real test. For example, only 8 per cent of the questions in the exam will come from the Closing process group. The exam simulator will ask you questions in the same proportions, so you will get a feel for how often different areas of the syllabus will be examined.

A simulator allows you to practice: We all need to practice things before we are good at them, and taking exams is no exception. If you haven't taken a computer-based test before, the computer environment can be daunting. Using a PMP exam simulator means you have the opportunity to simulate many practice exams. You can do this at home, or at work, and you can make the experience as close to the real exam as possible by making sure that you have no distractions for 4 hours. Switch off your phone, and immerse yourself in the questions. Then you'll know exactly what taking the real exam will feel like.

A simulator shows you where you need additional preparation: Taking practice exams is good preparation for the PMP exam, but don't get disheartened if you don't pass the first time. The purpose of "failing" at home is to understand which areas of the PMBOK® Guide you need to review. A simulator will show you which questions you got wrong and point you in the direction of what you need to review. Use this feedback to work on your study schedule so you spend time focusing on the areas where you need more practice.

A simulator demonstrates that you are improving: Much of your PMP exam preparation will be self-study, as preparing for the exam can take 8-12 weeks. During that time, it can be difficult to know if you are making any progress. A PMP exam simulator will show you where you are improving. Take a practice exam when you start your review, and note the topics where you need more work. Then review these areas. When you take another practice exam, or work through some test questions in a non-exam environment, you'll get immediate feedback regarding whether you got the questions right. You will be able to tell if you are making progress on the areas where you were weaker at the beginning of your studies.

A simulator gives you confidence: One of the advantages of using a PMP exam simulator for your studies is that you will feel more confident about tackling the real exam. Having practiced with realistic questions and taken sample exams in an environment that reflects the testing conditions of the PMP exam, you will know what to expect on the day. Knowing what to expect removes much of the stress of taking exams: at least you are fully prepared and have already "lived through" an exam-type situation. The exam will appear easier, because you can focus on the content of the questions and not on familiarizing yourself with the online environment or the way the questions are presented.

In summary, a PMP exam simulator is a tool that supplements your personal study for the PMP exam. It provides you with a realistic, computer-based testing environment that enables you to practice reading, understanding and responding to the exam questions in a short period of time. Using a PMP exam simulator before taking the real exam is a good way to prepare yourself for both the exam environment and also the types of questions that you will be asked.

About the author: Cornelius Fichtner, PMP is a noted PMP expert. He has helped over 13,000 students prepare for the PMP Exam
---
Event Report – 25th Annual Symposium, 02 May 2011
The 25th Annual PMINJ Symposium WOWed over 600 in attendance at the Pines Manor in Edison, NJ.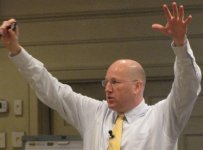 The first keynote speaker of the day, Scott Regan woke the audience with energy and moving inspirations for leadership in the face of change. Scott pronounced it's not the same world and won't be four years from now, standing on top of the only partially empty table in the room surprising the attendees! Scott motivated the attendees to participate in a practice workshop, by stepping through a hand-out, to bring home what it takes for a project manager to keep the focus on what matters and realize personal strengths.

Three tracks anchored the day: WOW Leadership, WOW Methodology and Build Your WOW Brand. The first morning track session gave examples from great leaders, defined ITIL process excellence and spoke of "Good to Great" project management best practices. Next, over a nourishing break, project managers had the opportunity to network and gather information from a diverse range of exhibitors. The second morning track session offered attendees a choice of three popular topics covering "Navigating Organizational Politics", "Applying AGILE with PMBOK" and "Transitioning Project Management Skills To Build the Green Economy".


An elaborate buffet lunch was followed by Rory Vaden's invigorating keynote - "Take the Stairs", compelling attendees to stop procrastinating and take the next step literally and figuratively to accomplish personal and organizational goals. A hard act to follow, the afternoon sessions engaged attendees to lead in crisis, to guide their organizations into sustainably programs and to create a personal brand. The attendees buzzed in the exhibitor room during the afternoon break for more networking, and to bring the speakers' concepts home and apply them!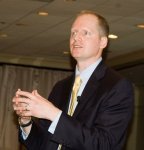 The final keynote, Tres Roeder, presented the case for and the reality of the human side of change: awareness, whole body responsiveness, clear communication, adaptability, diplomacy and persistence. These are the skills required for project managers to be change agents. This was also a great way to close the Symposium leaving project managers with much to ponder on, and bring back to their daily work and personal lives...

Overall what emerged from this veritable mind expanding day was that leadership is a choice and participation is required to leverage this choice regardless of where one is positioned in the organization. Furthermore, there was unanimous energy for project managers to lead the change and to Be the change. Volunteering for PMINJ was also cited as one of the success factors to expand personal and corporate value. This year made it apparent, it's time for all project managers to recognize their leadership, methodologies and personal strengths to leverage the insights presented at the 25th annual PMINJ symposium!

---
New Certificate Holders
The following have received their certification since the last newsletter:

PMPs
Teresa Ann Anroman
John E Beilin
Monica Shillings Biroc
Karen Bland
Barbara A Cadmus
Bertram Carr
Diane M. Cash
Rakesh Chandwani
Subramanian Cilambakkam Loganathan
Karen M Cirillo
Stephen J Clark
Scott Donald Collins
Ricky Devon Davis
Arnold DeGarcia
Gopalakrishna Bhat Delanthamajalu
Jennifer Derienzo
Terence P Dignan
Christopher Joseph Dixon
Gerald George Fajardo
Aneesah Fladger

Shince Francis
Alex Gorbach
Marjorie Hanus
Richard Gaza Herczeg
Cheng Hsieh
Ryan M. Ismail
Russell Jenkins
Stephen Kanoc
Rameshnandan Karkala
Muhammad Kashif
Stephen Kaytus
Ashwina K. Keertikar
Richard Kleindienst
Yvette Janine Lincoln
Zhigang Lu
Julie Marie
Roger V Mendoza
Ryan Meyers
Mazen M Mokhtar
Venkat Vinay K Moturi

James J OBrien
Michael Petsas
Lance Pohling
Gwendolyn Pratts
Ronald Rego
Mary Robbins
Yarimel Rodgers
Wayne Rothstein
Curtis L Russell
Peter Sbashnig
Anna Schwartzur
Nishidhdha Narendra Shah
Melanie Slivenko
Matthew J Strycharz
Katherine Tennant
Prinaben Thaker
Kimberly Todd
Stephen Vowinkel
Zygmunt Wyka
Ramanarao V Yedlarajaiah
Robin Marie Young

PgPM

None

CAPM
Anthony Johnson
Kishia Jones
Joseph S. Kerick

PMI-RMP
Ronald DAvanzo

PMI-SP
None
---
Additional Information
Contact the news editor, Simon Tsang, PhD, PMP, at editor(:@:)pminj.org for newsletter related items.

Submit articles in MS Word, plain ASCII text, or as part of an email. Graphic files should be high resolution (1MB+) JPG or GIF.

All members are invited to submit articles, meeting reviews, or other items of interest for publication.

PMINJ is not responsible for the content or quality of any advertisement included in this newsletter.
.

Newsletter Schedule
| | |
| --- | --- |
| Articles Due By 15th of each month | Emailed by 1st weekend after 1st of the month |
| Jan | Feb |
| Mar | Apr |
| May | Jun |
| Jul | Aug |
| Sep | Oct |
| Nov | Dec |
---