The 15 Nov 2011 PMINJ Chapter Meeting held at the Bridgewater Marriott was the last Chapter Meeting of the year.
The Networking Program featured "Yes, You Are a Brand" presentation by Ginny Devine, President of Quantum Performance Systems, LLC. This Program was about knowing your Brand and how the value one brings to an organization is essential to maintaining career viability in today's work world. Ginny's presentation provided direction and support to inventory and identify one's Brand.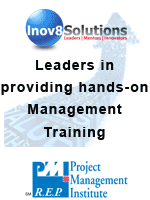 PMINJ Chapter Business:
The main event began with Judy Balaban, PMP, Chapter President, discussing the following:

Thanking the evening's sponsor FYI Solutions for their support of this event.
Mentioning that the October PMINJ Chapter Meeting hit a milestone of having as many people at the satellite locations as at the main site.
PMINJ is looking to add additional satellites in Princeton and Marlton areas.
Thanked the participants involved in the PMINJ Holiday Food Drive.
Acknowledged the new PMPs and first time Chapter Meeting attendees.
Lisa Blake, PMP, VP Programs, then took the podium and added:

Additional satellites are being indentified in the Paramus area to replace the DeVry Satellite and in the Ramapo College area.
"Call for Speaker Angels" – with the Symposium in May, speaker angels are needed to work with the speakers that will be presenting at the 07 May 2012 Symposium. Anyone interested should contact .
Introduced Ralph Cetrulo (Sr. Account Executive) and Janine Crowley (Recruitment Team Lead) of FYI Solutions who were the sponsors of the evening's event. FYI Solutions specializes in IT Solutions & Staffing as well as Project Management Solutions for the past 27 years.
Reminded us that this was the last Chapter Meeting for this year 2011. The next meeting is scheduled for 17 Jan at the Pines Manor in Edison, NJ. The topic is: The Art of Cultural Change: Making Change Stick, featuring speaker John Palinkas.
Introduced the featured Speaker: Henry Will, PMP.
Featured Presentation: "Project, Program and Portfolio Metrics" – Henry Will, PMP


Henry began his presentation with an overview of Project, Program and Portfolio Management. He conducted a quick review and pointed out the differences of each. He then proceeded to discuss the key element of the presentation – Metrics. How can you leverage metrics to clear road-blocks, back up your points, and promote progress in important areas of your projects, programs, and portfolios? In this presentation, we heard some stories about how common issues that project managers face can be solved using metrics. We also received some down-to-earth examples of how to measure elements of a project in spreadsheets. In this presentation Henry demonstrated the old saying "If you want to improve something - measure it!"

Henry interacted with the group in order to get a collaborative definition of Metric. It was agreed that a Metric is a Measurement. We also agreed that for us it is usually a measurement of something that needs improvement. Group discussion of the tools commonly used to report metrics identified Earned Value, Budgets, Dash Boards, Score Cards, Heat Maps and Charts/Graphs. Henry indicated that metrics are key to cause a needed change.

Following a discussion around metrics, the presentation then proceeded into some of the tools that are used to communicate metrics. Henry shared a quote from Albert Einstein: "If you can't communicate something simple, then you don't know enough about it." Some of the metrics communication tools mentioned:

Milestone Chart - Dates and Scope Changes
Schedules
Graphs/Charts
Standardization of Reporting Models
Scorecard (Portfolio Level)
Scorecard Trending
Some key questions to consider with regard to metrics:

What is the goal? Know what you want to convey and what metrics to capture
Who is the audience? Executives, CXO, PMO/Business Organization, Sponsors/Client, Management, Project Team, Client/Customer, Consumers/Users
Who are the stakeholders? Executives, CXO, PMO/Business Organization, Sponsors/Client, Management, Project Team, Client/Customer, Consumers/Users
What needs to be communicated? Financials, Profit Percentage, Expenses, Pretax Income (PTI), Return on Investment (ROI), Resources, Project Health (EV, SPI, CPI), Quality (Defects, Service Level Agreements (SLAs)), RISKS, ISSUES, etc.
What is the best way to communicate it at the level of the Audience? Frequency, Amount of detail, Communication Level
Henry concluded by summarizing some of his key "Metric Tips":

Keep the goal in mind and know your audience. Report what is important to them, use metrics to increase success
Report appropriately: detail according to level, frequency according to level
Communicate concisely and effectively: charts and graphs, agree on terminology, use a legend, use colors to enhance communications
This presentation provided a tool bag of techniques to increase the value and effectiveness of project management communications



The evening concluded with a special raffle of "Skullcap" Earphones presented by FYI Solutions. The winner of this raffle was Jerry Stone, PMP.

Henry Will, PMP, is currently responsible for a PMO at IBM, working to achieve audit readiness for the Lender Services organization.