While opening the Chapters 26th Annual Symposium, which was a sold out event on May 7, 2012 at the Pines Manor in Edison, New Jersey, the Judy Balaban, PMINJ Chapter President, and Deven Trivedi, VP of Symposium, welcomed over 600 enthusiastic participants. The theme "Strategic Project Management" enabled the Symposium committee to provide tools and knowledge to the local PM community.

Eric Verzuh was the opening keynote speaker, , He energized attendees as he discussed the evolution of project management in the work place. It went from being not quite visible in the 1980s as PM 1.0 to the current PM 4.0 version which is geared towards delivering strategic value for corporations. Eric spurred the audience into an in-depth analysis of the "Seven Strengths to Power Innovation".


The afternoon keynote speaker, Terry Schmidt, brought the participants together for another invigorating discussion on "Applying Strategic PM in Work and Life". Terry showed the audience how they could use a logical framework to assess and deliver project value.

Frank Ryle's closing keynote "Simplicity Project Management – an approach for the Pros" challenged PMs to keep things simple in an environment of ever increasing complexity. Frank elaborated his Simplicity message by providing nine steps and symbols to follow.

Symposium participants had the option to enhance their knowledge base via three strategically planned tracks throughout the day; Strategic Project Management, Strategic Leadership and Strategic Processes and Tools.

The Strategic Project Management track was led by Skip Weissman. Skip's three-pronged approach was developed for a Stadium build project; start to finish in just over 70 days! Skip described how a leading organization starts with a Vision Strategy, is bolstered with excellent personnel, performance management standards and backed by leadership with a focus on teamwork development. Skip presented a twist on the Pareto Principle by advising participants to focus on the 80% that you can control, with 20% being what you can influence, a perfect segue to the next session.

Dale Caldwell's Influence Driven Strategic Project Management session moved beyond SWOT to present his highly innovative "Influence Awareness" model and encourage participants to raise their influence intelligence. Dale compelled attendees to consider their individual influences. Dale suggested that to innovate, one must seek people who think differently. In essence, Dale provided a formula to build the Learning Organization from unconscious incompetence to unconscious competence. Even without authority, PMs can use vision and goals to innovatively influence projects and deliver business value.

In the third session, Aaron Shenhar emphasized the need for strategic project leadership as an approach to next generation project management. The project manager needs to be flexible and adaptive, and be an advocate of the business goals and hence be an inspiration to the project team.


On the Strategic Leadership track, Michael O'Brachta with his background in the CIA provided a very entertaining perspective on the top 10 factors associated with great project managers. Mike spoke about the famous Shakleton story of men stranded on the ice during winter and how he went to each member to ensure they had his support and knew exactly what to do which contributed to their survival. Mike referred to this as "servant leadership" and emphasized that project managers who develop this skill combined with an executive decision making style are more successful. Mike's mantra, "What can I do to help?" and the top 10 factors he shared: meet the needs of others, be heroes with a plan, employ process with discipline, be servant leaders, work on successful projects, succeed broadly, deal with complexity, spend more time communicating, reduce cycle time, and master the soft skills.

Star Dargin further clarified the key aspects of leadership for a strategic project manager by elaborating on three unique styles of management – leader, coach and manager. In her interactive session, Star demonstrated how these three leadership styles can be applied based on project context and team needs by an effective project leader. Star quoted Paul Hawkins, "Good management is the art of making problems so interesting and their solutions so constructive that everyone wants to get to work and deal with them".

Brian Jaffa shared his real life experiences when he took a leap from IT to the Business side at Quest Diagnostics and challenged the tremendous unknowns on the "other side". He had to meet quotas and build a new India R&D test center from scratch. Brian went from eliciting requirements to providing them and building revenue pipelines. He was successful in stretching his abilities to build a new Greenfield India test center. Brian's examples demonstrated project managers as strategic leaders, and how we can apply skills to all aspects of business.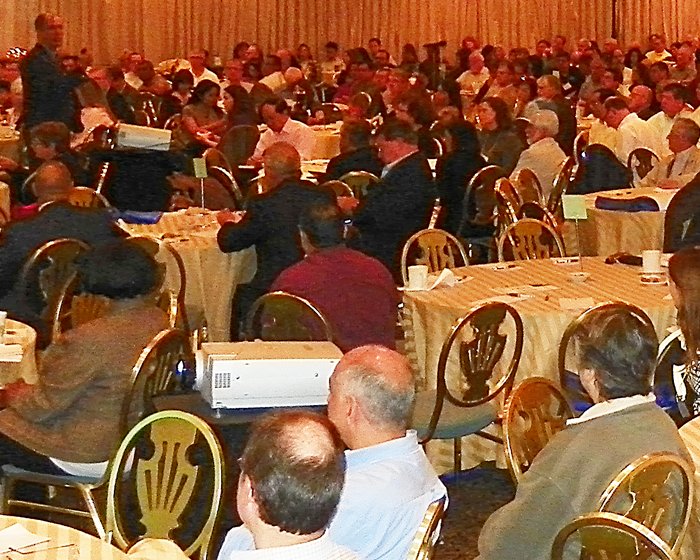 The third track at the symposium on Strategic Tools and Processes provided a good roadmap on the path to strategic leadership and management, beginning with Mark Layton's informational discussion on how Agile QA processes are changing project management and allowing teams to deliver products faster with higher customer satisfaction.

Kathy Haas zeroed in on the strategic roles of Business Analysts (BA) and how to make this discipline align with Project Management in building successful project strategies. Kathy made the point that project management is increasingly complex with the new business models in the global age. Business success requires critical thinkers who can innovate, collaborate, and leverage complexity to compete. Creativity is the most important leadership quality per a recent CEO study and projects succeed by closing the gaps in business analysis. There needs to be a change in the project approach to provide a competitive advantage. Kathy described four steps to a successful approach:

Diagnose project complexity
Assign competent leaders
Select the project approach (waterfall/agile)
Manage complex dimensions
The BA keeps the focus on strategic value and the PM on complexity management to partner as creative leaders.

The event hosted 24 vendor exhibitors, Chapter Communities of Practice (CoP) and Local Community of Interest (LCI) booths that provided participants opportunities for networking with 600+ area Project Managers.

In closing, Jerry Flach, Symposium Director thanked the 50+ volunteers for their dedication to make this event a grand success and challenged attendees to become chapter volunteers. The post-event survey indicated more than 93% of the respondents, believed that PMINJ 2012 Symposium had met or exceeded their expectations