Calendar:
---
Member Area: (History, Product Reviews, Webinars) (email lists: Networking , PMINJ Member)
Contents
PMINJ President Welcome
Chapter Announcements Event Reports
Project Management Articles
New Certificate Holders
Article Submission & Publication Information

Advertisers:

---
2013: A Time for Change
by Judy Balaban, PMP President – PMINJ


Happy New Year!

With a new year we move forward… we are renewed by what is possible… we set goals and see opportunities before us. We also have time to reflect upon what has been accomplished, as we learn from the past to improve the future. At each year's beginning, the PMINJ Board meets to discuss its strategy. We take the observations and feedback gleaned from the past year to determine how to better meet the needs of our membership and the requirements of our charter.

As I look back upon our past, one indicator becomes clear to me… that out of an organization of over 4,700 members, we engage with barely over six hundred actively. Only six hundred or so members attend our meetings, socialize at our events, learn at our classes, and share their thoughts on our surveys. A painfully smaller percentage of our membership volunteer for the chapter or at other non-profit events where our chapter participates.

It makes me wonder… what are these other four thousand members looking for? How can we reach them? How can we engage them? What professional needs do they have that PMINJ can help fulfill? Have we totally missed the mark? What can we do differently?

Different motivations drive an individual to join a professional organization… one may join to achieve excellence, to contribute to success... in the hope that personal success shall be forthcoming. Others may join just to socialize with their peers and "talk shop". Still, others may join to make contacts and maximize their networking opportunities.

And others, four thousand of them… sit on the sidelines…

We must be doing something wrong… this is not what I envision our organization to be about. Each member should know they have something to offer... simply by their participation. Attend an event, answer a survey, volunteer! Write me or any Board member an email, or talk to us at an event. Share your thoughts. You joined this organization for a reason; the PMINJ Board wants to know that reason. We want to provide all members the best PMINJ chapter possible.

I wish health, happiness and success to you all.

---
Chapter Announcements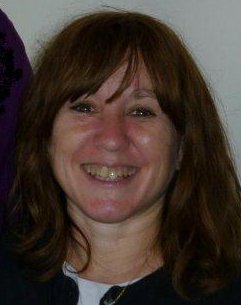 Beth Hymowitz
Beth is a veteran volunteer for the Symposium Registration Team. The PMINJ Community relies on the Registration team to handle on-line registration; send confirmation emails; distribute all the communications related to the event; and provide registration coverage on the day of the event. The symposium team registers more than 1100 attendees for the two major events each year. They resolve technical issues related to the on-line system, questions and quarries from the members and any cancellation / refund issues. Beth joined the PMINJ Registration team as a volunteer soon after earning her PMP in 2007. She chose to volunteer for the Symposium Registration team because of her prior experience and interest in event registration processes and being a team player.

Many PMINJ members are familiar with Beth's symposium notices or perhaps she has helped you address a registration issue. Beth is very prompt responding to any inquiry related to registration and if she cannot answer, she will get the request to the appropriate team lead and assure a response. Beth enjoys working with the other Registration team members and cites its leaders, as essential to keeping the Registration system humming! These team leaders cite Beth's commitment to the team and how she always goes the extra mile. Beth sends 'Thank You's to attendees and more recently stepped up to email the survey for IPM day event. All these activities take up Beth's time including weekends.

When she's not volunteering with the PMINJ Symposium Registration Team, Beth is an IT Project Manager at Mars Information Services where she partners with Business PM's to advance global multi-segment projects and she is responsible for their PMO.

Beth loves project management! She especially enjoys working with engaged volunteers and coworkers, learning and addressing project challenges to deliver successful results.

The PMINJ chapter cannot run successfully without the help of dedicated volunteers like Beth. We appreciate Beth's hard work and dedication for the chapter and desire to give back to the PM community.
Annual Award Nominations
Project Manager of the Year Award (PMOY)

Deadline for nominations is 18 February 2013

To recognize a member of the New Jersey Chapter for a significant Project Management achievement while using their project management skills and commitment to the project management profession.

Project of the Year Award (POY)

Deadline for nominations is 15 February 2013

Nominate a worthy 2012 project executed by your organization for this prestigious award.

Scholarship Awards

Deadline for nominations is 01 March 2013

Three Scholarship Opportunities:

Undergraduate scholarship for current high school seniors who are sons / daughters / legal dependents of PMINJ members.
Renewal scholarship for previous PMINJ scholarship winners.
PMINJ members seeking a Master's degree in Project Management.

Event Reports
PMINJ CARES
PMINJ truly cares about our community. A warm clothing drive was held at IPM Day on 29 November to support the United Way Gifts of the Season Program. Led by the Community Outreach team, donations of warm clothing, gift cards and cash were collected. Generous chapter member donations created outstanding results.

The United Way gratefully accepted our donation of gloves, mittens, hats, scarves, socks, coats, blankets, PMINJ towels and $300 in Gift Cards that were used to help fulfill holiday wishes for the needy. Special thanks to Sandy Seidorf – project lead, Jim Campbell and Eliana Netra for supporting this successful project.



---
International Project Management Day Event: A Success for All Participants!
by Stacy Kornhauser

Congratulations to PMINJ:

30 years as a chapter
The 3rd largest chapter with ~4,700 members
~450 attendees at the annual International Project Management Day event, at The Palace at Somerset, even after having to change the date due to Hurricane Sandy
For learning how to start the day right by pointing to the mirror and shouting, "Hey Good Looking! You are lucky! Don't you ever die!"
If you attended PMINJ's International Project Management Day on 29 November, you know what I am talking about and hopefully you are laughing out loud. If not, I hope you can join us for our next event in May. Please enjoy this recap of the highlights of the day.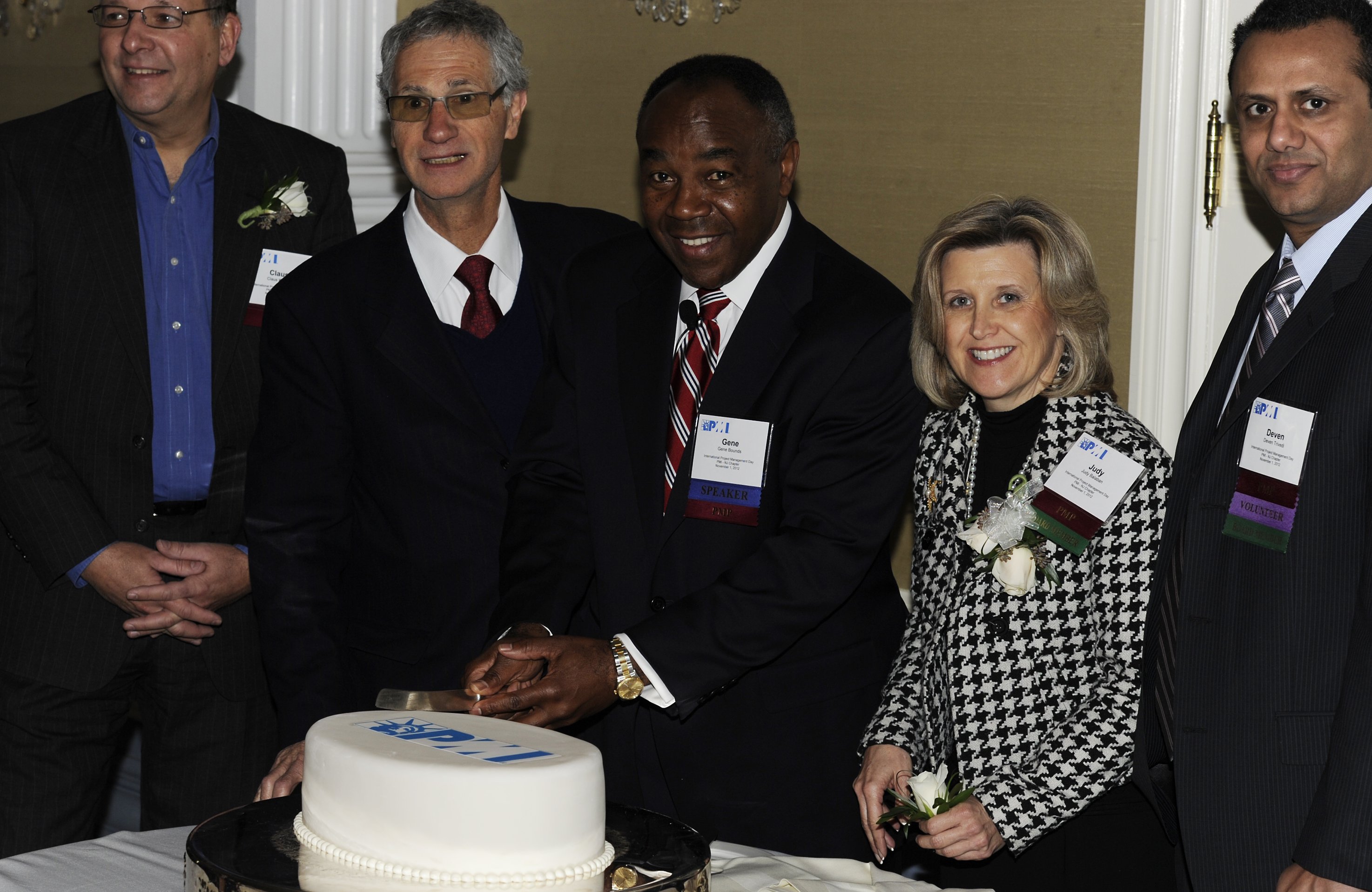 Deven Trivedi, VP Symposium welcomed everyone. He thanked the speakers, volunteers, Palace staff, and the attendees. Then Judy Balaban, PMINJ President, reminded us that IPM Day is about celebrating volunteerism with a special thanks to PMINJ's past presidents. Cofounders of the PMINJ chapter, Claudio Pincus, the chapter's first president from 1982-1984 and Claus Kinder, past president 1987-1989 were present.

Gene Bounds, former chair and current member of PMI's Board of Directors, was the first presenter, speaking on "Project Management for Distributed Teams." Many of us already work with cross-cultural teams. Gene declared, "Distributed teams are not new. It is the speed and velocity of their teamwork that is new." Speed and velocity only enhance our competitiveness by increasing cost savings, "following the sun" with 24x7 productivity, enabling our ability to adapt to multiple and emerging markets, and thereby increasing our speed to market. Distributed teams are here to stay and there are multiple communication tools to increase our speed and velocity: blogs, wikis, shared online workspaces, live discussions, PM software, web-based time tracking.

Gene also shared some "wow" statistics of people communicating across borders: Facebook has 955 million users, LinkedIn has 150 million, and Twitter has 140 million. In a recent PMI survey, 76% of PMs utilize some form of collaboration and / or networking tools and 77% of PMs belong to an online PM community (including PMINJ's LinkedIn presence). Therefore, our communication skills as PM's need to be strong since non-verbal cues are virtually non-existent without face-to-face collaboration. A few suggestions to enhance these skills:

use a webcam to "see" all remote team members at meetings
implement round-robins to gather information from every team member so everyone is heard
publish decisions
follow-up with action plans
Competition is not the only advantage as we also see increases in mobility, flexibility, and specialist knowledge. Over time, we build knowledge communities and as Gene also aptly stated, "there is a push of competition cost and a pull of new talent." Overall, it is our job as PM's to be sure communication is successful, not only for our own communication skills but to be sure that our teams are successful as well.


The next speaker, Michael Weber, had a timely, "after Hurricane Sandy" presentation titled, "Putting the Bounce in Bounce-Back and Rewriting the Rules of Attitude." Michael had us learning and laughing for two hours! We learned how the power in context sets the stage for our thoughts. For instance, the context of Hurricane Sandy and how it physically and then emotionally affected many of us set the context for many attitudes. He then further explained how many of us have "unwritten rules." For instance, if the speed limit is 65, many of us often expect we can go 5-10 miles over the speed limit and it will be acceptable. In fact, if we drive 65 exactly, we may be annoyed if others are driving slowly at 55. To keep us on our toes, and prove his message, Michael had us pair up and play a game that led to "thumb wars." Michael used this exercise to demonstrate how competition in this case becomes an unwritten rule; these rules can be harmless, but sometimes they can be counter-productive and break down how we succeed as a team.

Michael then shared 5 strategies for Attitude Management beginning with reminding us that attitude is a choice.

The first strategy is "Start Right." By starting your day right, you develop a pattern for the rest of the day. The reference to my opening sentences on starting the day right was a wakeup exercise Michael had us perform – yes, 450 of us, standing up, shouting loudly, with our hands in the air!
The next strategy was "Act" and how action affects your attitude – develop the smile habit; when you smile they are reflective from another person and you will then smile more yourself.
Next is "Connect" with people with similar goals and those that are willing to bounce back themselves.
Next is "Eat Right," which is what you choose to feed your mind. For instance it is natural to compare ourselves to our peers but watch out when we compare our weaknesses to other's strengths. Michael recommends we find out what we are good at and focus on that.
Lastly, "Invest Right." Many of us are in an analytical culture. We may tend to find everything wrong and then we want to fix things. From now on, let's catch what we're doing right – and invest in that. Michael has found through research that when we focus on doings things right or giving to someone else, we actually bounce back faster.
Priya Sethuraman kicked off an afternoon of Agile with an update on PMI's Agile Certification with approximately 1,000 PMI-ACP credential holders.

Sally Elatta led our afternoon workshop, "A Deeper Dive into Agile Requirements and Portfolio Planning".

Sally began her workshop with an excellent overview of Agile;covered by four brief videos at http://agilevideos.com/. As she covered a myriad of Agile concepts during this workshop, I will share two of the areas she covered in-depth: Agile and Portfolio Planning.


In Agile, there are Scrum Teams. The scrum team consists of a Product Owner, Scrum Master, and a Cross-functional self-organized team. A Product owner may be defined as a step below a Project sponsor, and is the designated manager of the requirements list which is termed, "Backlog". The Scrum Master is very similar to a PM. The team is cross-functional, but they are considered a self-organizing type of team.

To illustrate how a self-organizing team works, Sally asked for volunteers from the audience. A team of six had to randomly hold hands with two other team members and then get into a full circle without separating their hands. An audience member was asked to explain how the team could become untangled to no avail. When Sally asked the team to work together to untangle hands and create a circle, the team succeded after a few tries. Sally then gave the team the goal of untangling to an outer facing circle and they did so in even less time. This practice clearly showed the audience how teams may find solutions faster than being instructed; this was a fun exercise for the team of volunteers and the audience.


For Portfolio Planning, we played a game called "Planning Poker" to help us with estimating task timeframes using Fibonacci numbering. To manage the requirements list, each scrum team member rates each task based on their perceived level of complexity to determine which item may be easier or faster to accomplish during the day. During the workshop, we rated fruits (tasks) based on their size (complexity). For example, a blueberry may be rated a 1 while an orange or apple was rated a 5 with some teams and an 8 with others. The main point is that we were not working with absolutes, but with estimates to plan better. As long as the teammates were in the same range, then there was agreement on the complexity.

The Self-Organizing circle and Planning Poker were excellent educational games for us to understand these activities, but we were only scratching the surface of how much there is to learn from Agile.

I do have to admit that this was my first PMINJ International Project Management Day event and I will attend next year as well. As a newbie attending these functions, I was extremely impressed with the logistics of the day, the coordination of the event, and the many friendly people I met. I networked throughout the day and gained plenty of new skills. I also know that I am starting the day right since I am "good looking, lucky, and I will never die!"



Return to top

---
ASIDNJ Workshop provided by Jack Jia
Jack Jia, PMP, one of the volunteers from the PMINJ Corporate Outreach Team, presented a workshop on "The Keys to Profitable Project Management" organized by the American Society of Interior Designers New Jersey Chapter (ASIDNJ) on Wednesday, 24 October 2012.
The purpose of the workshop was to enable interior designers to understand the keys of project profitability from a Project Management perspective and to provide better tools to their existing process to help the bottom line. About 100 professionals attended the workshop.
The presentation consisted of three parts:
What is project management
Project management philosophies
Tips and tricks to profitable project management
It was devised with the objective of helping participants gain an appreciation of the interdependencies of project management processes and also to enable them to apply project management philosophies to tackle real work challenges. It was well received by the audience as quoted by Stacey Sexton, the Chair of ASIDNJ Program Committee: "The Program Meeting was a great success. I know all the attendees are excited about the information that you shared. Thank you again for your time and knowledge!"
Mr. Jia has successfully delivered a number of large and complex capital projects. He lectures on various project management functions including field management, estimating, planning, cost control, scheduling, risk management, and material management. Mr. Jia earned a Bachelor's degree in Construction Management from Brigham Young University and a Bachelor's degree in Civil Engineering from Zhejiang University.
---
Project Management Articles
Review of Project Cost Estimating Methods
By Deven Trivedi, PMP PMINJ VP Symposium

Dave (our PM of this story) was called by his division manager. He was handed a project with a strict timeline and a fixed budget. Being a good PM and a great trouble shooter, Dave did not argue with his boss on budget or timeline. As a seasoned PM, Dave marched out of his boss' office to his team and completely immersed himself in managing the project to successful delivery. By the time Dave received feedback from technical team leads and end-users on missing requirements and a low-ball estimate, the project had missed important milestone dates and Dave's reputation took a dive in front of his seniors and customers for not knowing how much and how long it would really take to complete this project. Sound familiar? Been there and wondered if there was a way out of the situation?

This article will provide information related to project cost estimating methods. It's intended to educate PMs on the type of questions to ask at the start of the project to ensure a better handle on the cost estimates and are, therefore, able to convince senior line managers to revise the estimate when needed.

Major project cost estimating methods:

Directed – Estimate determined by the values (hours or dollars) that a customer requires be used in a project cost estimate. This might be the case for time and materials (T&M), cost plus fixed fee (CPFF) or cost plus award fee (CPAF) types of contracts.
Analogy - (also known as top-down estimate) is based on the same or similar effort performed on past relevant projects. This method involves the extrapolation of known past costs of similar performance, adjusted for differences in product, service, process and / or project characteristics.
Parametric – Estimate based on a well-defined algorithm for determining the amount of effort from a set of controlling parameters, or where a statistically valid relationship can be shown to exist between parameters from historical cost information.
Task Decomposition - (also known as bottom-up estimate) is an estimate based on the roll-up of the detailed decomposition of project requirements into tasks using a formal structured approach like a detailed requirement spreadsheet or a resource loaded network (RLN). This technique will result in a transparent and structured estimate for the project, which can be tracked and managed.
Expert Opinion – High level estimate using domain expertise and judgment of one or more estimators based on the estimator's past experience, education and training where there is a lack of supporting historical data and documentation.
Commercial Item Acquisition – Estimate developed from a commercial product and services price lists or other market based information demonstrating commerciality of the component used. Any hardware and commercial off-the-shelf software package required for the project should be prepared as a Bill of Materials (BOM) during the project cost estimation process and approved by the PM and other technical leads.
Accounting for Risk in Estimates

The PM and estimator should consider the risks associated with the performance of the work when developing project estimates. Reasonable mitigation steps should be identified, estimated, and included in the cost estimates.

General Estimating Considerations

What skills and level of experience are required?
Who will perform the work?
What outside capabilities are needed?
What past efforts can be leveraged or reused?
What are the customer's needs, perception of value?
How is the estimate derived and / or calculated?
What are the surrounding assumptions and predecessor tasks?
When is the time period the work will be performed?
Where will the work be performed? (Customer site or your company site or other subcontractor site?)
What risks exist? Will the team be able to mitigate them? If so, what will be done to mitigate risk?
What is the dependence of timely delivery of Customer Furnished Items (CFIs)?
How are tasks treated with respect to their cost basis? Are they normally a direct or an indirect cost?
Summary:

Project Estimation should follow a structured and disciplined process, scaled as appropriate for the type, size and complexity of the project and using established, repeatable process for the organization.
Give early consideration to sources of data, information, tools, and optional subject matter experts as sources for help
Communicate early to senior management and the finance controller regarding any project cash flow issues.
---
PDU Tip: Earning PDUs with Volunteer Service
By Cornelius Fitchner
In our current series of PDU Tips we are exploring the many ways you can earn Professional Development Units. Today we look at how time spent volunteering can contribute to your PDU total.
Volunteer work can be incredibly rewarding, and many of you probably volunteer, or know volunteers who work with charities and other groups. Did you know that you can also volunteer for your local project management association? This sort of volunteering can count toward your PDU total.
Work done for your local PMI Chapter or a Community of Practice is recognized as part of this, but you don't have to limit your volunteering to PMI groups. As long as you are volunteering for a legally recognized non-profit project management organization, that is not your employer, those hours count too. Just so we are clear,
volunteering means you don't get paid
! But remember, those PDUs are free, as you don't have to pay for them, either.
Qualifying activities include serving as an elected official or on a committee, also activities like volunteering at a global congress, working on PMI standards and participating in research work. Even volunteering as a project manager on community projects counts. So if your local school or sports group is carrying out a project, get involved and claim those PDUs.
You will need to get a letter or certificate from the organization that acknowledges your participation. Keep this in case your recertification is audited.
Do you mentor or coach someone? You can also claim hours of mentoring or coaching on your PDU record. You will need some evidence to show that you are mentoring or coaching a colleague, so ask them to sign an attendance sheet, or keep records of the times you meet.
Volunteer service PDUs fall into Category E. You earn 1 PDU for each hour of service. The PDUs earned from volunteer service count towards the combined maximum of 45 PDUs for categories D, E and F.
If you are interested in volunteering for PMINJ, you can find more information
here
---
New Certificate Holders
The following have received their certification since the last newsletter (through 31 December 2012):


PMPs
Thenappan Alagappan
Art Altman
Vincent Anand Amaladoss
Vivien Bercier
Edward Bergen
David Brain
Sean Brinks
Stanislav Burd
Vivian Coleman
Sheree Collins
John Delaney
AJ Elayidom
Michael Enright
Julie Famulare
Kenneth Gaby-Biegel
Fiona Gardiner
Daniel Gartland
Lisa Gerdt
Emmanuel Ghansah
Marilyn Ginsberg-Finner

Bhagirath Gopinath
Dominick Grasso
Herb Grice
Gregory Guroian
Michael Hohmann
John Hunter
Joseph Isolda
Navaneeth Jalagam
Sonia Kennedy
Chikayo Koike
Brian Krail
Rajendra Kulkarni
Michael Laidlaw
Rajeshwar Laishram
Sun Lee
Matthew Mancuso
Jeffrey Massone
Liz Morrow
Dorothy Murray
Raj Muthuswamy
Cezar Muzones

Colleen OKeefe
Yi Pan
David Pavero
Matthew Perkins
Gianfranco Pizzuto
Indira Prasad
LaMar Prout
Vijay Puppala
Stephanie Quallo Downing
Jeff Raith
Chenna Reddy
Manuel Rey
Myrene Reyes
Thomas Schnipp
Binoy Shah
Manan Shah
Michael Tamburino
Diep Tran
Carol Walczyk
George Warner
Kenneth White


PgMP
None
CAPM
Robyn Kiely-Rivero
PMI-RMP
None

PMI-SP
None

PMI-ACP
Mir Ellahi
---
Article Submission & Publication Information
Editor Christine Rotonda, PMP
Contact the newsletter editor, at editor(:@:)pminj.org for newsletter related items, to submit articles and to provide feedback!
Submissions: Submit articles in MS Word, plain ASCII text, or as part of an email. Graphic files should be high resolution (1MB+) JPEG or GIF. All members are invited to submit articles, meeting review, or other items of interest for publication.
Advertising: Contact Raji Sivaraman (sponsor(:@:)pminj.org) for advertising/sponsorship inquiries. For more details.
Newsletter Schedule
Newsletters are published every other month: Jan, Mar, May, Jul, Sep, Nov
Articles due to the Editor by the 5th of the month:
Newsletters will be published via e-mail and on the PMINJ website by the 25th of the month:
Newsletter Team:
Elena Kostenko – PMINJ Quality Manager
Laurie Policastro – PMINJ Marketing Content Manager
Mike Grant – PMINJ Marketing Content Manager



PMINJ is not responsible for the content or quality of any advertisement included in this newsletter.