Congratulations to PMINJ:

30 years as a chapter
The 3rd largest chapter with ~4,700 members
~450 attendees at the annual International Project Management Day event, at The Palace at Somerset, even after having to change the date due to Hurricane Sandy
For learning how to start the day right by pointing to the mirror and shouting, "Hey Good Looking! You are lucky! Don't you ever die!"
If you attended PMINJ's International Project Management Day on 29 November, you know what I am talking about and hopefully you are laughing out loud. If not, I hope you can join us for our next event in May. Please enjoy this recap of the highlights of the day.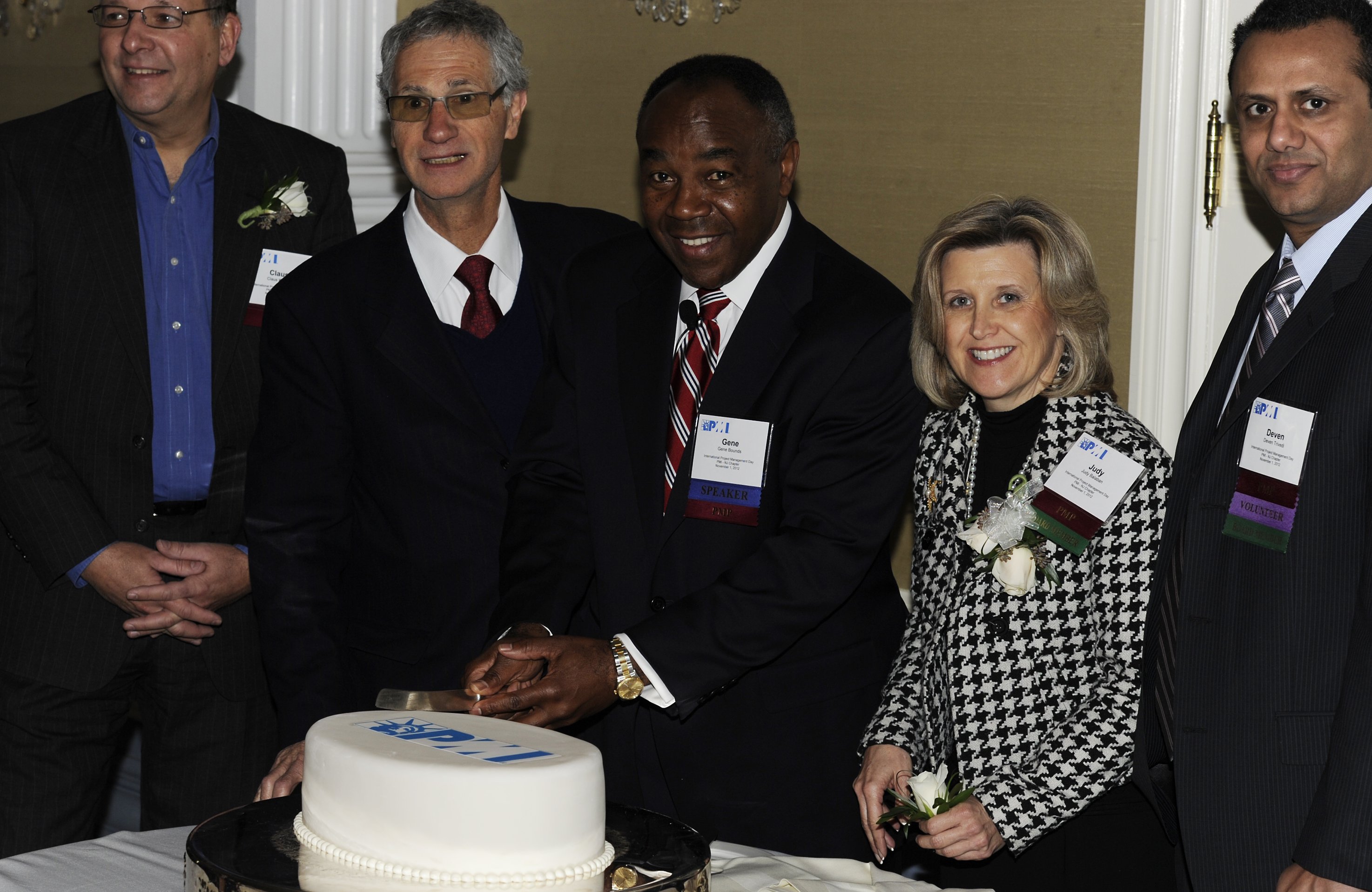 Deven Trivedi, VP Symposium welcomed everyone. He thanked the speakers, volunteers, Palace staff, and the attendees. Then Judy Balaban, PMINJ President, reminded us that IPM Day is about celebrating volunteerism with a special thanks to PMINJ's past presidents. Cofounders of the PMINJ chapter, Claudio Pincus, the chapter's first president from 1982-1984 and Claus Kinder, past president 1987-1989 were present.

Gene Bounds, former chair and current member of PMI's Board of Directors, was the first presenter, speaking on "Project Management for Distributed Teams." Many of us already work with cross-cultural teams. Gene declared, "Distributed teams are not new. It is the speed and velocity of their teamwork that is new." Speed and velocity only enhance our competitiveness by increasing cost savings, "following the sun" with 24x7 productivity, enabling our ability to adapt to multiple and emerging markets, and thereby increasing our speed to market. Distributed teams are here to stay and there are multiple communication tools to increase our speed and velocity: blogs, wikis, shared online workspaces, live discussions, PM software, web-based time tracking.

Gene also shared some "wow" statistics of people communicating across borders: Facebook has 955 million users, LinkedIn has 150 million, and Twitter has 140 million. In a recent PMI survey, 76% of PMs utilize some form of collaboration and / or networking tools and 77% of PMs belong to an online PM community (including PMINJ's LinkedIn presence). Therefore, our communication skills as PM's need to be strong since non-verbal cues are virtually non-existent without face-to-face collaboration. A few suggestions to enhance these skills:

use a webcam to "see" all remote team members at meetings
implement round-robins to gather information from every team member so everyone is heard
publish decisions
follow-up with action plans
Competition is not the only advantage as we also see increases in mobility, flexibility, and specialist knowledge. Over time, we build knowledge communities and as Gene also aptly stated, "there is a push of competition cost and a pull of new talent." Overall, it is our job as PM's to be sure communication is successful, not only for our own communication skills but to be sure that our teams are successful as well.


The next speaker, Michael Weber, had a timely, "after Hurricane Sandy" presentation titled, "Putting the Bounce in Bounce-Back and Rewriting the Rules of Attitude." Michael had us learning and laughing for two hours! We learned how the power in context sets the stage for our thoughts. For instance, the context of Hurricane Sandy and how it physically and then emotionally affected many of us set the context for many attitudes. He then further explained how many of us have "unwritten rules." For instance, if the speed limit is 65, many of us often expect we can go 5-10 miles over the speed limit and it will be acceptable. In fact, if we drive 65 exactly, we may be annoyed if others are driving slowly at 55. To keep us on our toes, and prove his message, Michael had us pair up and play a game that led to "thumb wars." Michael used this exercise to demonstrate how competition in this case becomes an unwritten rule; these rules can be harmless, but sometimes they can be counter-productive and break down how we succeed as a team.

Michael then shared 5 strategies for Attitude Management beginning with reminding us that attitude is a choice.

The first strategy is "Start Right." By starting your day right, you develop a pattern for the rest of the day. The reference to my opening sentences on starting the day right was a wakeup exercise Michael had us perform – yes, 450 of us, standing up, shouting loudly, with our hands in the air!
The next strategy was "Act" and how action affects your attitude – develop the smile habit; when you smile they are reflective from another person and you will then smile more yourself.
Next is "Connect" with people with similar goals and those that are willing to bounce back themselves.
Next is "Eat Right," which is what you choose to feed your mind. For instance it is natural to compare ourselves to our peers but watch out when we compare our weaknesses to other's strengths. Michael recommends we find out what we are good at and focus on that.
Lastly, "Invest Right." Many of us are in an analytical culture. We may tend to find everything wrong and then we want to fix things. From now on, let's catch what we're doing right – and invest in that. Michael has found through research that when we focus on doings things right or giving to someone else, we actually bounce back faster.
Priya Sethuraman kicked off an afternoon of Agile with an update on PMI's Agile Certification with approximately 1,000 PMI-ACP credential holders.

Sally Elatta led our afternoon workshop, "A Deeper Dive into Agile Requirements and Portfolio Planning".

Sally began her workshop with an excellent overview of Agile;covered by four brief videos at http://agilevideos.com . As she covered a myriad of Agile concepts during this workshop, I will share two of the areas she covered in-depth: Agile and Portfolio Planning.


In Agile, there are Scrum Teams. The scrum team consists of a Product Owner, Scrum Master, and a Cross-functional self-organized team. A Product owner may be defined as a step below a Project sponsor, and is the designated manager of the requirements list which is termed, "Backlog". The Scrum Master is very similar to a PM. The team is cross-functional, but they are considered a self-organizing type of team.

To illustrate how a self-organizing team works, Sally asked for volunteers from the audience. A team of six had to randomly hold hands with two other team members and then get into a full circle without separating their hands. An audience member was asked to explain how the team could become untangled to no avail. When Sally asked the team to work together to untangle hands and create a circle, the team succeded after a few tries. Sally then gave the team the goal of untangling to an outer facing circle and they did so in even less time. This practice clearly showed the audience how teams may find solutions faster than being instructed; this was a fun exercise for the team of volunteers and the audience.


For Portfolio Planning, we played a game called "Planning Poker" to help us with estimating task timeframes using Fibonacci numbering. To manage the requirements list, each scrum team member rates each task based on their perceived level of complexity to determine which item may be easier or faster to accomplish during the day. During the workshop, we rated fruits (tasks) based on their size (complexity). For example, a blueberry may be rated a 1 while an orange or apple was rated a 5 with some teams and an 8 with others. The main point is that we were not working with absolutes, but with estimates to plan better. As long as the teammates were in the same range, then there was agreement on the complexity.

The Self-Organizing circle and Planning Poker were excellent educational games for us to understand these activities, but we were only scratching the surface of how much there is to learn from Agile.

I do have to admit that this was my first PMINJ International Project Management Day event and I will attend next year as well. As a newbie attending these functions, I was extremely impressed with the logistics of the day, the coordination of the event, and the many friendly people I met. I networked throughout the day and gained plenty of new skills. I also know that I am starting the day right since I am "good looking, lucky, and I will never die!"