Contents
PMINJ VP Welcome
Chapter Announcements Event Reports
Project Management Articles
New Certificate Holders
Article Submission & Publication Information

Advertisers:

---
It's been a joy and a privilege serving as your VP-Administration for the past nine months. Funny how time flies when you are having fun. And I'm having a blast!

Since our annual kick-off meeting last September, the PMINJ Board has been working diligently behind the scenes to ensure that as an organization we continue to serve you, our Membership, in the most efficient and effective manner.

In January and February the Board held working sessions to develop our 2013 Strategic and Tactical Goals, as well as to review and reinforce our Vision, Guiding Principles and Strategic Objectives. Here they are:
Vision: To be the leading professional project management organization in New Jersey

Guiding Principles:


Further PMINJ Chapter as a member focused organization
Provide opportunities to PMINJ members to enhance their professional growth in the field of Project Management.
Provide a sustainable chapter infrastructure

Strategic Objectives:


To engage and develop members in the Project Management profession
To increase the value of PMINJ membership
To provide an environment that promotes participation and collaboration among members
To promote awareness and add value to NJ and its communities through outreach
To foster mutually beneficial partnerships with organizations
Once the goals were set, we created a robust Dashboard to track actual performance against goals, making VPs accountable for the areas and functions under their responsibility.

During that same timeframe, the Board approved the Operating Budget for 2013 to ensure that as a non-profit organization we remain financially viable.
One of the most significant activities was the streamlining of the Board structure. This involved shifting existing functions to areas where they were best suited and adding new functions where appropriate. The outcome led to the creation of the following three new VP positions:

VP-Business Relations - responsible for maintaining a consistent alliance with organizations that participate in the success of PMINJ.
VP-Outreach - responsible for maintaining alliances and providing assistance to New Jersey communities, corporations, government, and educational institutions.
VP-Recognition - responsible for recognizing accomplishments related to Project Management and other professional and personal achievements.
In order to fully implement the Board organization change, the Chapter Bylaws have been updated and approved.

As you can see, there has been a whirlwind of activity as we reinvent ourselves to better serve you.

These are exciting times, so we urge you to get involved!


---
Chapter Announcements
PMINJ Member Benefit: Scholarship
by Lisa Davis
The PMINJ scholarship award program builds professionalism and excellence in our current and future Project Managers. In 2013 our scholarship award program has reached another level.
PMINJ continues to create opportunities for siblings of current members to blossom as leaders. We offer not one, but three scholarship awards. PMINJ not only awards for achievements through high school, but motivates our undergraduates to practice continued excellence in order to become eligible for renewal scholarships. As these accomplished recipients graduate and begin working in their chosen fields, they're aware of and aligned with the standards of excellence that we promote.
There is also a scholarship for current PMINJ members seeking a Master's Degree in Project Management.

Active PMINJ members receive more scholarship opportunities than many chapters around the world. We are one of the elite 12 chapters internationally that have reached their 30 year milestone. PMIEF (PMI Education Foundation) offers PMI Chapter Milestone Professional Development Scholarships to these longstanding chapters.
Specifics about the PMINJ and PMIEF Scholarship Programs can be found on our website.
The PMINJ application process for 2014 will open on 01 January 2014 and applications are due 01 March 2014.
If you have any questions, please send an email to d-scholarships(:@:)pminj.org

Click to see previous scholarship winners.

PMINJ Election Results
Thanks to our members for selecting the PMINJ Officers for the next two years.
Judy Balaban - President
Mark Barash - VP – Membership
Lisa Blake - VP – Programs
Barbara Fuller - VP – Marketing
Kim R Hinton - VP – Recognition
Raji Sivaraman - VP – Business Relations
As Sandra mentioned in her Welcome, these officers will help streamline and create a new PMINJ Board to provide excellent services for our members.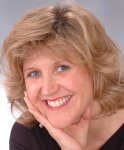 Event Reports
May's Symposium Highlights - Sell Your Skills: Advance your Career
by Jerry Flach, Stacey Kornhauser, John Bufe

Attendees at the PMINJ 2013 Regional Symposium on May 5th and 6th had the opportunity to do exactly what the Symposium theme stated, "Sell Your Skills: Advance Your Career."


Todd Cohen kick-started the symposium on Sunday May 5th with approximately 120 participants. Todd, an expert in building 'Sales Culture', led an energizing "Networking Skills for the Successful Project Management Professional" workshop. His dynamic workshop kept everyone's attention for the entire four hours! He focused on the concept that everyone's in Sales, which is also the name of his book. Find more information at www.toddcohen.com. This concept speaks to our ability to impact the bottom line by considering we are all in sales since we represent our companies and ourselves. Todd offered basic examples for project managers to effectively network. Some solid ideas were:
Place your nametag on the left side of your lapel so that when you shake hands with a new person your right arm will not block your nametag
Rule of 2 When you see two people conversing, leave them alone, unless you are invited into the conversation.
Arrive 10 minutes early to a networking session because it's easier to enter an emptier room (and you will not go against the Rule of 2) and as a bonus, the early networkers get the opportunity to network with the organizers of the event!
Todd Cohen also keynoted Monday's Symposium attended by 630 people. As a great start to the day, he shared some of Sunday's nuggets including:
Vulnerability is Nobility: In other words, be honest about what you do well and what you don't.
Know your Value Proposition: Your value proposition, for both yourself and your projects, differentiates you and encourages more conversation.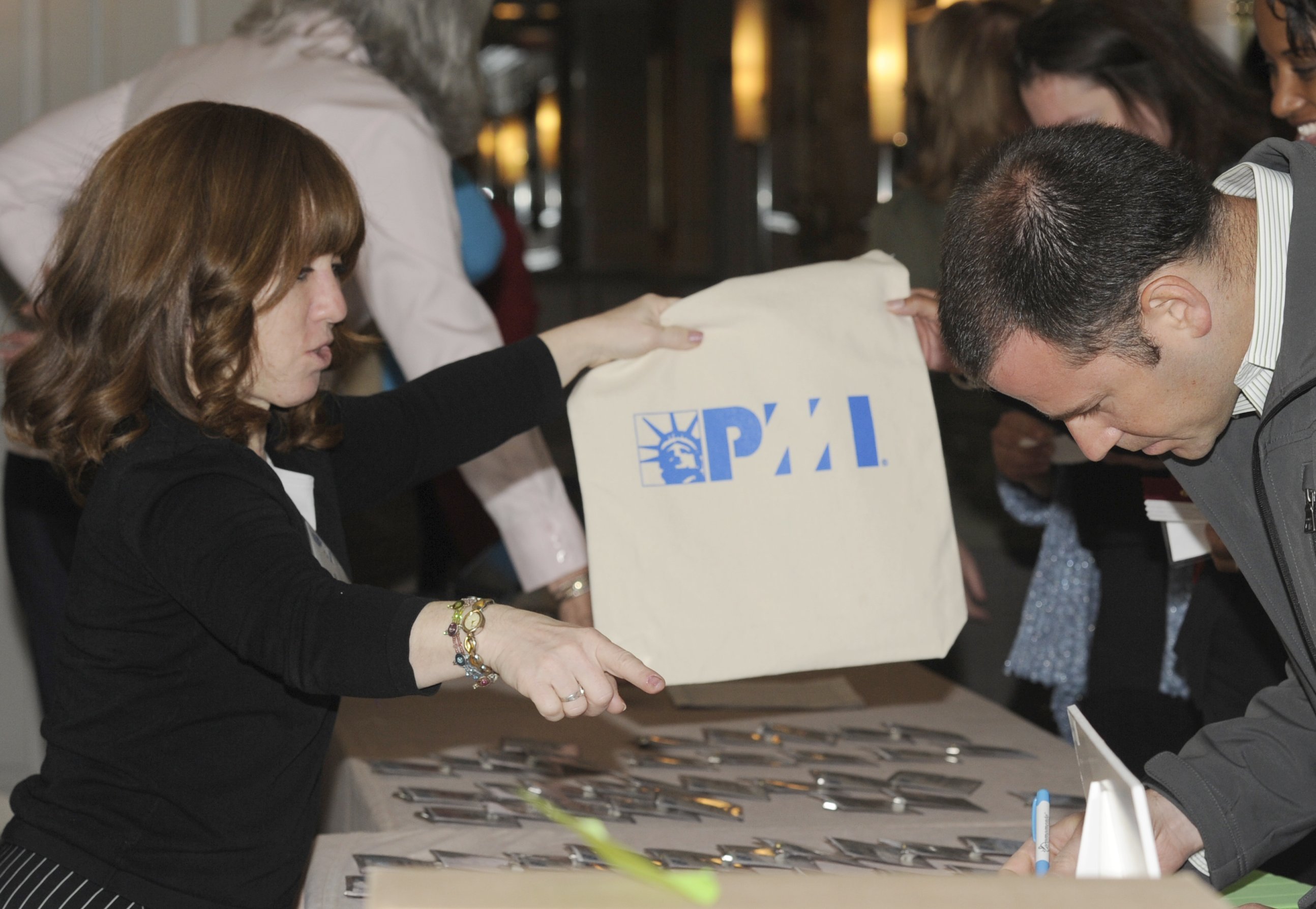 In the proven design of the Symposium, the attendees then had the opportunity to choose from three tracks, Process, Skills and Tools, and speakers on these topic areas, presenting in hourly learning sessions:
Lori Britt "Developing World Class Process Maps," discussed the value of process mapping for identifying and prioritizing process, project and product improvements and realizing those opportunities.

Marc Resch "Strategic Value Driven Project Management," provided session attendees with additional techniques to define and achieve strategic project objectives and maximizing competitive advantage.

Ron Krukowski "Harnessing the Consciousness of Consulting Effectiveness," highlighted additional subtleties to selling one's skills and staying focused on the path of success.

Half-hour breaks allowed attendees to network and interact with the valued exhibitors. This was followed by three more Track Speakers.
Gus Cicala "Leadership is Taken, not Given, Establishing, Maintaining, and Regaining Control of Projects," provided project managers with insights to drive project success despite the lack of formal powers within an organization.

Saibal Basuroy "Key to Successful Project Controls in Mega Transit Projects. A Case Study of MTA's Number 7 Project in Manhattan," highlighted the development goals of this major program and the project control tools and techniques that are keeping the 7 Line Extension on schedule and within budget including vendor and contract management.

Susan Morris "What do you say AFTER you say hello? What do you do BEFORE you say hello?" covered the importance of first impressions and assuring lasting positive impressions.

After a delicious lunch, a second keynote speaker, Martha Legare, presented "Projects Mean Change – Are YOU Ready?" Martha helped us understand the underlying thought processes and statistics of failure and success. Despite or perhaps because of the preponderance of failure (occurs 70% of the time) project managers can embrace change to plow towards the gold medals of success. Martha shared 4 actions most notable for managing change and assuring project success: Understanding the multiple levels and perspectives of change, choosing the right approach with change, clearly communicating the intent of change and assuring change management skills.
Jim Schneidmuller, "The Why, How & What of a Program Management Review (aka Audit)," covered how PM's can leverage a Program Management Review Process to measure and further the success of an organization's program and project management processes.

Wendy Blumenstein, "Leading Others Best Practices and Bettering Your Leadership," shared new research on Leadership Best Practices further elaborated in the Wiley book, "The Work of Leaders," and focused on three essential elements of leadership; vision, alignment, and execution.

Irene Cousino, "Exercise Your Right Brain to Maximize Effectiveness," challenged PM attendees to hone our emotional intelligence to better lead and manage project teams.

Neal Whitten, the final outstanding keynote spoke on "Behaviors that Lead to Exceptional Performance". Neal provided a list of what he calls "Power Snippets" of behaviors and weaved memorable tales for us to clearly understand the points. He reminded the audience that project managers need to define and manage daily to three top priorities to enhance personal and project value especially in today's world of "100 emails in your inbox in the last 7 minutes!"

Special thanks to all the speakers, exhibitors and volunteers that made this event possible. PMINJ is an all-volunteer organization dedicated to providing its community with excellence in PM. For a great way to expand your own leadership and team building skills, and gain valuable PDU's, consider volunteering! For more information on volunteering, additional programming, including monthly events, trainings and the November 7th International Project Management Day celebration, bookmark and check back often with www.pminj.org.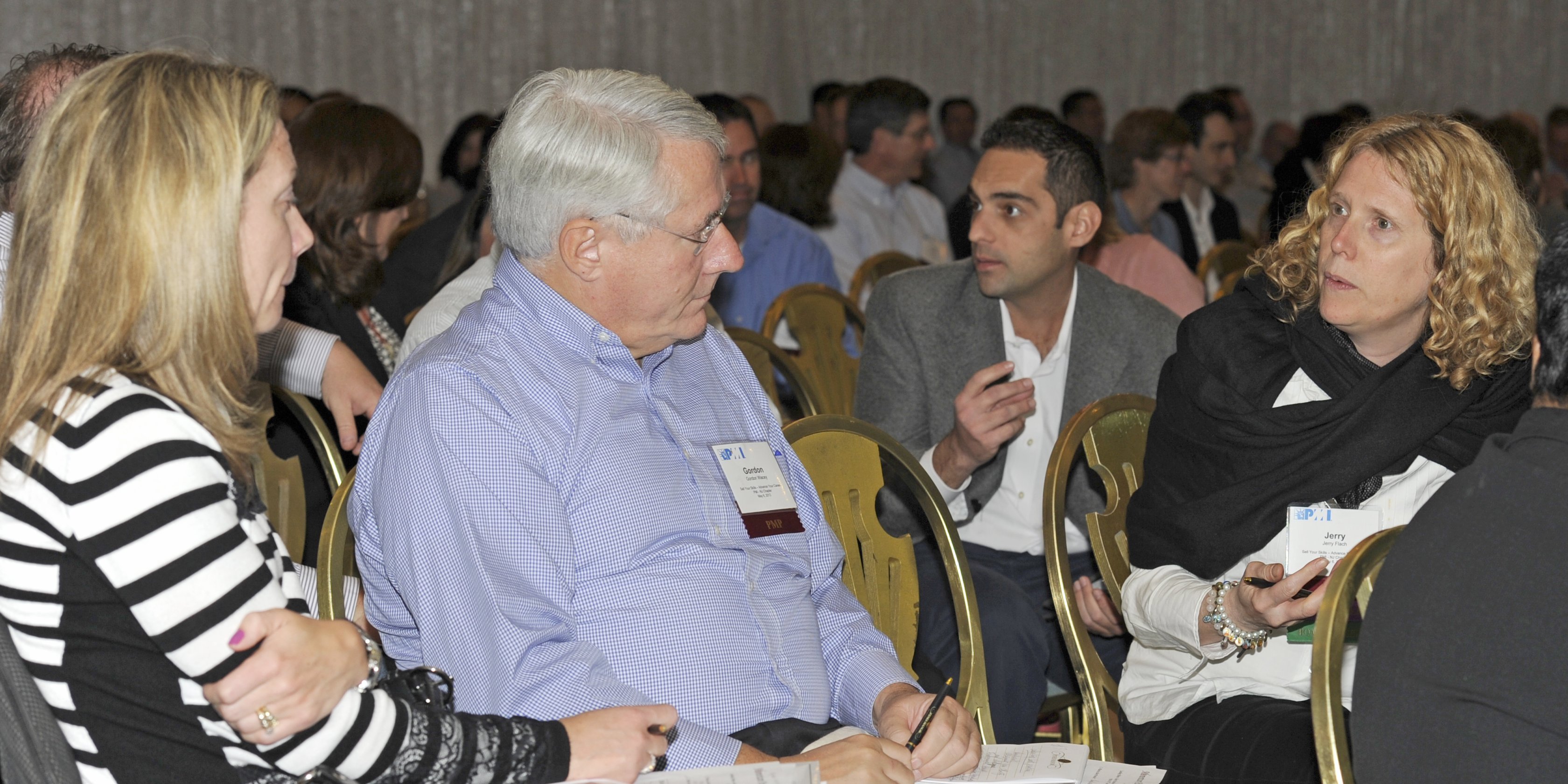 Click to see more Photos
---
PMINJ June 2013 Chapter Meeting
by Kristine Clark


Jeff Harmon, PMP, gave a presentation for the June 18th chapter meeting held at the Bridgewater Marriott entitled "The Power of Culture and Values in Project Success." The objective of the presentation was to outline the benefits of utilizing his leadership style into your everyday practice and provide an overview of practical ways to accomplish this goal. Utilizing these leadership ideals, the speaker stated, would enable a PM to connect with their project team "on a deeper, more substantial level," and by extension, lead to better performance from the team and improved project performance overall.

Jeff began by citing a statistic relating to a Joint Commission for Health study in the US and Canada. This study found hospital operating room accident reports had 70% fewer accidents where the staff was on a first-name basis with each other. The first-name basis implied a deeper level of familiarity among the employees, which engendered more trust in each other, and an overall higher level of performance in their work. He went on to quote Stephen Covey focusing on investing in and creating trust in the people you work with and your organization as a main influencing factor on project performance. The bottom line result is when trust goes down, costs go up, and the exact opposite; when trust goes up, costs go down.

To establish a level of trust within your own team and create a trust culture, Jeff first recommends a personal values assessment of importance to you individually, and then perform a similar exercise with your project team members. He reasoned that giving a voice and placing value on the areas that are important to team members will enable the Project Manager to connect with them, and will, in turn, bring out the best in their performance, thereby positively influencing overall project performance. One of his quotes from Richard Barrett, one of the leaders in research around culture and the impact on organizations was, "True power lies not in the ability to control, but in the ability to trust." You create implicit trust, implicit power, as a project leader, when you make the investment and when you connect the team to yourself and to each other.


Jeff walked everyone through tangible and intangible elements that he recommends for running a project, the difference between teams in comparison to working groups, and provided a brief values self-assessment. He explained why these assessments were important, and how they contributed to increased performance. He ended the presentation with the four indispensable factors needed to begin using servant leadership as part of your project management practice.

You can find out more about Jeff Harmon and this topic at his website www.brilliancewithincoaching.com and read his book, The Anatomy of a Principled Leader: A Field Guide to Being the Type of Leader Everyone Dreams of Working For by Jeff Harmon (2012)

Click to see pictures from the June Meeting.


---
Project Management Articles
"10 Secrets to Becoming a PMP"
By Cornelius Fichtner, PMP

Deciding to get a Project Management Professional (PMP)® credential is a big step in a Project Manager's career, and it can be a time-consuming and difficult journey.

To summarize, the 10 secrets are:
Knowledge is Power - Read the PMP Credential Handbook

Not everyone is elegible - Know the training and experience requirements

Join PMI and a local chapter saves money - Get the PMBOK guide and a discount on Prep classes and the exam

There are no shortcuts - Plan, schedule, and execute

Deadlines are great motivators - Set an objective and maintain the pace

The Guide has the answers - Read it, sumarize it, and read it again (75% of questions are from the Guide)

~25% of the questions won't come from the Guide - Take a Prep class and read other PMP resources

Studying with others works - Formal training and study groups

Sample questioins give you confidence - Find free sample quizes online; Prep courses usually offer sample experiece

You can beat exam day stress - Know where the test center is located; have a good nights sleep; leave early to arrive on time.
About the author: Cornelius Fichtner, PMP is a noted PMP expert. He has helped over 18,000 students prepare for the PMP Exam with The Project Management PrepCast




---
New Certificate Holders
The following have received their certification since the last newsletter (through 30 June 2013):


PMPs
Mary Albert
Blythe Anderson
Anthony J Annucci Jr
Tito Anyanwu
Amartya Basu
Heather Benarick
John Bertram
Courtney Bethea
MANSOOR BHATTY
Christopher Blake
Jose Borges
Alexander Bragat
Scott Bush
Thomas Carle
Harini Chitalia
Min Chong
Frank Cleary
Michael Colli
Debora Csontos
Carlitos Datuin
Lisa Davis
Mary Davitt
Judy De Champlain
V Deo
Sharmila Deshpande
Jean-philippe Dieudonne
Gregory Dougherty
Tammy Duffy
Brian Eaches
Lisa Faucette
David Fehring
Leann Frank
Lawrence Fried

Paul Gill
Mary Angeles Gonzalez
S. Grasso
James Green
Louis Hahn
Christine Herrmann
Melisa W. Ho
Monique Iacobacci
Nak Islam
Anuradha Jairaj
John Jew
Jimmy Joy
Anupam Juniwal
Andrew Kowalik
Tommy Lee
Danielle Maddiboina
Joe Maldonado
Yuansheng Mao
Neil Martinez
Charles McNeil
Frank Modrowsky
David Morris
Kerry Murtagh
NAMITHA MURTHY
Ahmed Naji
Leric Nicholas
Jim Nigro
David Nixon
Rafeeque Octoberene
Miguel Otero
Anthony Pacitti II
Murugappan Palaniappan

Erik Palkhiwala
Chris Paolella
Keyur Patel
Michael Patti
Gregory Player
Kari Rabatin
Himabindu Ramaraju
Steven Reitano
Karen Rini-Agpaoa
Raji Sarabudla
Kajal Sarkar
Raymond Scaringe
Steve Searle
Sonal Sheth
Margaret Siemon-Hryczyk
Richard Siluk
Edward Sneath
Monica Songok
Jennifer Stewart
Richard Strauss
Padmini Tandavakrishna
Deborah Thomas
Albert Tomaro
Armando Torres
Melissa Trotter
Satya Vallepalli
Baljeet Varraich
Ana E Vasquez
Bernie Viggiano
Joseph Viscido
Maitri Vyas
William Weber
Carol Williams


PgMP
None
CAPM
Andrew Kowalik
David Nixon

PMI-RMP
Ronald D'Avanzo

PMI-SP
None
PMI-ACP
Saranga Ram
---
Article Submission & Publication Information
Editor Christine Rotonda, PMP
Contact the newsletter editor, at editor(:@:)pminj.org for newsletter related items, to submit articles and to provide feedback!
Submissions: Submit articles in MS Word, plain ASCII text, or as part of an email. Graphic files should be high resolution (1MB+) JPEG or GIF. All members are invited to submit articles, meeting review, or other items of interest for publication.
Advertising: Contact Raji Sivaraman (sponsor(:@:)pminj.org) for advertising/sponsorship inquiries. For more details.
Newsletter Schedule
Newsletters are published every other month: Jan, Mar, May, Jul, Sep, Nov
Articles due to the Editor by the 5th of the month:
Newsletters will be published via e-mail and on the PMINJ website by the 25th of the month:
Newsletter Team:
Elena Kostenko – PMINJ Quality Manager
Laurie Policastro – PMINJ Marketing Content Manager
Kristine Clark – PMINJ Marketing Content Manager



PMINJ is not responsible for the content or quality of any advertisement included in this newsletter.