Contents
Welcome Chapter Announcements Event Reports
Project Management Articles
New Certificate Holders

Article Submission & Publication Information

Advertisers:

---
2014 Presidential Greetings
By Judy Balaban


Happy New Year!

At the close of one year and beginning of another, let me say thank you for all your participation and support in 2013. I believe the greatest gift we can give someone else is appreciation, recognition or a sincere "thank you." A highlight of 2013 was the involvement of many of our members . . . participating in meetings, courses, symposia and volunteerism…in addition to our outreach activities of food / clothing drives, student training and bike-a-thon. Our Board continued to implement our strategy, worked tirelessly to recruit new members, and to strengthen the organization. We will continue to recruit new members in 2014 to make the chapter stronger and more active than ever.

Many exciting programs and events await us in 2014 on top of our outstanding PMINJ events. We will continue our monthly program meetings that provide an excellent forum for training, networking and earning PDU credits. The Career Networking Group will continue to meet monthly to discuss timely topics and to provide members with the opportunity to partner with a fellow member who may be seeking advice or a transition. The annual symposia events will continue to be a sellout success. Last year, we launched day long workshops and Agile training sessions to complement our PMP prep courses, they too will continue. We strive to be true to our Vision Statement: To be the organization of choice for project management professionals in New Jersey.

I hope you are as excited as I am about 2014, and that you help us continue our tradition of success. The strength of our organization is premised on the level of involvement by our members. With that in mind, I invite you to volunteer or to email me to share any ideas, thoughts or feedback to improve our Chapter. You should also feel free to contact any Board Member directly. We all welcome your ideas and feedback. Our website, pminj.org provides contact information for all of us so you may reach us directly.

Your participation and presence in the chapter is what propels me to keep moving forward with a smile knowing that all we do...it all matters.

I wish you all what you seek in the coming year. May it be healthy, happy and prosperous!

With gratitude,
Judy

Judy Balaban, PMP
President
PMI New Jersey Chapter


---
PMINJ Programs Provide Member Opportunities for Continued Growth
By Lisa Blake, VP Programs


PMINJ's Programs provide a variety of opportunities for continued growth and development in the profession, delivered in a variety of formats designed to meet members' individual needs.

Do you want to learn about the latest trends and best practices in project management and earn PDU's while enjoying an evening of networking and fine dining? Come to the Programs Monthly Chapter Dinner Meeting! Meetings are typically held the third Tuesday of the month, at one of three different facilities around the state, and feature recognized speakers from a variety of industries and Project Management knowledge areas. The dinner and program are preceded by Local Communities of Interest (LCI) meetings, and include highlights of Chapter Business and events as well as raffles by meeting sponsors.

If you'd like to hear the monthly speaker presentations 'live' but can't get to the meeting venue in time, consider attending via satellite! With 19 satellite locations in 11 different counties, there's a good chance you can find a site near either your home or work. Another way to catch up (and earn PDUs) is to listen to a Program webinar. All Monthly Meetings Programs are recorded, and available to Chapter members who log in to the PMINJ website and go to the Member tab / Webinars.

The Programs Team also partners with outside trainers to offer workshops periodically during the year. Designed for project managers interested in more details about an area like Agile, Personal ROI, or Managing Difficult Projects, workshop attendees can spend a full day with an industry expert and earn up to 8 PDUs.

The Programs Team is planning to provide even more opportunities for members' professional enrichment in the coming months by working with the Project Managers In Transition Team to deliver Breakfast Meetings (PM in the AM) and Lunch and Learn sessions.

The Programs Team is committed to providing you, the PMINJ members, with a rich variety of opportunities to enhance your professional growth. We are always looking for great speakers, fresh PM topics, and new ideas. If you're interested in learning more, or want a role in creating programs to meet PMINJ member needs, contact me, Lisa Blake, at vp-programs(:@:)pminj.org.
---
Chapter Announcements
New Project Manager in Transition Team Offers PMINJ Members Between Jobs Networking and Growth Opportunities
By Lisa Davis
In the November newsletter, a new upcoming volunteer opportunity was mentioned - the "Project Manager in Transition," team or more commonly referred to as the "PIT Team." The program itself, while available to all active PMINJ members, is designed to target project managers who are between jobs with ample time to devote to the team activities. It will be comprised of a team of project managers to be used as "swing staffing," or temporary staffing, to manage a wide range of PMINJ program offerings including, but not limited to, random events, breakfast meetings, webinars and lunch and learn sessions.

In addition to the opportunities to earn PDU's and give back to the chapter, team members will also be able to take advantage of some of the unique benefits offered by this program including:

Applying the volunteered time to fill the gap on their resume
Sharpening and / or growing their skills during a time where they might normally lay stagnant
Gain valuable insight as they are mentored by a diverse team of leaders
Access to a broader range of networking and employment opportunities and even growth opportunities within this team
PMINJ is dedicated to becoming more involved in the growth and development of its own member base. The new team environment promotes participation and collaboration among our members as well as fostering a mutually beneficial partnership with external organizations.
Volunteer for "PIT" and use it to close the gap on your resume and shorten the road to your next employment opportunity.
You can find more information about the program and how to register
.
Event Reports
PMINJ Celebrates IPM Day 2013
By Jerry Flach

The IPM Day 2013 celebration kicked off with greetings and introductions by PMINJ's President Judy Balaban and Vice President Symposium, Deven Trivedi. The morning's keynote speaker, Michael Dobson, PMP, guided attendees through impossible project management scenarios by first considering familiar occurrences and imposed constraints.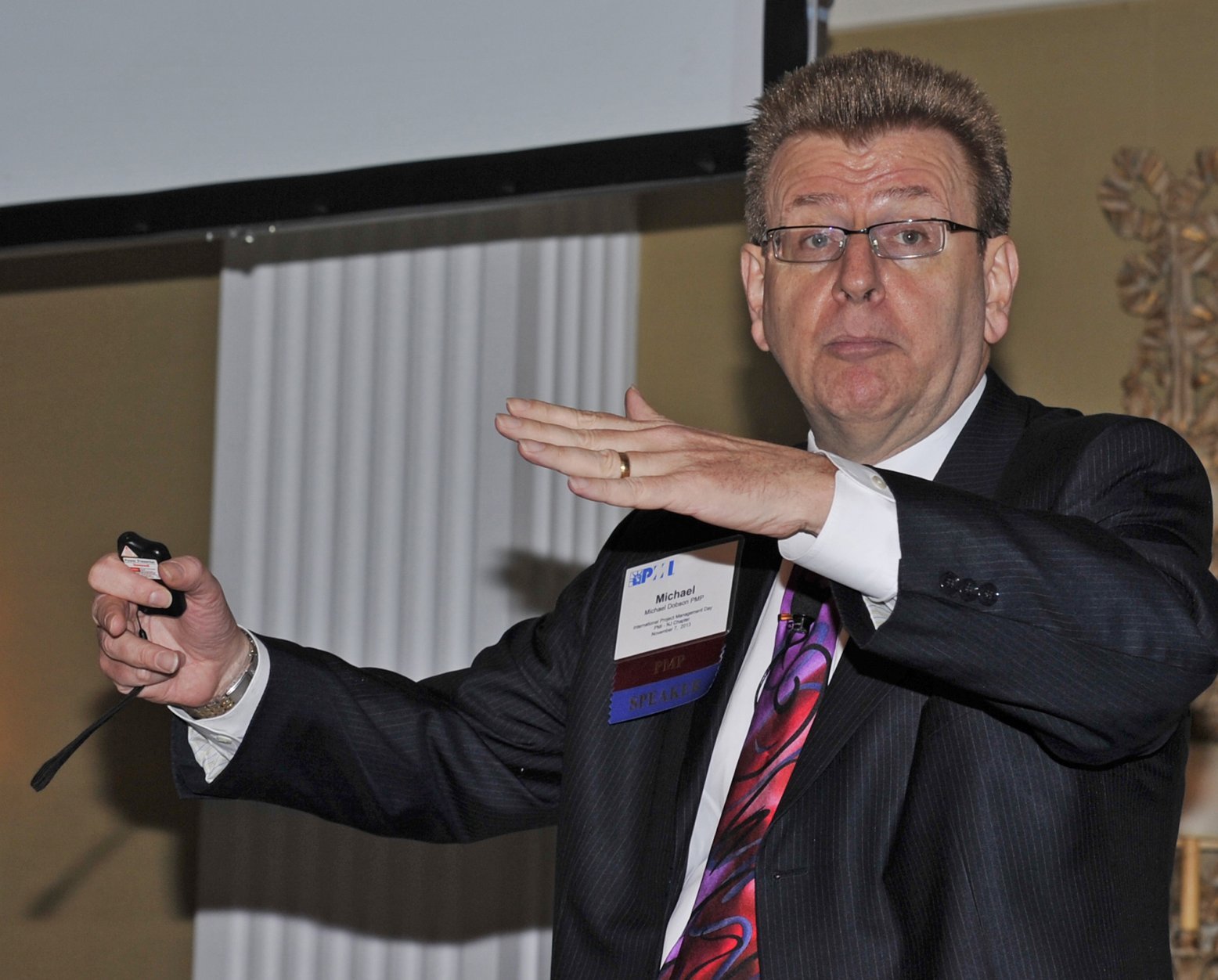 The first opportunity for PMs in managing impossible projects is discovering the flexibility within 'weak constraints.' In the process of evaluating constraints, there are Resource constraints, or the most you can spend, and Performance constraints. Combining constraint management with active risk management, PMs can admit that failure is an option. In exploring why something cannot be done, PMs can turn to project specifications; since they were created by the PM, the PM can change them. While performance can be cut, quality cannot, because cutting quality has a much larger impact. Michael called this process Negative Brainstorming, and it includes such questions as:

Why is this project impossible?
Why can't we do x?
What ideas are not worth trying?
The opposite of brainstorming, Negative Brainstorming reveals a full spectrum of constraints, real and assumed, the latter among the constraints with flexibility. To stretch audiences' assumptions, Michael used the "9 dot puzzle in the box" example to show that there is no box.


The next presenter, Guneet Singh, a BPI Leader at ADP, has six sigma in his blood. Guneet covered the best practices of Continuous Improvement (CI), a philosophy or mindset that starts by asking what is your purpose and more specifically, why am I doing this data-driven approach?

CI is about improving processes, but Guneet cautioned not to jump to a solution. The importance of taking the time required to identify the clients and their expectations was well understood by an audience of over 450 PM practitioners who were also pleased to hear Guneet quote Einstein, "If I had an hour to solve a problem, I'd spend 55 minutes thinking about the problem and 5 minutes thinking about solutions."

Guneet covered the following in the application of CI to PMI processes:

Initiate and Planning - Define, what, who, why, and where.
Execution - Use pilots to analyze causes and gain additional ideas to address the issue as defined, and integrate improvements.
Monitoring and Controlling – The pilot's results contribute to improvement by keeping what works, and doing the change right then and there.
Closing – The result is indeed a job well done!
Guneet's presentation elicited some great inquiries from the audience.


Following Guneet, Jim Tosone, Managing Director of Tosone Associates and an Improvisation master, was the next presenter. Jim helps people move outside their comfort zones through improvisational exercises. Improvisation, or improv, can be utilized for staff development in such areas as strategy or agility. Four improvisational exercises with audience volunteers allowed attendees to witness collaborative relationships in action. In the third exercise Jim called 'A-Z,' (akin to a favorite children's car game) volunteers had to focus on using a word with the next letter in the alphabet to continue the sentence. This exercise also revealed how constraints can distract especially when we think linearly. Improv can be leveraged to bring out more creative ideas perhaps even using Negative Brainstorming.

The afternoon's last speaker was Craig Price, author and podcaster. Craig began his presentation with a reality check instilled with a good dose of humor. His Realist Guide starts with addressing negativity first by looking at thinking patterns. Positive thinkers see the silver lining and are willing to hear the failures, whereas negative thinkers see the dark side, but know there are successes. In contrast, the optimist avoids failures and the pessimist avoids success. Fortunately, personality does not predict performance since we cannot change personalities.


Craig also explored project considerations in light of the variety of generations in the new workforce. The baby boomers have a great deal of wisdom that Craig sums up as knowledge plus experience and which makes them great mentors. Gen Xers with baby boomer parents are typically more family-focused and appreciate learning opportunities. All ages can contribute to project success.

The day closed with thanks for volunteers, PMINJ and all participants in celebration of project management.

Webinars were created for all the presentations and can be viewed by members logging into the website.



Login and View the Webinars
Return to top
---
PMINJ School Outreach Team Teaches Project Management Skills to BSA Eagle Scout Candidates
By Michael Vitale
On Saturday, November 23, PMINJ School Outreach team members Dennis McCarthy and Mike Vitale delivered several training sessions on Project Management fundamentals to 35 Eagle Scout candidates from across northern New Jersey at the Patriot's Path Merit Badge Workshop in Parsippany. The course,
An Introduction to Project Management
, educated the Boy Scouts on the five core PM processes of Initiating, Planning, Executing, Monitoring / Controlling and Closing projects. The training tied PM skills to the Eagle Scout Service Project that all candidates must successfully complete before attaining the Eagle Scout rank. Patriot's Path District Advancement Chair, Roger Gallo, participated in each one-hour session and provided real world lessons learned by Scouts on past projects. The course was well-received by both students and Boy Scouts of America administrators.
This was the first pilot session for
An Introduction to Project Management
, the training course developed over the past year by the School Outreach team. Based on the success of the pilot, the team is scheduling additional training sessions with several organizations, including high school robotics competition teams and other youth programs. Special thanks goes to Barbara Fuller, Dennis McCarthy, Josephine Giaimo, Larry Stern and David Vincenti for assisting in the creation of the program.
---
PMINJ School Outreach Program Visits Piscataway High School Robotics Team
By Michael Vitale

On Wednesday, December 18th, PMINJ School Outreach team members, Josephine Giaimo and Mike Vitale, introduced Project Management skills and techniques to Piscataway High School's Robotics Team 224. The team, also known as "The Tribe," is participating in this year's FIRST Robotics Competition (FRC©), a tournament where teams of 25 students are challenged to raise funds and develop a team "brand" to build and market a robot which can perform specialized skills under limited time and resources. Every year introduces a new challenge to the participants who have only weeks to brainstorm, design, build and test their robot before competing in a live arena against other schools.

The PMINJ instructors explained the five core project management processes and discussed how the techniques can help complete tasks faster and more accurately than in the past. The Robotics team identified with many of the problems that PM skills solve and plan to implement several of the concepts into their 2014 workflow. Several members of the School Outreach program are in regular contact with the team and are serving as mentors during the winter competition season.

For more information on Team 224 please visit their website.

If you are interested in joining the PMINJ School Outreach team as an instructor contact volunteers(:@:)pminj.org, or if you know of an organization that can benefit from an introductory training course, contact Mike Vitale at schooloutreach(:@:)pminj.org.


Return to top
---
Symposium Webinars Offer Opportunities to Earn Additional PDU's
By Lisa Davis
PMINJ held two symposiums last year that are now available for viewing. Both symposiums are filled with exciting new ideas and approaches for handling the new challenges arising in the field of project management every day. Attending these symposiums in person provides a valuable resource for earning PDU's, however, that is not where the earning power ends. Viewing the webinars after these events can also be used to earn PDU's and at no additional cost.
May's symposium covers "Networking Skills for the Successful Project Management Professional" and "Sell Your Skills: Advance Your Career."
The November IPM Day covers the topics of negative brainstorming, continuous improvement, use of Improvisation, and use of a realist guide originally discussed at International Project Management Day 2013.
There is a wealth of information available from just these two symposiums, and they are not to be missed. The webinars are available for members when they log into the website, then access Members / Webinars.
For a complete list of available webinars look for the symbol

on the page of past
meeting / symposium
Return to top
---
PMINJ November 2013 Chapter Meeting
By Ronald Krukowski, PMP
The November 2013 PMINJ Chapter Meeting was held at the Pines Manor in Edison, New Jersey and was the final chapter meeting before the winter break. Along with the main event, this evening also included a Career Networking Session, conducted by the Career Networking LCI, titled "Life Strategies for Managing Personal and Professional Transitions." This session featured Mary Anne Walk, Executive Director of Gestalt International Study Center. Lisa Blake, VP of Programs, introduced the evening's featured speaker and topic: Frank Kovacs, Cloud Advisory Practice at Ernst & Young presenting, "An Introduction to Cloud Computing."
Frank began his presentation with some insight into his professional background. He is an IT Technology Executive who has led large-scale global mission critical projects. He is also the founder of one of the top networking groups - The Breakfast Club NJ, a group which is now 3,800 members strong.
Frank discussed how the C-Suite managers (CEO, COO and CIO) are eager to adopt cloud computing since many of them have been sold on the benefits; business implications of not being able to keep up with application demands, inability to meet service levels, limited business agility, high facilities (space) costs, and inability to cost-effectively meet application recovery time / point objective (RTO / RPO) requirements.
However, many IT groups have a two year backlog of projects, have gone through substantial reductions, and many do not have qualified staff for cloud computing analysis.
Frank explains that "cloud" is a very challenging topic in general, since many people / organizations are at different levels in their overall understanding of what it is and how to utilize it effectively. In addition to this, "cloud" comes in many wrappers; Infrastructure as a Service (IaaS), Software as a Service (SaaS) and Platform as a Service (PaaS).
One possible solution could be to utilize the strength of a quality Cloud Service Provider (CSP) that has a proven history of providing solutions that deliver on cost-benefit efficiencies, effective handling of service levels and speed in time to market for strategic objectives. Quality CSPs make it possible to adopt innovative new technologies while increasing transparency of IT spend and delivery to business while addressing the fundamental requirements for stable, secure and audit-ready environments. If IT can effectively engage, manage and audit CSP relationships, then they will be able to implement comprehensive solutions to address challenges faced through the journey to the cloud bringing business value along the way in a flexible fashion. He recommends that people get familiar with cloud solution offerings, how to implement them and effective ways to audit the services of the CSP.
Frank made a very important point; there is no magic here and you cannot just leave it to the CSP. To be successful, an organization must be able to define its "current state," articulate what the "to be" state should look like, share the accountability of delivery and provide ongoing auditing of the SLAs/support relationship.
This presentation was a great foundation for those who are currently or will be engaging in a cloud project. For those who were not in attendance at the Pines or one of the satellite locations, it is highly recommended you download a copy of the slides and / or view the webinar of the presentation.

View additional pictures from the meeting

---
Project Management Articles
Knowledge Areas, Process Groups, and Processes - Oh, My!
By Cornelius Fichtner, PMP, CSM - Making the PMBOK® Guide fun

One of the most discussed tables in the Project Management Institute's (PMI), A Guide to the Project Management Body of Knowledge, (PMBOK® Guide) Fifth Edition is the "Project Management Process Groups and Knowledge Areas Mapping" matrix, found in Table 3-1 on page 61. This table maps the 47 project management processes to their corresponding Knowledge Area, as well as to their corresponding Process Group.

At first glance, the table seems quite complicated, so let's break it down and uncover why a solid understanding of the relationships between processes, Process Groups, and Knowledge Areas is important to anyone preparing to take the Project Management Professional (PMP)® exam. It's so important, in fact, that we suggest you memorize this matrix and the relationships it calls out. Memorizing the table will prove to be a valuable asset to you during your PMP Exam.

Let's start with the building blocks of the matrix - what is a process? At its most basic level, a process is simply a way of transforming an input into an output using proven tools and techniques. The PMBOK® Guide defines a process as "a set of interrelated actions and activities performed to achieve a specified set of products, results, or services." Good processes based on sound principles and proven practices are extremely important for a project's success. Processes, like a roadmap, keep the project going in the right direction; they can also help minimize confusion and uncertainty among the project manager and the project stakeholders and can help drive progress from start to finish. The PMBOK® Guide identifies 47 processes that are instrumental to project success.

The overarching piece of our matrix are the Knowledge Areas. Each Knowledge Area is made-up of a set of processes, each with inputs, tools and techniques, and outputs. These processes, together, accomplish proven project management functions and drive project success. Thus, the Knowledge Areas are formed by grouping the 47 project management processes into specialized and focused areas. Knowledge Areas also assume specific skills and experience in order to accomplish project goals.

The PMBOK Guide currently recognizes 10 Knowledge Areas, each of which includes a detailed description of the processes associated with that area. These Knowledge Areas are Project Integration Management, Project Scope Management, Project Time Management, Project Cost Management, Project Quality Management, Project Human Resource Management, Project Communications Management, Project Risk Management, Project Procurement Management, and Project Stakeholders Management (added in the Fifth Edition).

So, where do Process Groups fit in? The 47 processes are also grouped into five categories: 1) Initiating, 2) Planning, 3) Executing, 4) Monitoring and Controlling, and 5) Closing. These groupings reflect the logical integration and interactions between the individual processes, as well as the common purposes they serve. That is, the Process Groups band together the project management activities that are relevant to each project phase and provide a means for looking at best practices within one Knowledge Area at a time. For example, in the Initiation Process Group, you'll complete the individual Initiation processes like defining scope, goals, deliverables, assumptions, limitations, etc., that make up the project charter. Within the Initiation Process Group, you would also complete all activities and processes for identifying project stakeholders. Similarly, processes required to track, review, and regulate the progress and performance of the project are all included in the Monitoring and Controlling Process Group. So, processes with a common goal or theme are grouped together into a Process Group.

It's important to remember that Process Groups are not the same as project phases - most projects are comprised of multiple subprojects or phases, and you'll likely repeat each of the Process Group activities within each project phase or subproject.

Why do we group processes like this? One way to think about this is that the Knowledge Areas encompass what the Project Manager needs to know, while the Process Groups describe the actions the Project Manager (and team) needs to do. Or, put another way, Knowledge Areas are about knowledge on project management topics, while Process Groups seek to apply that knowledge. They provide a logical sequence of steps within the Knowledge Area.

Every one of the 47 processes can be mapped to one Knowledge Area and one Process Group, identifying the proven project management principle(s) behind the process, and at the same time providing the means to accomplish it. As you study the processes within each Knowledge Area, it's helpful to remember that the processes have a logical connection across the knowledge areas, so try to focus on that, rather than solely trying to memorize which process goes where.

So, why do I need to know this for the Project Management Professional (PMP)® Exam? Recognizing the interdependent nature of the development lifecycle is critical to effective project management. As a project manager, you'll need to be able to identify ways in which the process groups interact with each other through the life of your project. Execution within some of the Knowledge Areas and processes will accomplish some project objectives directly; delivering on other Knowledge Areas provides a method to achieve other objectives.

Because the project management processes, Process Groups, and Knowledge Areas span the entire project lifecycle, questions discussing their relationships appear frequently in the PMP® Exam. Remember that the Knowledge Areas focus on what the Project Manager needs to know, while the Process Groups describe the actions the Project Manager (and team) needs to do. Understanding and memorizing the hierarchical and yet interdependent relationships between the Knowledge Areas (strategy), the Process Groups (steps), and the building blocks (processes) will help you during the PMP exam. Most exam takers use the first 5 minutes of their exam time to draw this table onto an empty sheet of paper (from memory!), so that they can use it as a reference in answering their 200 exam questions.





---
New Certificate Holders
The following have received their certifications since the last newsletter (through 31 December 2013):


PMPs
MANOJ KUMAR AERROJU
Idayat Ajibade
Steven Alcorn
Janeen Argyros
Nehemias Arias
Neway Atnafu
ASHOK AZHAGIRI
Ciro Branchizio
john conevery
Anne Drucker
Mara Dunn
John Esser

Ramji Ganesan
John Hirschman
Robert Immella
Basem Khella Yowakim
Suchitra Kurria
Valerie Lindon
Daniel Lui
Joan McDevitt
Manas Morey
Mike Negami
Susan Oh

Brian Richards
Sabyasachi Sengupta
Brijesh Setia
Arvind Shah
Naresh Kumar Sira
Marcia Snyder
Sri Srivastava
Indu Subramanian
Melissa Unold
Dawn Upperman
vincent villa
Nick Vitovitch


PgMP
None

CAPM
Greg Madhere
PMI-RMP
Leonardo Cruciol

PMI-SP
None
PMI-ACP
Kathleen Flaherty
Laurie Harper
Sheila McRae
Gianfranco Pizzuto
Mark Rodrigues
Christian-Peter Saksa
Rodney Smith
Indu Subramanian

---
Article Submission & Publication Information
Editor Kristine Clark
Submissions:

Where to Send: Contact the newsletter editor, at editor(:@:)pminj.org for newsletter related items, to submit articles and to provide feedback. All members are invited to submit articles, meeting reviews, or other items of interest for publication.
How to Send Articles: Please submit articles as word documents or plain ASCII text attachments via email.
How to Send Graphic files: Please submit all graphics files as high-resolution (1MB+) JPEG or GIF file attachments via email.
Publication Information:

Schedule:


Newsletters are published every other month: Jan, Mar, May, Jul, Sep, Nov
Articles due to the Editor by the 1st of the month.
Newsletters will be published via email and on the PMINJ website by the 25th of the month.


Newsletter Team:


Kristine Clark – PMINJ Newsletter Editor
Lisa Davis – PMINJ Marketing Content Manager
Cherekana Feliciano – PMINJ Marketing Content Manager


Advertising:


Contact Mahendra Gunawardena (d-sponsor(:@:)pminnj.org) for advertising / sponsorship inquiries.



PMINJ is not responsible for the content or quality of any advertisement included in this newsletter.