Contents
Welcome Chapter Announcements Event Reports
Project Management Articles
New Certificate Holders

Article Submission & Publication Information

Advertisers:

---
VP Welcome
By Kim Hinton, PMP, VP - Recognition


I've been in place now for a little over half year as the VP of Recognition and it has been great getting more involved and working with all of the PMINJ members.

During these past few months, we have been working on a variety of activities. The first of which is that we have implemented a new volunteer management system that allows us to more efficiently manage our volunteer population. We have also completed one more cycle of our high school and Masters scholarship programs and we are preparing to present our new group of students at the June meeting. We evaluated several very worthy Project of the Year nominations and chose Atlantic Health Systems - Chilton Integration Project which was presented at our April meeting by Danielle Meglaughlin and Jennifer Scatcherd, the project managers for the project. I would also like to acknowledge our honorable mention, Prudential's PeopleSoft Implementation project. Finally, we are in the process of evaluating the Project Manager of the Year nominations with the winner to be announced at our June meeting.

I would like to extend a heartfelt thank you to my Directors and committee leaders. Without them, none of these activities would be possible.

And now for my public service message… there are many volunteer opportunities available, so I encourage all of you to visit the volunteer management system, review the available opportunities and get involved with your fellow project managers. It is fun, rewarding, and helps promote our profession.

I can't wait to see what additional good things we can do working together in the coming months.


---
Chapter Announcements
PMINJ Scholarship Awards – Save the Date!
By Lisa Davis, PMP
It is never too early to begin looking for ways to reduce the costs of a college education. College, like applying for a mortgage, is a huge financial decision. PMINJ can help defray some of the expenses associated with the skyrocketing costs of higher learning with the PMINJ Scholarship Award.
Applications for the PMINJ Scholarship will be accepted from January 1 to March 1, 2015. PMINJ offers scholarship awards in three categories:

Undergraduate – This scholarship is open to current high school seniors who are sons, daughters, or legal dependents of PMINJ members in good standing.
Undergraduate Renewal – This scholarship is available to previous PMINJ scholarship winners who are dependents of PMINJ members in good standing.
College Graduate – This scholarship is available to PMINJ members in good standing who are seeking a Master's degree in Project Management. This is a one-time, non-renewable scholarship.
All eligibility requirements and the application forms, can be found on the PMINJ website.
Please note: In order to apply for the undergraduate and graduate first-time awards you must be an active member in good standing as of July 1, 2014. When submitting, please, take the time to review the documentation for accuracy. Applications with missing data, signatures, supporting documentation and/or applications postmarked / submitted after the submission deadline are automatically disqualified from consideration.
If you have any questions, please contact Marianne Burke via email at d-Scholarships(:@:)pminj.org, or by phone at 973-884-2478.
---
Event Reports
PMINJ Members Volunteer at the Tour de Franklin
By Melinda Posipanko

On April 27, 2014, the Franklin Township Food Bank held its largest fundraiser of the year. The Tour de Franklin features bicycle rides of various lengths from one to 62 miles as well as a neighborhood walk. This year, the Tour celebrated its 25th anniversary.

PMI New Jersey has been involved with the Tour for several years. Initially, chapter members helped with event day execution tasks - parking, registration, and food service. In addition to providing the same Tour event execution help this year, chapter members also lent their professional expertise to the Food Bank's Tour Planning Committee:
Alexey Shiskin provided assistance with planning / project management.
Doreen Clark assisted with marketing.
Velmani Natarajan provided assistance with process improvement.
Martin Ouku helped with the volunteer organization.
For the third year in a row, Team PMINJ - led this year by Lystra Haynes - participated in the rides and raised $685 toward the Food Bank's goal.

With PMINJ's help, as of today, 660 Tour participants have raised over $63,000 for the Franklin Township Food Bank. All involved chapter members earned Volunteer PDU's while serving the local community. This was truly a win-win for PMINJ and for Franklin Township. Thank you to everyone who participated.


Return to top
---
PMINJ School Outreach – Catching Up with the RoboRaiders
By Dennis McCarthy
Regular newsletter readers may recall past articles referencing the efforts of the PMINJ School Outreach team's involvement with the members of Team 75, aka the "RoboRaiders" at Hillsborough High School. The RoboRaiders are a team of high school students participating in the "FIRST" (For Inspiration and Recognition of Science and Technology) Robotics Competition. Dennis McCarthy, from the PMINJ School Outreach team, has been mentoring the team members since 2013.
In addition to competing in the FIRST competition, the RoboRaiders are also active in community service projects including raising funds to help Brendan Marracco, a local US soldier who was seriously wounded in the Iraq war and organizing bike builds, where the RoboRaiders and other robotics teams assemble bicycles for donation to local Boys / Girls Clubs. They also promote STEM (Science, Technology, Engineering and Mathematics) at local elementary schools and participate in the Boxes From Home (formerly Operation Shoebox) sending supplies to US troops overseas.
In February, the RoboRaiders visited the Matheny Medical and Educational Center's Adult Learning Center and donated light boxes that they designed and constructed. The Matheny center is a special hospital and educational facility for children and adults with complex developmental disabilities. The donated light boxes will be used to help improve coordination, color recognition, and tactile stimulation by accessing one of the four buttons with their hands or feet, explained Todd Deremer, an adaptive physical education instructor at the Hillsborough Learning Center.
FIRST is a Manchester, NH charity, founded by inventor Dean Kamen in 1989 and of which Team 75 is the oldest active team.
Team 75, established in 1996, is the winner of many awards and regional championships. The team has also won a national excellence award in 3-D design and the prestigious Chairman's Award.
More information on the RoboRaiders Matheny activity can be found on the
Hillsborough Patch site
.
---
March 2014 Chapter Meeting
By Lisa Davis, PMP

The monthly chapter meeting kicked off with two sidebars conducted by the Agile LCI and the Career Networking LCI. The Agile LCI group's topics included the "Who, What, When, Where and How's" of supporting the use of Agile practices and the reminder of the upcoming four-hour "Intro to Scrum" class which was held on March 29, 2014. The Career Networking LCI's guest presenter was Diane Litchko, a highly sought speaker for career networking events, with her presentation titled "Using LinkedIn to Network Effectively."

The keynote speaker for the evening was Susan Morris and her presentation titled "Transformational Leadership." Susan proposed the idea that project managers need to make a conscious switch to a leadership style from transactional to transformational that most closely matches the needs of their team. Susan presented insight into the need for a new type of leadership as a result of today's fast-moving, often problematic, business environment. Attendees of her Transformational Leadership sessions walk away with the ability to define and contrast transactional and transformational leadership. They learn about the four pillars of Transformational Leadership and about the transformational leaders who exemplify them.

Susan brings to the table 30 years of experience as a business coach, organizational consultant and instructional designer. She is a Certified Professional Co-Active Coach (CPCC) from the Coaches Training Institute and accredited by the International Coach Federation as an Associate Certified Coach (ACC). Along with her many other accomplishments, she is also the author of a series of mini-books titled "Leadership Essentials for Women Scientists."

Additional information, the presentation slides, pictures, and the webinar are all available on the PMINJ website

Return to top
---
April 2014 Chapter Meeting
By Lisa Davis, PMP
The April chapter meeting was held on April 8, 2014, at the Bridgewater Marriott. The meeting began with an Agile LCI Meet & Greet presenting Dan Pink's research of motivation and how it can be used in a Scrum team environment.
The highlight of the evening was the announcement of the winner of PMINJ's Project of the Year award – the Atlantic Health Systems / Chilton Integration Project. The project's objective was to support the merger of Chilton Hospital into Atlantic Health System. The key players integral to the success of this project were Vice President & CIO Mark Lederman, Manager of the Project Management Office, Eileen Tarnacki, and Project Managers Danielle Meglaughlin, and Jennifer Scatcherd. The team utilized their lessons learned taken from a previous project that was similar in size and nature to make this project highly successful.
The project implemented technical solutions spanning multiple departments and built a technical infrastructure that would establish secure network connectivity between Chilton Hospital and Atlantic Health System. The project's achievements boast a multitude of success factors such as:
Finishing under budget by $400,000
Establishing a gold standard PMO office for supporting the organizations key strategic initiatives
Installing a Co-chair for IT Steering meetings
Keeping project milestones in sync including Implementing secure network connectivity, time-clock testing, email addresses for PeopleSoft and a package build for application deployment.
With completion of this project, Chilton, as part of Atlantic Health Systems, has positioned itself for future success by building a solid foundation from its history of successful collaboration. The groundwork laid support for ongoing efforts by Atlantic Health Systems to expand its nationally recognized services throughout the region. It also assures that Chilton will continue to provide Chilton patients with easier access to what can only be termed as world class care in their community hospital. From the success of this experience with using lessons learned to improve the project planning, the PMO has committed to requiring lessons learned be completed at the end of all projects for use to improve upon future projects.
Additional information,
the presentation slides, pictures, and the webinar are all available on the PMINJ website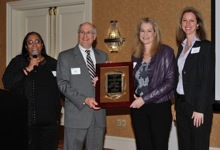 Project Management Articles
7 Lessons Learned from the PMI-ACP® Exam
By Cornelius Fichtner, PMP, CSM

Everyone has their own method for studying for the PMI Agile Certified Practitioner (PMI-ACP®) Exam. You might carry the PMI-ACP Examination Content Outline or some Project Management Institute (PMI) recommended study material around with you. You might join your local PMI Chapter to study with others who also have the goal of passing the PMI-ACP Exam. No matter what study method or methods you choose, someone has been there before you.

While everyone may have a slightly different story to tell, there are some things that can make a big difference in your success with passing the PMI-ACP Exam. Luckily, exam candidates are more than happy to share their personal stories and lessons learned with you. We have reviewed and analyzed a number of lessons learned from the PMI-ACP Exam that successful exam takers have posted on our website. Below is a summary of 7 lessons learned.

1: Learn the exam topics

"The exam covers most of what is in that outline," according to one of the students on our forum. PMI published the PMI-ACP Examination Content Outline which covers topics, tools & techniques, as well as knowledge & skills for the exam. If you ever feel lost in all of the possible study material, return to this outline to make sure you are studying the right topics.

2: Read a variety of PMI-ACP Exam material
Unlike the Project Management Professional (PMP) Exam, the PMI-ACP Exam does not have a single guide or book of consolidated knowledge. PMI suggests a variety of reading material that can be used to study for the PMI-ACP Exam. A list of the current suggested reading material, the PMI-ACP Examination Reference List, can be found on the PMI website. According to one forum commenter "you have to read information from several sources and study more methods" compared to the PMP Exam.

One method for learning is to highlight important information as you read through the material the first time. On the second read through, create flashcards of the highlighted areas that you can use on the go, to study important points. While reading the study material, pay particular attention to definitions and terminology as they may not be the same as those you use for Agile projects in your organization.

3: Take sample exams
The best method for practicing for an exam is to take sample exams. And sample exams can be your best indicator of readiness for the PMI-ACP Exam as well. You can take one before you start studying for the PMI-ACP Exam to gauge the areas in which you should focus. You can also take one when you think you are ready to take the PMI-ACP Exam to ensure you are actually ready.

Whichever way you plan to use sample exams is up to what best fits your study style, just make sure to use this valuable tool. Being familiar with how the exam works and the types of questions that will be asked can greatly increase your chances of passing.

4: Make the most of your study time
It can be difficult to find time to study, but there are ways to take advantage of even a few moments of time. If you have a long commute to work you can listen to The Agile PrepCast. This program offers more than 40 hours of PMI-ACP Exam preparation videos that can be downloaded to you smart phone, computer, tablet, or other portable media device. These videos can be viewed or just listened to while doing house work, working out, waiting in line, or even during your lunch break.

Passing the PMI-ACP Exam requires a lot of study time – possibly even more than you first thought. Seek out extra time in your day where you can increase your study time.

5: Be confident
Believe in yourself. If you are scoring well during the sample exams then you can feel confident about your ability to pass the PMI-ACP Exam. One key strategy to building confidence is taking practice exams to both identify what you need to focus on, and where you have improved as a result of studying.

6: Time yourself
Three hours may seem like a lot of time, but as many PMI-ACP certification holders know that time can go by quickly. The best way you can ensure you will not run out of time while taking the PMI-ACP Exam is to take at least one full length practice exam in a similar environment. Find a quiet location without distractions, set a timer, and start a full length 120 question exam. If you finish with plenty of time to spare, and pass, then you will probably do well during the exam. If you can barely get through all 120 questions in three hours or run out of time then you may need to look at what you can do to speed up your test taking or evaluate if you simply don't know the material and need to study more.

7: Listen to others
Lessons learned by others can be a great asset in your own PMI-ACP Exam preparation. Talk to previous students, discuss your study plans with members of your local PMI Chapter, and listen to those who have already successfully completed their journey to PMI-ACP certification, chances are they will have some very valuable advice for you.
---
New Certificate Holders
The following have received their certifications since the last newsletter (through 30 April 2014):


PMPs
Noorul Akram
Cheryl Baez
Jerry Ballanco
Abdessatar BenCheikh
Robert Brai
Sylvia Brown
Bobbette Clarke
Michael DeMartin
Richard DiLollo
Douglas Eichenblatt
Dennis Emory
Joe Fiamingo
Justin Fraser
Lisa Frobose
Roger Hardy
Peter Harrison
Abdul-Rahman Husain

Niraj Jalan
Analee Johnson
Jeff Johnson,Jr.
Robert Koenig
Timothy Kosuda
Michael Krop
Vincent LaVecchia
Kelly Lozito
Xiaoyan Lu
Emanuel Mananedakis
francisco mateo
Sally Meumann
Dipan Patel
Thomas Petite
Brandon Preston
Salman Rafiq
Candace Reigrod

iyad saadi
Hitesh Shah
Purvesh Shah
deepak shahani
Lee Shapiro-London
Alena Shevchuk
yahaira silva
Chetan Simant
ABHISHEK SINGH
Marie Sosa
Lori Stark
VENU TIRUMALAI
Henie Tiu
Charles Toms
Diane VanArsdale
Tanya Young
krzysztof Zajac


PgMP
Bhagawanlu Durvasula
CAPM
Irfan Ozaltin
Judith Gash
Kevin Halliez
Calvin Honeywell
MaryBeth Kuderna
Julie Russo
Norma Simmons
PMI-RMP
Samson Tom

PMI-SP
Michael Ogberuhor
PMI-ACP
Colleen Brandt
Colin Dino
Sivasankari Swaminathan
Anne Swerdloff
Deven Trivedi

---
Article Submission & Publication Information
Editor Kristine Clark
Submissions:
Where to Send: Contact the newsletter editor, at editor(:@:)pminj.org for newsletter related items, to submit articles and to provide feedback. All members are invited to submit articles, meeting reviews, or other items of interest for publication.
How to Send Articles: Please submit articles as word documents or plain ASCII text attachments via email.
How to Send Graphic files: Please submit all graphics files as high-resolution (1MB+) JPEG or GIF file attachments via email.
Publication Information:


Schedule:


Newsletters are published every other month: Jan, Mar, May, Jul, Sep, Nov
Articles due to the Editor by the 1st of the month.
Newsletters will be published via email and on the PMINJ website by the 25th of the month.


Newsletter Team:


Kristine Clark – PMINJ Newsletter Editor
Lisa Davis – PMINJ Marketing Content Manager


Advertising:


Contact Mahendra Gunawardena (d-sponsor(:@:)pminnj.org) for advertising / sponsorship inquiries.



PMINJ is not responsible for the content or quality of any advertisement included in this newsletter.