For many years now, our chapter has had the privilege of being the second largest PMI chapter in the world (currently with almost 4,800 members). We are proud to be able to offer our members many benefits such as: monthly meetings, annual symposia, certification exam prep courses, free mentoring services, recorded webinars, community outreach opportunities, and much more. Our efforts have not gone unnoticed, the chapter has been publicly recognized by PMI with awards for Collaboration & Outreach (2014), Volunteer Programs (2015), and Leadership (2015).
However, we are not resting on our laurels. Behind the scenes our leadership team and volunteers are continually brainstorming, planning and developing new ways for our chapter to better serve our members and our communities. For example, the Professional Development area that I am responsible for will soon be rolling out a refreshed and improved version of our long-running and successful PMP & CAPM exam preparation course. We are also regularly exploring ways to deliver new training as well as mentoring opportunities aimed at developing your project management-related skills and advance in your career. Other teams in our chapter are doing similar exciting things in their areas. This is truly an exciting time for our chapter!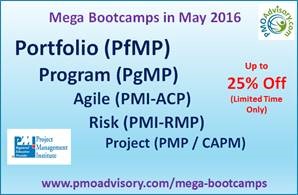 To be sure, we also face challenges; chief among them are the following:

How to increase the participation rate of our membership;
How to attract new – e.g. millennials – professionals to our chapter.
Like all organizations, especially non-profits like us, in order for us to be able to continue to grow and flourish we rely heavily on the involvement of our existing members as well as our ability to draw in new members to invigorate us and provide us with future leaders. Although we have been making significant headway in both these areas, we can still do better. We need to do better.
So how can you help? Fortunately, there are many ways. Here are just a few:

Attend some chapter meetings and symposia – and when you do, tell your colleagues and invite them to join you at the next event!
Check out the PMINJ website or speak to a board member to learn about volunteer opportunities.
Spread the word to your colleagues, particularly the younger ones, about the free mentorship opportunities that we provide to all our members.
Help us identify and connect with executives in your organization or industry so we can better understand their project management interests and needs.
Feel free to reach out to any board member and share your thoughts on how we can improve our chapter. We are always looking for new ideas and new people to help us deliver on them.
So join us! I hope to see you at one of our future chapter events.