Contents
Welcome
Chapter Announcements
Event Reports
Project Management Articles
New Certificate Holders


Article Submission & Publication Information
Advertisers:
---
VP Welcome
By John Tse, VP Professional Development


For many years now, our chapter has had the privilege of being the second largest PMI chapter in the world (currently with almost 4,800 members). We are proud to be able to offer our members many benefits such as: monthly meetings, annual symposia, certification exam prep courses, free mentoring services, recorded webinars, community outreach opportunities, and much more. Our efforts have not gone unnoticed, the chapter has been publicly recognized by PMI with awards for Collaboration & Outreach (2014), Volunteer Programs (2015), and Leadership (2015).

However, we are not resting on our laurels. Behind the scenes our leadership team and volunteers are continually brainstorming, planning and developing new ways for our chapter to better serve our members and our communities. For example, the Professional Development area that I am responsible for will soon be rolling out a refreshed and improved version of our long-running and successful PMP & CAPM exam preparation course. We are also regularly exploring ways to deliver new training as well as mentoring opportunities aimed at developing your project management-related skills and advance in your career. Other teams in our chapter are doing similar exciting things in their areas. This is truly an exciting time for our chapter!

To be sure, we also face challenges; chief among them are the following:


How to increase the participation rate of our membership;
How to attract new – e.g. millennials – professionals to our chapter.

Like all organizations, especially non-profits like us, in order for us to be able to continue to grow and flourish we rely heavily on the involvement of our existing members as well as our ability to draw in new members to invigorate us and provide us with future leaders. Although we have been making significant headway in both these areas, we can still do better. We need to do better.

So how can you help? Fortunately, there are many ways. Here are just a few:


Attend some chapter meetings and symposia – and when you do, tell your colleagues and invite them to join you at the next event!
Check out the PMINJ website or speak to a board member to learn about volunteer opportunities.
Spread the word to your colleagues, particularly the younger ones, about the free mentorship opportunities that we provide to all our members.
Help us identify and connect with executives in your organization or industry so we can better understand their project management interests and needs.

Feel free to reach out to any board member and share your thoughts on how we can improve our chapter. We are always looking for new ideas and new people to help us deliver on them.
So join us! I hope to see you at one of our future chapter events.

Return to top
---
Chapter Announcements
PMINJ Barbara Ann Fuller Volunteer of the Year – Harry Chiovarou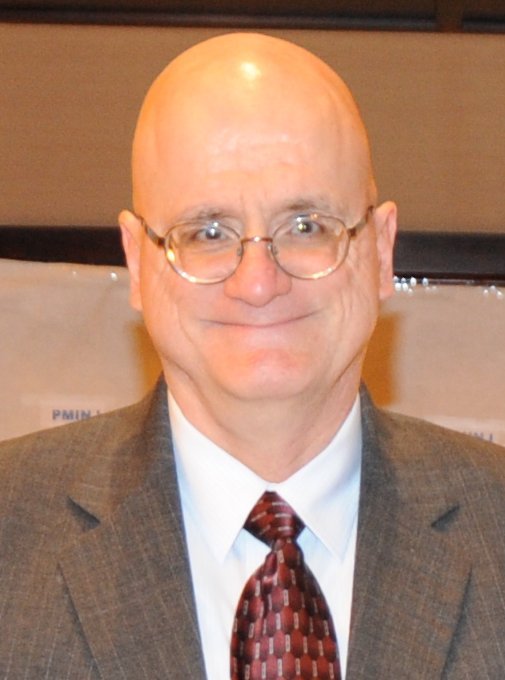 For more than 12 years, Harry Chiovarou has been the A/V professional for PMINJ. Harry works tirelessly to ensure high quality technical support for every presentation at each event. He has managed the Chapter's presentation capabilities for each monthly meeting, Seminar, Symposium, and IPM day. He tests all of the speaker presentations prior to each event to ensure that there are no technical issues – for the Symposium alone that was 13 presentations!

As A/V technology changes, Harry is the guiding force that ensures PMINJ is able to maintain the capability to provide members the ability to participate in our events. Harry can be relied on to investigate new technology to make events better for the participants and the future viewers of recorded webinars. He has mentored new A/V team volunteers and has even met with other Chapters to help them to set up similar satellite webcasts for their own meetings.

Harry has been a perfect example of a PMINJ Volunteer. He is always available and willing to help. A dedicated professional, Harry always demonstrates the highest standards of quality and leadership! PMINJ deeply appreciates Harry's commitment and is pleased to present him the 2015 Barbara Ann Fuller Volunteer of the Year award.

Return to top
---
Should PMINJ Add a Student LCI?
By Jon Rice, PMP, D-LCI

PMINJ is considering the creation of a new Student-focused LCI. We are looking for volunteers to participate on the LCI and support its activities. If you are willing to share your "war stories" with the students – and earn PDUs in the process – then please contact Jon Rice at D-LCI(:@:)pminj.org.

Return to top
---
Nominations are Open for Project Manager of the Year
The purpose of the PMINJ Project Manager of the Year (PMOY) award is to recognize a member of the New Jersey Chapter for a significant Project Management achievement while using their project management skills and commitment to the project management profession.

Nominations for the PMOY are being accepted until May 1. The award will be presented at the June chapter meeting. Details regarding purpose, eligibility, criteria, and judging are posted on the PMINJ website.

Learn more about project managers that have been awarded over the years.

If you have any questions regarding the PMOY, please send an email to d-ProjectAwards(:@:)pminj.org or contact Louis A. Vazquez (Director, Project Awards) at 908-799-3006.

Return to top
---
30th Annual Symposium
The 30th annual PMINJ Symposium will encourage members to be strategic by focusing on project portfolio management skills. The Symposium will be held on Monday, May 2 at the Pines Manor in Edison.

The real value of project management is realized when project selection and execution are in alignment with business and strategic goals. From project idea generation, selection, execution and delivery to the organization, communicating the vision and strategy of the organization to the project team is key.

At this year's Symposium you will gain a better understanding of how to establish the strategic value of projects and assure stakeholder satisfaction.

In addition to the Monday event, PMINJ is also offering a Sunday afternoon workshop led by Brett Knowles Executive Partner with pm2 consulting. Brett will demonstrate the Balanced Scorecard allowing attendees to define and score their hands-on-efforts to realize project value. Attendees will enjoy a team-based, fun and engaging process to achieve learning goals.

Learn more about the plans for the Symposium, including pricing, PDUs, and how to register, on the PMINJ website.

Return to top
---
Do You Need Career Therapy?
Do you need help rescuing your career, creating a more effective personal brand, or optimizing opportunity flow? If so, then make plans to attend the PMINJ Career Fair on Monday, May 2 at the Pines Manor in Edison! The event is free to PMINJ members. Symposium participants do not need to register for the event – attendance is also included with Symposium registration.

The event will provide PMINJ members who are in transition or considering a job or career change an excellent opportunity to:

Hear a lively panel discussion that will kick-start career goals.
Network with local company recruiters and hiring managers who are currently looking to hire project managers.
Meet one-on-one with resume writers, career coaches and LinkedIn professionals.

Learn more about the Career Fair speakers, agenda and how to register on the PMINJ website.
Return to top
---
PMINJ Supports the Franklin Food Bank's Annual Tour de Franklin Charity Bike Ride
By Doreen Clark

The Franklin Food Bank's annual Tour de Franklin Charity Bike Ride will be held on Sunday, April 24, 2016 at Franklin High School, 500 Elizabeth Ave in Somerset. The Ride is the largest fundraiser for the Food Bank – in 2015 over 660 riders participated and raised more than $60,000! Months of planning, support from many local businesses, and a team of over 100 volunteers come together with the cyclists and the community to make the day a success.

For the past five years, PMINJ has been an integral part of that volunteer team. PMINJ's relationship with the Tour de Franklin began in 2011 when volunteers helped on the day of the event. Since then, PMINJ's role has expanded to include volunteers serving on Tour de Franklin planning committees. The volunteers put their project management skills to work by partnering with the Food Bank on volunteer management, process improvement, overall event planning, public relations management, food donations and logistics for more than four months leading up to the April event. PMINJ's efforts aren't limited to volunteering – team members Melinda Posipanko and Lystra Haynes are riding this year!

The Tour de Franklin has grown in recent years from 400 to 700 participants annually, a substantial increase from its humble beginnings in 1989 when 30 riders banded together to raise $1,500. Unfortunately, demand for the Food Bank's services has also significantly increased since 1989. The Franklin Food Bank provided almost 12,000 food packages to Franklin Township residents in 2015. It is not a government agency and receives government funding only through targeted grants, making events like the Tour de Franklin even more important. While the $60,000 raised by the Tour de Franklin sounds like a lot, it is a small fraction of the Food Bank's annual budget.

To learn more their website Franklin Food Bank and the Tour de Franklin, or the Tour de Franklin on Facebook. To get involved, look for Day-of-Event volunteer opportunities through PMINJ, register to ride any one of the seven rides, or sponsor Melinda and Lystra on their rides.


Return to top
---
Event Reports
PMINJ Volunteers Get Red Carpet Ready!

By Mary Beth Kuderna and Sunil Dubey
Each year, the PMINJ Chapter hosts a very special event to honor the many volunteers who have worked so diligently to make the Chapter the success that it is today. On Friday, February 5th the Chapter volunteers walked the red carpet at its Academy Awards-themed Recognition Dinner at The Imperia. Attendees enjoyed a program full of music, Academy Awards trivia, good food, and good fun.

In attendance were 110 of the Chapter's overall corps of nearly 400 volunteers. With just over 4,700 total members, this dedicated group does an incredible job of keeping the Chapter active and relevant for its members. PMI honored PMINJ with the 2015 PMI Excellence Awards for Volunteer Programs and Chapter Leadership in Category IV. In honoring the Chapter, PMI noted that 'the Chapter Leadership award is recognition of the many members who make PMINJ one of the leading chapters in the world. The recognition is a tribute to the volunteers and the past and present board members who contribute their time and efforts for the members of the chapter and the community. And they have fun.'

The envelope, please. The Chapter toasted to the five- and ten-year tenured volunteers and then it was time to raise a glass to the following volunteers who were recognized for their dedication and outstanding accomplishments:

The 2015 Barbara Ann Fuller Volunteer of the Year: Harry Chiovarou, Audio/Visual team for all Chapter events
1st Quarter 2015: Tod Burrus, Corporate Outreach
2nd Quarter 2015: Jerry Meier, On-Site Registration
3rd Quarter 2015: Alvin Chingcuanco, Social Media Strategy & Chapter Marketing
4th Quarter 2015: Dennis Ryan, Audio/Visual team for all Chapter events

Special thanks go out to the PMINJ team of volunteers who worked so hard to make this event possible. Led by Nita Parikh (Director of Volunteers), Sunil Dubey, Adrienne Walcott, Ayet Gonzalez, Diane Dugan, Dennis Ryan, Harry Chiovarou, Mary Beth Kuderna, Pam Dulaff, Darlaine Scott-McCoy, and Zuzar Merchant showcased their project management skills and created a truly memorable evening for everyone!

Do you want to get involved with this award-winning team? Check out the volunteer opportunities available on the Chapter website!

Return to top
---
PMINJ Returns to Future City Competition
By Michael Vitale

On Saturday, January 16, several PMINJ members spent the day at the Future City competition held at Rutgers University's Livingston Campus in Piscataway Township. The Future City Competition is a national, project-based learning experience where students in 6th, 7th, and 8th grade imagine, design, and build cities of the future. Students work as a team with an educator and engineer mentor to plan cities, build tabletop scale models and present their ideas to a panel of judges.

The PMINJ team presented "An Introduction to Project Management" to over 250 students from across New Jersey. During five different training sessions both students and educators discussed the benefits of project management techniques and other important life skills.

Students had the chance to meet with the team during "Meet the Professionals" sessions held throughout the day. While the students learned about what it means to work as a Project Manager, the PMINJ team learned the science behind this year's competition theme surrounding the future of waste management.

Special thanks to all PMINJ members who attended the sessions and presented including Judy Balaban, Dennis McCarthy, Alpesh Dharia, Ram Vandra, Ed Kanczewski, Mustafa Balsara, and Michael Vitale.

Return to top
---
A Job Search Game Plan
By Joan Galay

According to Executive Career Coach Bill Belknap, your job search should have two targets: your ideal position and the company that has that position. The PMINJ Career Networking Local Community of Interest (CNL) invited Bill to share his insights on building a job search plan with chapter members. Bill job title is "Candid, Practical, and Effective Career Coach" and he is a Master Coach at the Five O'Clock club, a firm which was founded 55 years ago on the principle that the larger your network, the better your chances of landing your ideal position. The event drew a large crowd eager to hear Bill's presentation "An Expert's Guide to LinkedIn, Networking and Career Targeting". The night was a success thanks to the efforts of CNL team members Claudia Campbell, Joanne Lazos and Joan Galay who welcomed the large crowd and moderated the Q&A at the end of the presentation.

The first lesson Bill shared: a "target" is a job opportunity. Your contacts can help you reach your goal IF you help them to help you. A marketing plan is essential; it should describe not only the type of position you are seeking but also a list of the 200 firms (yes, 200 firms!) that comprise your targets. To build your target list, be specific with your internet search parameters. For example, if you're interested in a position in Boston then search for salaries in that area using tools such as Indeed.com, Hoover (check your local library), or GlassDoor.com.

You will need more than just that list – every time you meet a contact you should explain that you're currently researching corporate cultures and provide that contact with your marketing plan. The plan will make it easy for your networking contact to quickly determine whether he knows someone inside the target firm. And, like magic, you just obtained a connection to an insider!

What do you do once you've got your list and shared your marketing plans with contacts? Bill advised that because firms are relying on LinkedIn and employee referrals, 90% of jobs are landed via networking. You should consider taking advantage of one of the most-searched, highly prized fields in LinkedIn by crafting an intriguing job title (see Bill's title above as an example of an intriguing job title). Your summary section should be forward-looking, full of action and descriptive words that aim toward your ideal position instead of previous ones. Use words that are common in the industry, add projects and awards. (Help is available on LinkedIn – just click on the "Help" thumbnail and search for "seminar".)

The CNL team encourages you to update your game plan with the tools shared by Career Coach Bill Belknap and wishes you the best of luck in your job search!

PMI members are welcome to attend CNL events. The group provides opportunities for project managers to meet, share ideas and contacts and learn how to effectively grow their professional network, whether in career transition or to support professional activities; it offers members facilitated open-networking sessions and expert speakers on relevant career topics. CNL provides opportunities to expand professional networks, enhance job search strategies, and participate in workshops that sharpen marketing and social media skills.

Check out the Careers section of the PMINJ website and scan open positions posted in the "Careers" section of the PMINJ Website, enroll in the CNL email list for job posting alerts, and post your résumé on the website (send your resume to webmaster(:@:)pminj.org. PMINJ members can alert CNL Team Member Joan Galay to any openings for Project Managers to assist job-seeking members to identify opportunities. No commitment is required – simply share relevant information to help a colleague land a job, just send a note to networkinginfo(:@:)pminj.org.

Return to top
---
Project Management Article
Achieving Your Job Search Goals

By Adrienne Wheelwright
Every job seeker navigates their own Job Search path with similar goals: quickly find a long term opportunity that's a good fit to their skill set in the right location with a great salary.

There is so much information available on job searches that it's hard to know which program is the best. There is no one-size-fits-all answer. When I was in job search mode I used different tools and techniques – I pieced together my strategy based on different tools from a variety of job search resources. I found that the Five O'Clock Club was the best fit for me (for additional information see the CNL event article above). Some of the most helpful services they provided were a structured job search methodology, a career coach, training focused on making the most of social media, and countless articles and exercises.

The firm had written several books that address every aspect of Job Search for college graduates, management or senior management job seekers, mid-career or 50+ job seekers, or job seekers interested in career change. The materials also explain a detailed Job Search methodology that teaches candidates how to search for companies in your geographic area that have opportunities that fit your skills and interests. The process goes a step further by teaching candidates how to develop job leads within targeted companies along with a way to track progress. The firm's job seekers typically find a new opportunity in less time than the national average.

The tool I found most useful was the Certified Career Coach Program. Coaches were available to work directly with job seekers in group or one-on-one sessions. They provided hands-on expertise with a variety of assessment tools. One of the assessment tools that I found to be particularly helpful was called "Seven Stories". This exercise helped me to understand my accomplishments and the skills that I most enjoy using. It was very easy to follow and the results provided powerful insights that helped me focus not only on the skills I like to use the most but also the skills I want to develop further.

The program equipped me with the skills I needed to further my career goals and those skills have proven helpful in the development of life skills. I can apply these skills to open a business one day or redefine my work-life balance. Searching for a job is just like anything else – you need a strategy, a plan, dedication, persistence and purpose!

Adrienne Wheelwright is a PMINJ Newsletter volunteer. If you'd like to discuss your Job Search experiences – and possibly contribute to a future newsletter article – then please contact her at adrienne.wheelwright(:@:)yahoo.com.


Return to top
---
Can Your Mindset Influence Success?

By Igor Zdorovyak
Have you ever wondered whether your mindset influenced happiness and success? When things go smoothly and everything is perfect then you're likely to be happy and have a feeling of satisfaction. But what happens when unexpected problems arise and things start to go wrong? That's when your mindset can determine what happens next.

My daughter recently started her freshman year in college and one of her reading assignments was "Mindset – The New Psychology of Success" by Carol Dweck. Coincidentally, I had been investigating the impact of mindset on happiness and success. I started my research on "what does it take to succeed" with an online search and got between 660 billion and 3.2 trillion results. I narrowed my search and found the same book that my daughter was reading. What are the odds that my college-age daughter and I would be interested in the same subject?

The book, along with many other resources, reinforced that mindset can be the difference between success and failure. Along with mindset, there are many other factors that influence success including: visualization (can you picture the desired end result?), perseverance (do you keep going in the face of obstacles?), and focus (how do you keep your eyes on the prize?). Dweck divides the differences between how you perceive your abilities into two categories: Growth Mindset and Fixed Mindset. Whether you embrace or avoid challenges and how you answer the following questions determines whether you land in the Growth or Fixed Mindset:

Do you see effort as a way to grow?
Do you persist in the face of setbacks or give up and lose interest?
Do you take criticism as a learning experience or treat it solely negative feedback?
Do you get inspired by others success or do you feel envious or threatened?

Dweck suggests that "It is not just our abilities and talent that bring us success – but whether we approach our goals with a Fixed or Growth Mindset." I'm going to continue my research into what it takes to be successful, both professionally and personally, and will share my findings in future newsletters. I'll look at experts, leaders, and authors and share their thoughts on success including: practices/methodologies/processes, overcoming obstacles, inspiration, and perseverance.

Igor Zdorovyak is a PMINJ Marketing/PR volunteer. If you'd like to share your success story, then please contact him at whatdoesittaketosucceed(:@:)outlook.com – you might be part of his next feature!

Return to top
---
New Certificate Holders
The following have received their certifications since the last newsletter (through 29 Feb 2016):

PMPs
Brian Andrucyk
Emmanuelni Ankrah
Patience Armstrong
Varsha Arora
Muthukaruppan Arunachalam
Dana Becker
Abhilasha Bhalani
Judith Brennan
Makini Byron
Andrew Chabalko
John Chen
Rahul Dantu
Joshua DeBoo
James DeVito
David Elwood
Hector Enriquez
Gina Gneco
Charles Goldberg
Judith Grimm
Pradeep Gupta
ONeil Hutchinson

Hariharan Iyer
Kunal Jain
Naveena Jetty
Marc Julius
Peter JuloIII
Timothie Kanagawa
Ayu Katada-Seo
ranju Khurana
Peter Kwon
Dominic Manzo
John Messina
Suzanne Moyers
Lianne Neyra
Chris Ortiz
Nirmal Palakkal
Maryann Paltz
Mathew Parayil
Pooja Parkar
Dawari Princewill
Subhabrata Purakayastha
Nitin Puthalath

Jayasri Ranganathan
Joe Ruskowski
Douglas Sebastiano
Andrew Seger
Harmeet Sethi
Amr Shater
Pat Sheridan
Michael Sklower
Laurie Stiles
John Strong
Gabriel Suarez
Cleyvis Tucker
Michael Vacca
Vaishali Vakil
Monica VanHaren
Hari Vejjupale
April Villone
Christopher Vitalos
Steve Welgoss
Karin Yard

PfMP
Sara Nunez


PgMP
None

CAPM
Brian Lynch
Sheila MonteiroRamalho
Huma Thekedar
Peter Wiederhold


PMI-ACP
Gregoire Bois
Anindya Sengupta
John Szabo,Jr.


PMI-PBA
RajKummar Kandaswamy
Anindya Sengupta


PMI-RMP
None

PMI-SP
None


Return to top
---
Article Submission & Publication Information
Editor Deb Foote
Submissions:
Where to Send: Contact the newsletter editor, at editor(:@:)pminj.org for newsletter related items, to submit articles and to provide feedback. All members are invited to submit articles, meeting reviews, or other items of interest for publication.
How to Send Articles: Please submit articles as word documents or plain ASCII text attachments via email.
How to Send Graphic files: Please submit all graphics files as high-resolution (1MB+) JPEG or GIF file attachments via email.
Publication Information:


Schedule:


Newsletters are published every other month: Jan, Mar, May, Jul, Sep, Nov
Articles due to the Editor by the 1st of the month.
Newsletters will be published via email and on the PMINJ website by the 25th of the month.


Newsletter Team:


Deb Foote – PMINJ Newsletter Editor
John Haggerty – PMINJ Newsletter Writer
Harsha Mestri – PMINJ Newsletter Writer
Adrienne Wheelwright – PMINJ Newsletter Writer



Advertising:


Contact Linda Schaldonat (vp-BusinessRelationships(:@:)pminnj.org) for advertising / sponsorship inquiries.
Return to top
---
PMINJ is not responsible for the content or quality of any advertisement included in this newsletter.