What Does It Take to Succeed?
By Igor Zdorovyak PMP, CLSBB, ITIL, CSM, BSCS, MSM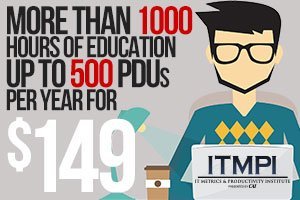 I recently had the pleasure of interviewing great PMO leaders who were willing to share what it took for them to succeed. These PMO Heads have varied backgrounds and hail from different industries. One is from a small company of 15 people while another leads Operations in over 200 countries with a billion-dollar new project / program budget. These next two articles are a continuation of the "What Does It Take to Succeed?" series that started earlier this year. I will share how each leader progressed from their beginnings to lead a PMO. You will learn their tips on how to deal with others and whether they consider themselves to be a politician, psychiatrist, philosopher, lawyer, friend, babysitter, or a combination of all of those roles. They will share how to communicate the value of a PMO and how to ensure that your team is using tools that really matter and they'll also share their thoughts on whether Agile / Scrum or Kanban can coexist with PMI's PMBOK standards.
Part 1 – Resources or People?

The term "human resource" is attributed as first used by economist John R. Commons in his 1893 book The Distribution of Wealth. In his classic, How to Win Friends and Influence People, Dale Carnegie laid out timeless leadership principles based on the Golden Rule to treat others as you'd like to be treated. So which is it: are people or are they creative and social beings in a productive enterprise? I polled the PMO heads to find out:

I believe that workers should be treated as people. Kristopher Sprague, MBA, PgMP, PMP, PMI-RMP, CSSBB, DTM, Site Director – Strategy, PMO and Operational Excellence, Bristol-Myers Squibb


Always as People. To build truly successful companies and teams you need to stay connected to those that are on the front lines of execution. You can't treat them as "resources" that can just be arbitrarily moved from one place to another. You really want to achieve a high degree of alignment with a high degree of autonomy, and that can be done only through collaboration and transparency in everything you do. Ewa Erickson, ACP, CSM, Director – Portfolio Management Office, StubHub


People, people and always people. Only motivated, recognized, and happy people can work productively, making a team stronger and more efficient. Olga Milne, Senior Vice President – Head of PMO, AxiomSL


It is important to see people and treat people appropriately. I try to make a real connection and stress communication and feedback. I provide feedback to them and encourage them to provide feedback to me – including how I can communicate more effectively with them. I look to learn on how to connect with them, try to assess where their strengths and weakness are and what their needs are. I've found that to get the most out of people it's important to understand their needs. And it's certainly different from person to person and from the person in a leadership role. In order to be really productive and have an effective working relationship you need to understand that and you need to focus on establishing a relationship that is mutually beneficial. Kevin Ruthen, Head of Software, Applications, and PMO, American Institute of Physics Publishing


There should be no differences between your family and your coworker. You should treat them the same way as you would your family. Kiran Adibhatla, Director – Business Technology PMO, SunPower Corporation


In this world we are dealing with humans. Humans are not machines. Every human may have many other things that are probably driving their lives. Who knows how was their day before they came to work – and nobody knows how your day was. I would like to get that opportunity be treated as a human being. That is number one. Krishna Mullangi, Sr. Director – Head of PMO, Technology Governance, Western Union


Maybe when I was younger and I was more focused on the process and making the goal happen, exceeding the goals, etc. I probably looked at people more as resources. And then over time just learning to really see, start with people first. Seek first to understand especially if something is not moving into the direction of not delivering. On the flip side if they are over delivering. Are they taking red bull? What are they doing actually to outpace others? So, that's to me the whole people side. At some point you'll run into projects where a person is derailing a success of a project. And then you almost have to say I have to treat you as a resource. This is a business proposition, business situation where now I have to look at you more as a resource. And on the people side you'll probably have to change them out. And then you go back to that person and being treated as people first and resource as second. Edward J. McCloskey, VP – Project Management, TAI (Tindall Associates)


My philosophy, as a leader, that people should always be treated as people. I understand that sometimes we say resources. But resources vary in such a big spectrum of things. Resources can be material. Drywall is a resource to a contractor. Putting actual physical people in the same bucket even though they are all resources is probably somewhat unethical as a project manager. One of the things that happens when you are a project manager is that you have a manager word in your title. Inherent by having that title it implies that you are going to be a leader of this effort. If you are going to be the leader of this effort you are also going to be the leader of the people who are doing the work on this effort. And sometimes in tough situations where people are not performing, we have HR issues that we have to address as leaders. That's why we are put into these positions. But, ultimately, if you want to be successful as a project manager and as a leader in any organization then you have to take care of the people. And, so treating people as just resources I don't think is an effective way to manage a PMO. Jenny Burg, PMP, MCP, MCTS, Director – Program Management, Government Business Division, Anthem
Part 2 – Lessons Learned from PMO Leaders

Every leader's journey is different as you'll see from the following stories about how each manager got their start in Project Management. Let their lessons learned help you to navigate your own career path – and maybe you'll end up leading your own PMO and be the next leader profiled!

After graduating from college, I worked as a software engineer for a consulting firm on a number of projects. My client was IBM. It was during this period of time that I worked with a few different project managers and recognized the importance and value of project management.

I felt I could do as good a job or better than the project managers I had worked with so I made my resource manager aware of my interest in managing projects. When the appropriate time came along a few months later, I was given a small project to manage. I delivered this project on time, within budget, and had a very high customer satisfaction rating. That sparked my interest in getting into the project management field on a full-time basis.

I was subsequently given projects of increasing complexity, budgets, and resources to manage. I completed my MBA, became a Project Management Professional (PMP), and moved into managing global projects and programs. The largest program I managed had a budget of $37 million.

I became a Program Management Professional (PgMP), a Lean Six Sigma Black Belt, and a PMI-Risk Management Professional (PMI-RMP). During my career, I've built and led PMOs in the insurance, health care, government, semiconductor, and bio-pharma industries. Kristopher Sprague


Communication, coordination, facilitation, resourcing, risk mitigation were things I had been doing for a long time – before I even heard about professional Project Management. It was something that came to me naturally.

My professional path to Portfolio Management started with non-technical project management and continued through progressively more technical project management to Agile program management and ultimately portfolio management. Ewa Erickson


The first time I joined PMO was in 2000. Alfa-bank just launched an ambitious multi-year and multi-million-dollar project to implement a new banking system. The CIO who was specifically hired for this project had a vision and a part of this vision was a PMO. It was a very new concept for Russia at that time and we, who became a part of this new establishment, embraced the idea.

That was my first PMO experience. Then I had four more PMOs to establish and lead. Olga Milne


Started in a financial industry as a programmer and got into application architecture and went into project management and leadership role. Kevin Ruthen


Started as a Project Manager in a consulting role even though I have Business and Computer Science degrees. I've never enjoyed coding or testing for that matter but I still wanted to be connected to technology. So I've started as a Project Manager for my first job. And since then I've loved it enough to still stay with it. Kiran Adibhatla


It's a natural progression of my career. I started as an engineer about 19 – 20 years back. I've developed a passion for project management and that what brought me into the PMO phase. Krishna Mullangi


My journey first started with hiring freeze in IT at global consumer manufacturing company when I was asked to move into IT from a business area. I was working on my MBA and our company adopted CMM (Capability Maturity Model) and I ultimately moved into project management in a different line of business at a different company. There was an acquisition and I have been in various roles ever since. Ed McCloskey


I got started in project management by accident. I sort of fell into it. About 16 – 17 years ago I worked for Blue Cross Blue Shield of Florida. The company was restructuring and as a result my job was eliminated. I had about 30-days notice to figure out my next career move. One of the leaders in the organization called me and said they have a position open in this department called Corporate Data Quality and would I like to join? Naturally I said yes because I needed a job. In this job I did a lot of work around developing overall enterprise practices to manage data quality in the wake of the Y2K, that all the companies went at that time. I started to evolve my career in that organization which was then part of IT division. I originally came in as a business analyst and sort of got into developing requirements, putting together process flows and ultimately working for a project manager who was the overall leader on the project. He was my mentor and introduced me to project management. Working in that field launched my career. I had also dabbled in operational management as well as project management. Through that discovery I've understood that project management was my first love. And, so eventually I got into a point where I got my PMP certification and went from there. Jenny Burg

If you have a suggestion for a future topic or want to share your own success story, then contact Igor at